Triple H and WWE have big plans for Karrion Kross and Scarlett Bordeaux which will correct how Kross was used on RAW previously.
With Triple H taking over creative from Vince McMahon a lot has changed in the short few weeks since. The whole feel of the Raw and SmackDown shows has changed. However, the biggest change is the return of old friends most likely made possible because of Triple H's new power.
It started at SummerSlam when Dakota Kai who was released and IYO SKY, who looked to be returning to Japan, returned. They joined Bayley's faction and have been making their presence known by attacking anyone they feel like.
RELATED: CHRIS JERICHO TALKS ABOUT MEDICAL SCARE AND BIG WEIGHT LOSS
The most exciting return directly because of Triple H is Kross and Bordeaux, after being released in November. Kross made his debut on last week's SmackDown when he attacked Drew McIntyre and threatened Roman Reigns.  
The End Is Here, Kross Has Returned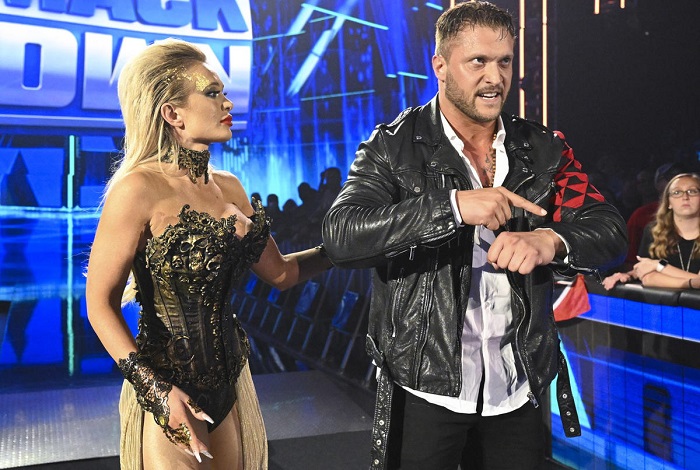 Triple H was said to be "dismayed" by how McMahon used Kross on Raw, as Triple H was a huge fan of the couple. According to Fightful, Kross did not want his look or feel to resemble his time on Raw. This may be why he debuted on SmackDown and why he has hair. Triple H is said to want Kross to be the number two heel on SmackDown just behind Reigns. Kross is being positioned into the title picture, but we don't know how exactly he will factor in. It is thought that he will be inserted into the WWE Clash at the Castle title match against Reigns and McIntyre making it a Triple-Threat match.
RELATED: CM PUNK FEELS SOLIDARITY WITH SASHA BANKS OVER HER BIG WWE WALKOUT
According to PWInsider the pair were in constant communication with WWE. It looked like WWE had interest in bringing them back, but probably weren't willing to give them assurances like not giving them a crap character.  Having Triple H take over creative obviously changed that.
Kross' Misuse On Raw
Kross is a two time NXT champion and had a very good run in NXT.  He had the perfect character and look for the main roster.  It seemed like having him on the main roster would be a no-brainer and there was no way he wouldn't be successful.  However, that is not what happened.  He debuted on RAW in the gladiator gimmick without Bordeaux and lost his first match very quickly against Jeff Hardy.  The rest of his time on Raw saw similar misuse of his talents to the dismay of fans.  Kross and Bordeaux were eventually released in November of last year.
RELATED: TRIPLE H LEFT KURT ANGLE SNORING AFTER BOTCHED PEDIGREE
After Kross and Bordeaux were released they appeared here and there for a few different promotions including MLW and NJPW, but never signed a contract.  Kross almost made an AEW debut, but he is too good of a husband. In May, Wardlow took on a mystery opponent who ended up being W. Morrissey, formerly Big Cass in WWE. However, it was supposed to be Kross, but he wouldn't do it if they didn't bring Bordeaux too. AEW said no, so Kross declined the offer.
The new influx of NXT and recently released Superstars has only continued with last night's Raw giving us the newest addition. There was a mysterious car crash in the parking lot and later an urgent police presence which culminated at the end of the show. As the show ended the police could be seen arresting someone with AJ Styles looking on. That person ended up being Dexter Lumis. Lumis was a NXT star who was released in April. This seems to set up a feud with Lumis and Styles.
RELATED: WWE RAW MAY BE RATED TV-14 FOR MATURE AUDIENCES IN THE NEAR FUTURE
Lumis' former The Way factionmate may be the next to be appearing back in WWE. Johnny Gargano left WWE in December as his wife, Candice LeRae, was pregnant and I think he wanted a little break from wrestling. Gargano had a very open mind about where his future wrestling home could be without giving any indication where that may be.
The Heart Of NXT Johnny Gargano Could Be The Next To Return
According to Fightful Select via Wrestling Inc. Shawn Michaels was put in charge of trying to get in contact with Gargano with the goal of bringing him back. Michaels was able to make contact, but if he wants to return to WWE anytime soon is unknown. 
In less than a month WWE has already changed so much for the better and it is such an exciting time for wrestling. AEW is going to have to step it up big time because WWE is picking up a lot of momentum. It is exciting to see fresh faces on the main roster like Lumis and I can't wait to see Kross feud with Reigns and McIntyre.
What did you think of Kross and Bordeaux's return? Do you think Kross is ready to be put in the title picture? Do you think he is ready to hold the WWE or Universal Championship? Is AJ Styles vs. Dexter Lumis a good first main roster feud for Lumis? Would you like to see Gargano return to WWE and team up with Tommaso Ciampa or should they be kept separate? Do you think Gargano will return alone or with LeRae? Let us know who you think is next or who you want to see return besides Bray Wyatt.
KEEP READING: VINCE MCMAHON FORCED LANA, AKA CJ PERRY, TO WRESTLE
Sources: Fightful Select, Wrestling Inc. PWInsider, Fightful Select, Wrestling Inc.