Jeff Baena's latest film, Spin Me Round, is one heck of a ride. It isn't perfect, as its plot jumps the shark way too many times to count, but its absurd premise (and actors) keeps the movie going from beginning to end. Plus, it's got a banger of a score from legendary composer Pino Donaggio. How can you go wrong with that?
Donaggio's score is highly reminiscent of his work with Brian De Palma, an amalgamation of sorts of his time with the filmmaker. The music is sometimes bright and upbeat, but it gets surprisingly dark in other places. It's a terrific companion to the film's constantly shifting mood. At times it's a terribly childish comedy with highly-talented actors acting like spoiled little brats, and at others, it's a frightening horror film, with some surprising moments that come out of nowhere and completely shift the tone, atmosphere, and performances. It's a strange beast to be sure, and the film has received middling reviews.
RELATED: SHE-HULK ATTORNEY AT LAW: HOW BRUCE MADE THE WORLD SAFER FOR HIS COUSIN
However, if you like out-there comedy that fully assumes itself as a childish piece of entertainment, then Spin Me Round is definitely for you. 
What Works And Doesn't In Spin Me Round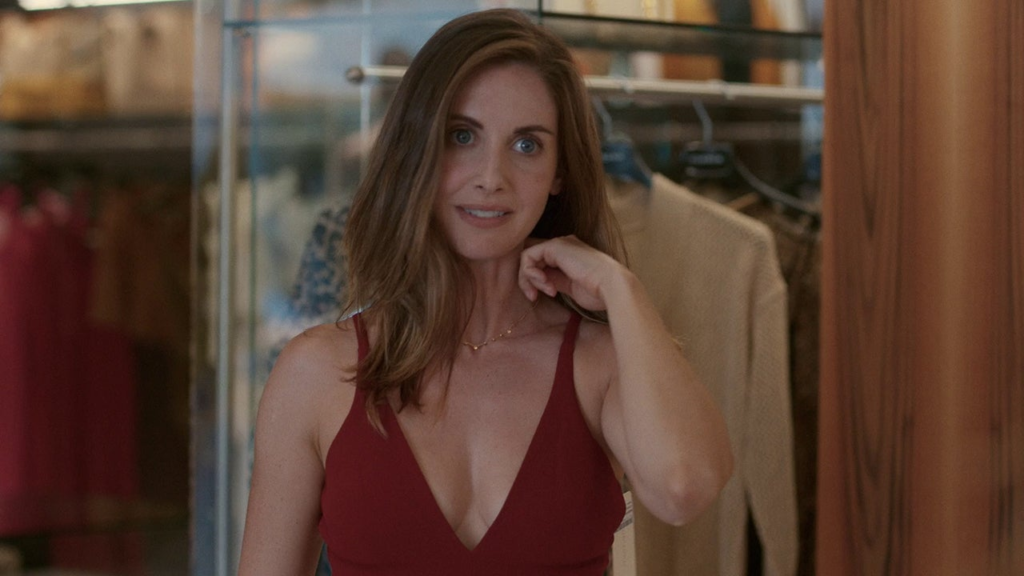 The plot of Spin Me Round is rather simple: manager Amber (Alison Brie), of an Italian chain restaurant named Tuscan Grove, is invited to an all-expenses trip to Italy, alongside other managers, to the Tuscan Grove Villa near Florence.
There, she meets owner Nick Martucci (Alessandro Nivola), who seemed to be affectionate towards her. Or maybe it's Nick's assistant Kat (Aubrey Plaza), who is surprisingly trying to impress Amber. One thing is for sure, something fishy is going on at Tuscan Grove. Amber and Dana (Zach Woods) are therefore trying to uncover the lurky mystery behind Nick and Tuscan Grove. 
What follows is surprisingly weird, and offbeat, and it's something you'll either enjoy right from the get-go or straight-up hate. There doesn't seem to be any middle ground reactions from this film—because it's nothing but pure absurdity. Baena assembles an incredible cast of absurd comedians, with Molly Shannon, Zach Woods, and Tim Heidecker (!!!) being particular highlights.
They are fully aware of how silly the entire plot is, and how its jarring emotional swerves are part of the ridiculous moviegoing experience Spin Me Round is. And it's because of the actors' self-awareness of the material they're given from Baena and Alison Brie's script that the movie works so well. None of the actors look bored during the movie—they're all having the time of their lives being at their most ridiculous selves, and go to an extremely dark territory near the end of the film. 
Nivola has the darkest performance of the movie, particularly during a scene in which he plays Mafia with Dana – the exchange he shares with Woods is riveting and deeply emotional. Whenever Nick thinks about his late sister, he breaks down in tears and starts to monologue about the meaning of life and the inevitable moment of death. It's rather poignant, and shifts the movie into more compelling–and wild–areas for its final act.
The final act is by far the best part of the movie, since it [literally and figuratively] jumps the shark for something incredibly unexpected. No spoilers here, but the film shifts into a straight-up murder mystery/horror movie, and Donaggio's score elevates its tense atmosphere and moves the film from one insane sequence after another, with the movie never once stopping to catch a break. It's constant carnage, and tons of fun to watch. 
But with a film this messy in its structure, never fully knowing what it wants to be or what genre it wants to pastiche, there are obviously going to be some cracks present even if you're enjoying the bigger picture. Some jokes go on for too long, and many situations lead to nowhere. Aubrey Plaza's character is barely in the movie and abruptly leaves the screen without explanation halfway through the movie, just as her on-screen relationship with Brie was becoming interesting and fun to watch. Because of these moments, Spin Me Round doesn't soar as much as it should be, even if most of the movie is hugely entertaining. 
If you're looking for the most bonkers exercise in absurdity from an American film this year, then Spin Me Round will have you satiated. But Monia Chokri's Babysitter remains the best comedy of the year and the perfect exercise in excess—from its actors, cinematography, and coked-up editing. Both of these movies aren't for everyone, but they should be lauded for their excessive approach, and their attempt at thinking outside of the box and delivering something different that mainstream audiences are accustomed to, especially with most comedies nowadays being completely unfunny. Spin Me Round's structure doesn't always work, but it's consistently funny from beginning to end. And that's good enough for me.
Score: 70%
Spin Me Round is now playing in theaters and available to stream on AMC+. 
KEEP READING: BATGIRL DIRECTORS DISCOVER WB BLOCKED THEM FROM CONTROVERSIAL FILM'S FOOTAGE INCLUDING MICHAEL KEATON'S BATMAN