We don't need Lady Whistledown to tell us that Bridgerton is one of the hottest shows on Netflix.
Season 2 of Shondaland's Bridgerton beat out the first season with 656 million hours viewed in the first 28 days. And if you are like me, or other Bridgerton fans you are probably dying for any tantalizing tidbit that might be heard regarding season 3. Which sadly isn't scheduled to release until the Spring or Summer of 2023. The wait might feel unbearable, but don't lose hope just yet. For the social season is upon us and Her Majesty, the Queen has sent out an invitation to all high society Denverites to join her at The Queen's Ball: A Bridgerton Experience.
If you have been on TikTok the last few months, you probably have seen a video or two hundred of fans dressing up in their best ball attire. A Bridgerton Experience has been met with praise as it opened in Los Angeles, Washington DC, Chicago, Atlanta, and Montreal. And now it is coming to Denver, to transport guests to England's Regency-era London for a glamorous experience that showcases the best of the best Bridgerton has to offer.
Now Is The Time To Go To Bridgerton
RELATED: QUEEN CHARLOTTE: CAST ANNOUNCED FOR MYSTERIOUS BRIDGERTON PREQUEL
During A Bridgerton Experience, guests will enjoy live performances by a string quartet playing music from the hit show. As well as mingle with high society aristocratic characters, while trying to catch the Queen's attention in hopes of being named the Diamond of the Evening. But just in case you can't catch her attention at the ball, there is a chance to win her favor by visiting with her. There are also immersive rooms that take guests through Madame Delacroix's modiste to admire the fashion; as well as an underground Regency-era Painting Studio for a great photo opportunity.
Check out this teaser video of everything you can expect.
Greg Lombardo, Head of Experiences, Netflix said it best, "Shondaland effortlessly transported Bridgerton viewers into a reimagined Regency-era London, capturing hearts around the globe as fans connected with every aspect of the series from its delightful characters and the superb actors who brought them to life, to the costume design and art and set direction to the soundtrack. We've partnered with Fever on The Queen's Ball: A Bridgerton Experience to create a similarly unique fan experience designed to immerse attendees in the lavish world of Bridgerton and bring this world to them wherever they are."
Tickets for this experience are scheduled to go on sale on September 7th at 10 a.m. and start at around $45. You are not going to want to miss this event, so make sure to sign up now for the waitlist. The Queen's Ball: A Bridgerton Experience starts October 30, 2022, with performances running from Thursdays to Sundays at a secret venue. The event runs around 90 minutes and requires an age of 16+ with anyone under 18 needing to be accompanied by an adult. If you are 21+ make sure to bring your ID to try some of the Bridgerton-themed cocktails.
RELATED: THE MUST-SEE FASHION FROM HER UNIVERSE SDCC FASHION SHOW
While this experience is filled with so many aspects of the show, the best part of it all is dressing up. The dress code is creative and formal, and if you are a cosplayer or into vintage fashion this is a time to shine. Put on your best regency-inspired wear if you want, or something else that falls into the creative and semi-formal categories. For some fashion ideas, you can search Bridgerton Experience hashtags on social media to see all of the prior fabulous guests.
As well as don't forget to follow A Bridgerton Experience on Facebook, Instagram, and TikTok for more information and live updates. If you like what you read, don't fret, there's more where that came from. Follow us on Twitter, so you don't miss a thing.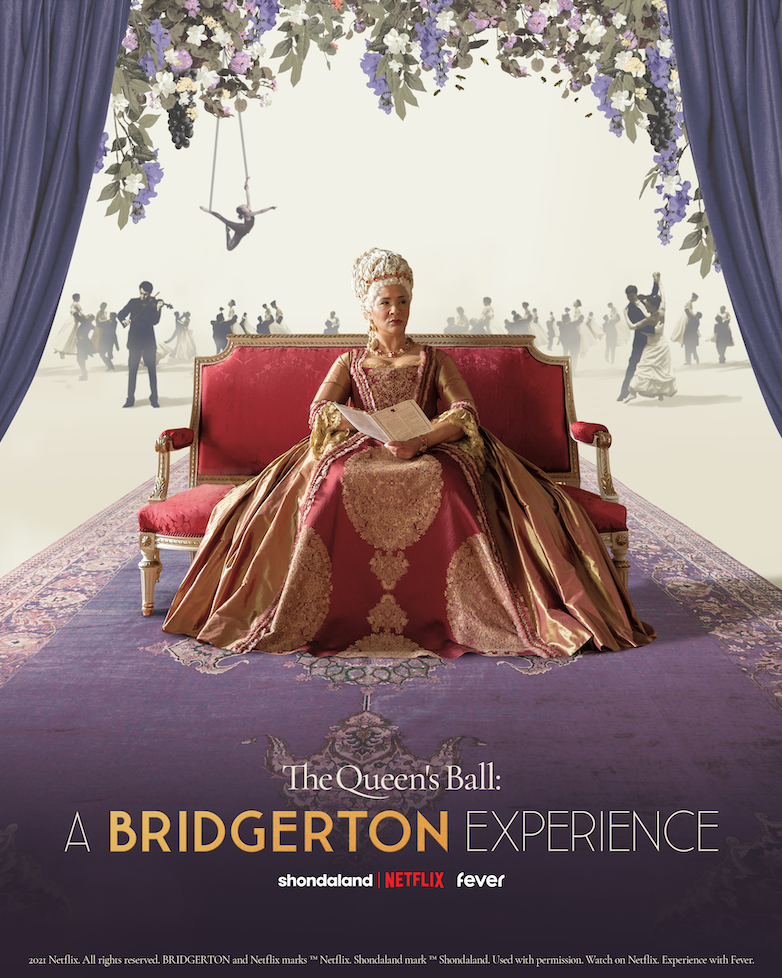 KEEP READING: THE LORD OF THE RINGS: THE RINGS OF POWER REVIEW – A CINEMATIC MASTERPIECE