Bee and Puppycat: Lazy in Space is a mix between utter bewilderment of what is going on and falling quickly in love with all the characters, leaves viewers no option but to click, "next episode."
Bee and Puppycat started off as two shorts in the Too Cool! Cartoons series in 2013 and quickly became a fan favorite. Including becoming the most-backed animation project in Kickstarter history for it's first season, being reimagined into comics by KaBoom! Studios, and now getting a new series on Netflix. This new series, Bee and Puppycat: Lazy in Space is a great way to introduce new fans to this magical world. While, also giving the fans who have been waiting patiently for more, something amazing to add to their collection.
Instantly Hooked by Bee and Puppycat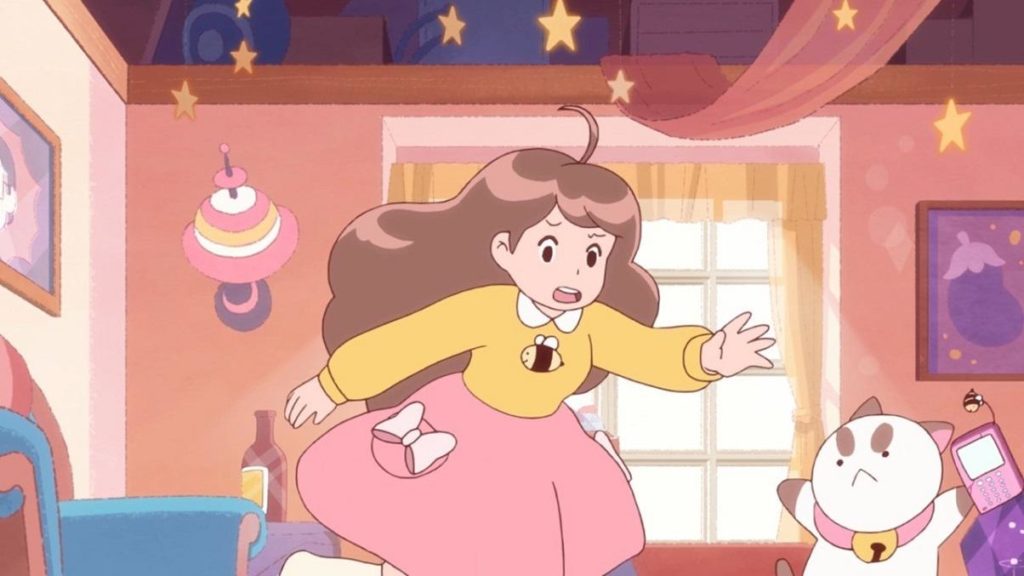 Bee and Puppycat: Lazy in Space had me hooked within the first 5 seconds. As someone who missed the rise of Bee and Puppycat, I wasn't sure what to expect. And knowing this was created by Adventure Time's Natasha Allegri was enough to peak my interest. But even after watching the trailer, I wasn't prepared for how quickly and hard I would fall in love with the show. Because I didn't expect it to be so relatable.
RELATED: Dragon Ball Super: Super Hero Review – The 21st Dragon Ball Film Feels Like A New Beginning
The first episode, "Again for the First Time," starts off utterly chaotic as we get our first glimpses of the main character Bee, as well as other characters. This one scene, perfectly sets up the rest of the series. Viewers get a glimpse of the fast pace of the show, the amazing writing, character's personalities, and just how off the wall situations can be, In a whirlwind of events, you see an adorable cat coughing up a dead mouse and bird, smoke filling the cat café, and a very distressed Deckard (voiced by Kent Osborne).
Honestly, the picture of Deckard surrounded by fire, should be the new "everything is on fire" meme. Because we all understand that feeling when we want something so badly to workout, and yet all we get is a hot mess.
That is also a great description of Bee at times. Bee (voiced by Allyn Rachel) is 22 years old and just trying to make it by in life, but seems to struggle to find her place. Including struggling to hold down a job. Luckily for her while walking home one night from the cat café she meets Puppycat falling from the sky. Unlike other pets on the island, Puppycat has the ability to talk and travel through space. Together the two pick up assignments from TempBot , a giant television screen which leads them to a variety of weird and sometime dangerous situations.
An Urge to Know More
While the first episode does a great job setting everything up, the rest of the series is a blend of uncovering a mystery and fun tangents. The first few episodes do a great job at setting the stage, introducing characters, and creating questions in the viewers minds. For example, in one episode we are introduced to a story of a couple with no real idea if it's real or fiction. Another example is Cardamon's mom. These slight teases and glimpses of a structural plot, are sometimes the smallest of breadcrumbs in an episode. So small that at times, you might not even realize it's connected until further down the line.
RELATED: Zombies 3 Review: Newest Disney Musical is Out of This World
This keeps the viewers on their toes while watching. While the pace of episodes might be fast and sometimes confusing, it does a great job of building suspense. Even if there is a random plot point you don't like or an episode that falls a little flat, because of that pacing and need to unravel the mystery, they are quickly forgotten like speedbumps on a journey as the next episode starts.
Another thing about Bee and Puppycat: Lazy in Space that keeps you coming back for more is the writing. While I didn't understand the need for Cass's nemesis, Toast, to become pregnant so quick into the series, the interactions it caused were great. And this really goes for all the small side characters that are introduced. Not only is each character vastly different, but they are also widely intriguing.
There is a moment in the series where Puppycat meets Deckard's brother Wesley and becomes obsessed with how cool he is. The interactions with Wesley and even Howell, are so well done that even if they are just small moments in a bigger picture, they make viewers excited to see more of them.
Beautiful Possibilities
One of the things that makes Bee and Puppycat so mesmerizing is the use of pastels and colors in general. Half the time watching I was just in awe regarding how beautiful everything was. From the island Bee lives on to the oddly weird, yet breathtaking worlds they visit with every job. Viewers will be transported to magically beautiful world.
RELATED: Paws of Fury Review – An Unconventional Family Comedy that Pushes the Boundaries of a PG-Rating
Not only is it exciting to see what their job might be for the day, but also to see what outfit she will have. With any show that comes with a fandom, there is something I like to call the cosplay factor. This is a mix between could I see people cosplaying characters and what outfits would make good cosplays. As well as how easy would it be to cosplay. And with this show, it's every outfit. From the one pictured above with the little soda jumpsuit, to when she visited the bathhouse, to her everyday Bee attire, and even with other characters. This show is filled with cosplay opportunities.
Bee and Puppycat: Lazy in Space is a Must Watch
That is one of the biggest kickers to why this fandom has been so popular, and why this show is a must watch. Every episode is a completely different adventure, with the possibility for beautiful designs, witty writing, and a slew of chaotic moments that will leave you puzzled and yet smiling. All the while weaving in a mystery that will have viewers coming back for more. Honestly, it's hard to choose what is the one thing that makes Bee and Puppycat: Lazy in Spcee shine, because at the end of the day all the elements just fit perfectly together.
RELATED: The Sea Beast Review: A Spectacular Animated Adventure
And two of those elements is the balance between the two partners in chaos, Bee and Puppycat. Bee is extremely relatable as an everyday adult just trying to make rent and find her way. Along with the other characters on the island, just trying to make it by. While Puppycats sass and attitude is a nice contrast to Bee's over bubbly and cheerful personality. Not to mention, there are probably a lot of cat lovers who can relate to the relationship the two share.
My fingers are crossed that Bee and Puppycat: Lazy in Space will get another season and continue to build the fandom even more. This remake of the popular franchise was a slam dunk at taking what was already loved about the series, while expanding it even further.
Make sure not to miss Bee and Puppycat: Lazy in Space September 6th when it releases on Netflix. Let us know what you think of the series on Twitter.
KEEP READING: Minions: The Rise Of Gru – The Illuminerdi's We're Always Watching Podcast Ep 10