Paws of Fury: The Legend of Hank is a hilarious animated feature that pushes the boundaries of the PG-Rating.
Paramount Pictures and Nickelodeon Movies have teamed up to deliver the world Paws of Fury: The Legend of Hank. Some amazing backstory to the film, it was originally intended to be a spin-off sequel to Mel Brook's iconic Blazing Saddles. It was originally intended to be titled Blazing Samurais and star Richard Pryor in what eventually became the role of Hank. Mel Brook's brilliant satire of the genre and the society are fully in the DNA of the film. Combined with a stellar cast, Paws of Fury: The Legend of Hank is a guaranteed great time at the movies for the whole family.
Paws of Fury: The Legend of Hank Family-Friendly Satire
Paws of Fury: The Legend of Hank is a tale of a dog named Hank who travels to Cat Land, to become a samurai. However, being the only dog in Cat Land, Hank faces a lot of preconceived and ill-informed, prejudgments about being a dog. His limitations and actions have all been preconceived by Cat Land's local residents of Kakamucho. Luckily, there are some who see past the labels and are open to Hank's presence and ambition. With a little opportunity, support, and determination, Hank does his best to become the samurai of Kakamucho.
RELATED: The Sea Beast Review: A Spectacular Animated Adventure
The unconventional story and use of animals opened up a lot of possibilities for the film. By far the strongest aspect of the film is the sight gags. Mel Brook's satirical genius is fully on display with the incredibly playful design and animation of Paws of Fury. Masterful manipulation of perception and framing, genius use of size, and focusing on the hilarity of what would often be considered crude toilet humor keep the audiences glued to the screen. A very minor spoiler, but the spirit of Mel Brooks and his thoroughly genius way of showing you a joke is immediately seen in the opening song of the film.
Matching the visual stimulation, which is a pretty high bar, is the audio. By audio, the performances of the cast. Paws of Fury has an incredible cast with the likes of Samuel L. Jackson, Michael Cera, Kylie Kuioka, Rickey Gervais, George Takei, Gabriel "Fluffy" Iglesias, Aasif Mandvi, Djimon Hounsou, Michelle Yeoh, and Mel Brooks. Cera, Jackson, and Gervais carry the brunt of the film with hilarious perfection. Casting was absolutely spot on, fully utilizing their natural affinities to bring the characters of Hank (Cera), Jimbo (Jackson), and Ika Chu (Gervais) to life. There are few things better than Jackson delivering a PG-rant with the same vigor he wields the F-word with.
Outside of the main trio of Cera, Jackson, and Gervais, Djimon Hounsou and Kylie Kuioka absolutely steal the film. Kylie Kuioka plays the young and diminutive Emiko, whose size is a major contrast to her character's presence. Kuioka brings heart and steadfastness to this tiny kitten, which easily steamrolls any in her path. It's absolutely adorable, but with a very real hint of terrifying. On the opposite size side, there is Sumo brought to life by Djimon Hounsou. A character of few words really makes every line he says impactful. The pure enjoyment Hounsou is having playing off the ridiculous situations of the film emanates from the screen like heat from a fire.
RELATED: Minions: The Rise Of Gru – The Illuminerdi's We're Always Watching Podcast Ep 10
While maybe not the film's strongest aspect, it's one I feel is very worth noting the film's attempts to satire and educate prejudice and racism. Blazing Saddles would likely not work with today's understandings of race, culture, and the power of such influence. However, it can still be watched and appreciated for the genius of pointing out the sheer stupidity in the ignorance and practice of prejudice and racism. It is not quite as obvious in Paws of Fury, but the spirit of education through comedy does steer the audience in the right direction. It might not get to it as prominently, but given the limitations, it makes a truly valiant effort.
Some Tricks Just Don't Get a Treat
Despite its all-star cast, brilliant comedy, and legendary inspiration, Paws of Fury never quite exceeds being the sum of its parts. The absolute top-tier sight gags tend to exceed the quality of the animation. This is in no way saying the animation, design, or art, are bad. However, it does not have that "oomph" that makes it iconic. Outside of maybe Sumo, the characters wouldn't really catch your attention in a toy aisle. It is perfectly good art and animation, it just doesn't quite enhance the film and doesn't resonate.
RELATED: Thor: Love and Thunder Review – The World Will Want More Even After 4
Another factor that doesn't quite land, is the story itself. The film immediately requires you to not question the glaring plot holes it digs itself and does not hold up to any sort of critical thinking. Why is Ika Chu trying to destroy the town he is tasked with taking care of? It is the inciting incident but doesn't make sense. It is not a deal breaker by any means, but it does prevent it from it's being enjoyed more. It does allow for some of the more ridiculous events of the movie and for many of the best jokes to land. It just doesn't allow it to all fully come together either.
Regardless, He's Still A Good Boy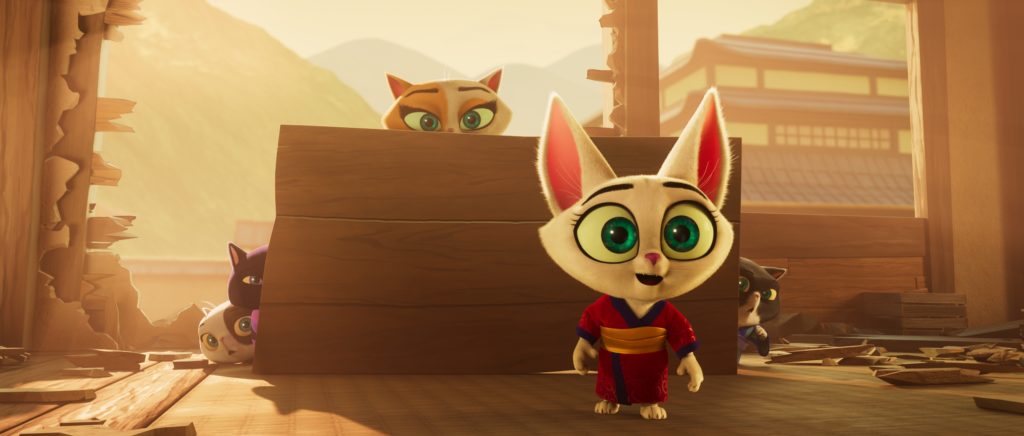 Paws of Fury: The Legend of Hank is a fun and funny film that can be enjoyed by the whole family. Fans of Blazing Saddles and Mel Brooks will get a chance to re-experience his brilliance and know that even at 96 years of age, Brooks still has it. Audiences of all ages will be able to laugh at the genius sight gags, and parents will also have a lot of subtle adult jokes they'll get to laugh they'll fly over the heads of children. The film never quite exceeds the sum of its parts, but its parts are more than enough to guarantee a fun movie experience for everyone.
For the pure comedy and entertainment, I give Paws of Fury: The Legend of Hank a 3/5.
Paws of Fury: The Legend of Hank releases exclusively in theaters on July 15, 2022, tickets are on sale now!
ABOUT PAWS OF FURY: THE LEGEND OF HANK
RELEASE: July 15, 2022 (USA), Tickets are on sale now
Directors: Rob Minkoff, Mark Koetsier
Animation By: HB Wink Animation, GFM Animation
Produced By: Flyting Tigers Entertainment, Aniventure, Cinesite
Distributed By: Paramount Pictures Studios, Huayi Brothers, Nickelodeon Movies, Tencent Pictures
Rated: PG for action, violence, rude and suggestive humor, and some language
Cast: Michael Cera, Ricky Gervais, Mel Brooks, George Takei, Aasif Mandvi, Gabriel Iglesias, Djimon Hounsou, Michelle Yeoh, Kylie Kuioka, Cathy Shim and Samuel L. Jackson

Synopsis:
A hard-on-his-luck hound Hank (Michael Cera) finds himself in a town full of cats who need a hero to defend them from a ruthless villain's (Ricky Gervais) evil plot to wipe their village off the map. With help from a reluctant teacher (Samuel L. Jackson) to train him, our underdog must assume the role of town samurai and team up with the villagers to save the day.

The only problem… cats hate dogs! Also starring Mel Brooks, George Takei, Aasif Mandvi, Gabriel Iglesias, Djimon Hounsou, Michelle Yeoh, Kylie Kuioka, and Cathy Shim, PAWS OF FURY: THE LEGEND OF HANK pounces into theatres July 15, 2022.
Are you excited about Paws of Fury: The Legend of Hank? What is your favorite Mel Brooks movie? Do you prefer cats or dogs? Let us know and share your reactions to the film with us on Twitter!
KEEP READING: Lightyear – The Illuminerdi's We're Always Watching Podcast Episode 9