AEW star Chris Jericho goes into what he talked about at AEW's mandatory meeting held a few weeks back.
AEW has had a lot of backstage issues recently which have bleed onto AEW TV. Some of the events which led to this meeting were wrestlers being unhappy with their booking which is common. However, the more serious stuff is the seemingly real life heat between wrestlers like CM Punk and Adam Page and Eddie Kingston getting physical with Sammy Guevara after Guevara fat shamed Kingston.
RELATED: CHRIS JERICHO TALKS ABOUT MEDICAL SCARE AND BIG WEIGHT LOSS
Tony Khan decided to hold a mandatory meeting for AEW employees. The exact details of the meeting are not all fully known, but it boiled down to everyone needing to communicate better.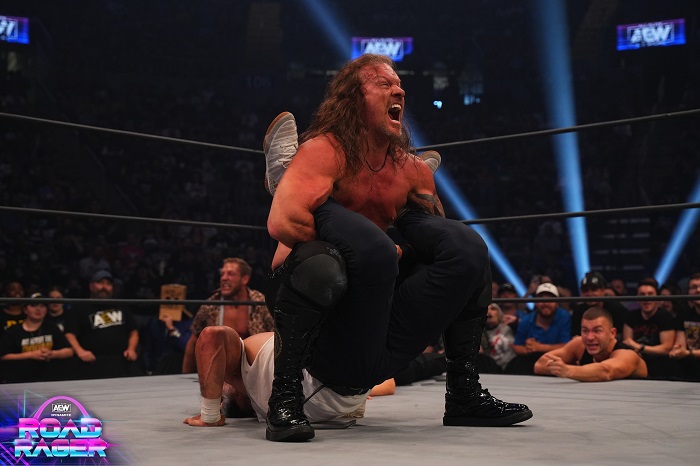 The post AEW All Out media scrum which was much more entertaining than anyone expected because of our pal CM Punk. However, after Punk's comments Jericho talked about the mandatory meeting and what he said at the meeting.
"The specifics don't need to be discussed, even though you can read them online," Jericho said. "That was one of the things discussed. 'Don't leak s**t that's supposed to be private.' But I think my message always is to remind people how special AEW is. And don't take that for granted. The swearing and that sort of thing. All it takes is the wrong guy to see somebody say p***y or whatever the hell it is, and they're going to go 'done.' It happens, we know this. So I just always want to remind guys 'please don't ruin, or potentially ruin, this amazing world that we've created.'

Where I came from, working for Vince for 20 years, that [going into business for yourself] was unacceptable. It would never happen. And I'm just trying to let people know where we're getting to the point now that these types of things are unacceptable as well. And we will start doing things Tony would do in the NFL, or in Fullham. We are a pro sports, multi-million dollar company with a huge television contract with another huge TV contract coming up soon. A lot of guys don't have that experience, and don't realize how special this is."

H/T To Wrestling Inc. For Transcription
Punk Take Your Fingers Out Of Your Ears And Listen Up
Despite Jericho being one of the most senior members in the locker room and by far the most accomplished, his words seemed to fall on deaf ears. To be more specific Punk wasn't listening, maybe he had his fingers in his ears. Punk has been the source of a lot of the issues recently. Even being accused of going into business for himself with an unexpected promo against Page.
Right at the beginning of the media scrum Punk was asked about Colt Cabana and it is well known Punk doesn't like him. He then went on to talk for over 20 minutes trashing Cabana who he only referred to by his real name, Page and the executive vice presidents [Kenny Omega and The Young Bucks]. All while Tony Khan has the look of terror in his eyes.
The Elite And Punk Start Throwing Hands
According to ComicBook after the media scrum Punk was reportedly confronted by Omega and The Young Bucks. A heated exchange allegedly resulted in a physical confrontation with punches and chairs being thrown.
RELATED: CM PUNK FEELS SOLIDARITY WITH SASHA BANKS OVER HER BIG WWE WALKOUT
It is entirely possible all this is a work and none of this is real. AEW has been blurring the lines between real life and scripted segments. MJF returned to AEW earlier in the night at the event and he had a promo calling out Khan and asking Khan to fire him a few months back. Obviously that didn't happen.  MJF's promo gained a lot of attention for AEW and so did Punk's actions and comments.  If AEW wants to blur lines of reality then why not have Punk who created the most famous worked shoot promos ever, The Pipebomb, do it.
The fallout from this media scrum has not settled yet and we will see what this week's AEW TV looks like. Whatever happens I'm sure it will be big news and very entertaining.
Do you think all this backstage drama is for ratings or is it real?  If real then what should AEW do to fix it? Should Punk be disciplined for his comments?  Is Punk more drama than he is worth at AEW? Let us know if you think Khan is a genius or if he has lost control over AEW.
KEEP READING: DARBY ALLIN REFLECTS ON BEING "GROOMED" FOR THE EXCITING KINGDOM OF THE NXT
Sources: AEW All Out media scrum, Wrestling Inc., ComicBook