Dakota Kai reveals how little time she had to prepare prior to her big WWE return.
Kai was released from WWE in April after she expressed a desire to not renew her WWE contract. After her release Kai had not appeared in any other promotion.
RELATED: ALEXA BLISS GIVES HONEST OPINION ON IF SHE DESERVES TO BE IN WWE HALL OF FAME
However, with Triple H taking over WWE creative he has seemingly made it his mission to bring back previously released WWE and NXT wrestlers. Some of these recently returned wrestlers were Dakota Kai, IYO SKY, Karrion Kross, Scarlett, Hit Row minus Swerve Scott, Dexter Lumis and most recently Braun Strowman.
The First But Far From The Last
Dakota Kai and SKY were the first of the group to return when they returned with Bayley who was also returning from an injury. The new faction known as Damage CTRL made their debut at SummerSlam on July 30.
Despite Dakota Kai and SKY's return being a big part of the event and the group making a big impact since returning, Kai was not given much time to prepare. On a recent episode of Mark Andrews: My Love Letter To Wrestling she explained just how short her notice was prior to her return.
"You know what's crazy, I only got the heads up that this would be happening 24 hours before," Dakota Kai said. "I was like, 'I don't know,' and at that time I didn't know what the environment was, I didn't know he [Triple H] was looking to do any of that, like bring people back I guess … SummerSlam comes around and I think I was still in the mind frame of processing the situation, even walking down the ramp at SummerSlam I was very overwhelmed."

H/T To Wrestling Inc. For Transcription
Dakota Kai's Past In NXT And What She Brings To The Main Roster
Prior to her release Dakota Kai was a big part of NXT especially the women's tag division. She was a two time NXT Women's Tag Team champion with Raquel González now Raquel Rodriguez.
RELATED: BILLY GUNN COMMENTS ON CHYNA'S UNFORGETTABLE CAREER
Since returning Dakota Kai and Damage CTRL have been a major part of the women's division storylines on Raw. They have attacked just about everyone including having heated interactions with Raw Women's Champion Bianca Belair. Kai and Sky were in the tournament to crown the WWE Women's Tag Team champions. The pair made it to the final round before losing to the new Women's Tag Team Champions Aliyah and Raquel Rodriguez.
From Streaming On Twitch To Appearing At SummerSlam In 24 Hours
Kai went from sitting on her couch playing video games to being a top contender to a championship and having one of the top storylines on Raw in just a little over a month.
To show just how much her position had changed in such a short time, Kai explains what she was doing the night before her SummerSlam return.
"I was like, well 24 hours ago I was streaming," Dakota Kai said. "I literally was streaming. I got told about it, [I] was like, I fly out Saturday morning like straight there. I did like a Twitch stream Friday night to be like, 'Everything is normal guys, nothing to see,' so yeah, very crazy."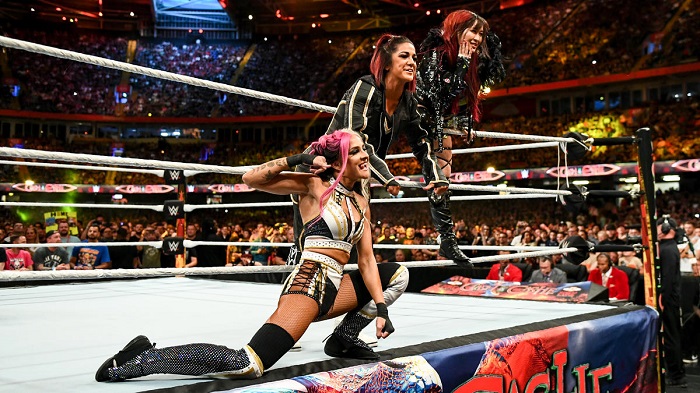 Don't Give Them Time To Leak Stuff
It is really interesting to hear how little notice Kai received prior to her return. I wonder if the same was true for SKY, Lumis, Kross and Scarlett. The last minute notice could be WWE scrambling to fill in storylines or find members for Bayley's faction for SummerSlam.  
Giving such a short notice sounds chaotic, but it could also be part of a bigger plan and change in operations.  It would be a lot harder for the internet to learn about big returns if the wrestler only found out about it 24 hours before. Doing it like that would keep the return a surprise which is what everyone wants.
What did you think of Kai's SummerSlam return? What have you thought of her time on Raw since returning? Do you think she works best in a tag team or faction or should she go solo? Do you think the short 24 hour notice was on purpose or just WWE being disorganized? Leave a comment and let us know if you want to see Damage CTRL continue to feud with Belair or if they should move on.
KEEP READING: CHRIS JERICHO'S STATEMENT AT AEW'S MANDATORY MEETING AND CM PUNK'S CONTROVERSIAL TIRADE REVEALED
Sources: Mark Andrews: My Love Letter To Wrestling, Wrestling Inc.