CM Punk says that even though he has never met Mercedes Varnado, aka Sasha Banks, he has solidarity with her.
Banks walked out of WWE along with her tag team partner, Naomi, back in May. As they were extremely unhappy with the creative direction their characters were going.  We haven't heard anything from them about the situation since.  
Punk left WWE in 2014 on extremely bad terms with the company and with wrestling in general. The two pro wrestlers left WWE while they were considered some of the best on the roster.  It came as a shock and a huge loss to the company.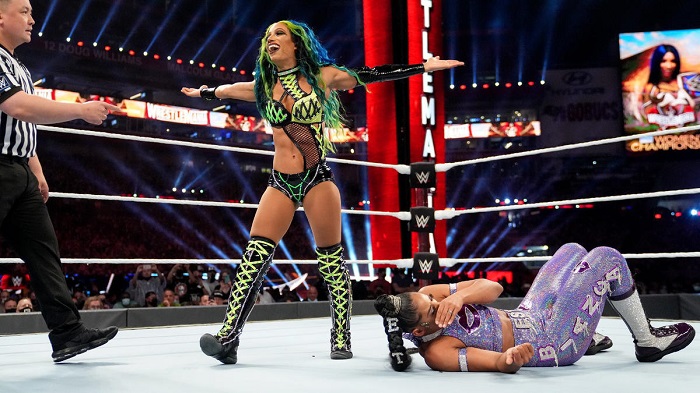 With the similarity of Punk and Banks' exit from WWE our pals at ThatHashTagShow asked Punk at Comic Con what he thought about Sasha Banks and her decision to walkout. Punk answered the question with hesitation as he knew it would come with a huge backlash for him on Twitter.
"My thing is, I can't listen to people criticize me if I wouldn't ask advice from them," Punk said. "You can't lead people somewhere you've never gone. I try to be as humble as I can be, and I don't like talking about myself, but I was the first guy through the wall. I got f*cking bloodied for it. To watch somebody else stand up and walk out, I'm always going to support that, 100 f*cking percent.

I've never met Mercedes [Sasha Banks], I don't know her, but I definitely feel solidarity with her. I know how that place is. I know how women are treated there. I'm not a woman myself, so I can't put myself in those shoes, but there are probably a lot of reasons why she peaced out."

H/T To Fightful For Transcription
RELATED: CHRIS JERICHO TALKS ABOUT MEDICAL SCARE AND BIG WEIGHT LOSS
Sasha Banks' future is still up in the air. It is possible that WWE left such a bad taste in her mouth that she may never want to return to WWE.  If that is the case then AEW would be the best option for her if she wants to continue wrestling.  She already has an opponent fans want to see her wrestle and just happened to be sitting next to Punk, Jade Cargill.  
Boss Banks Meet Boss Cargill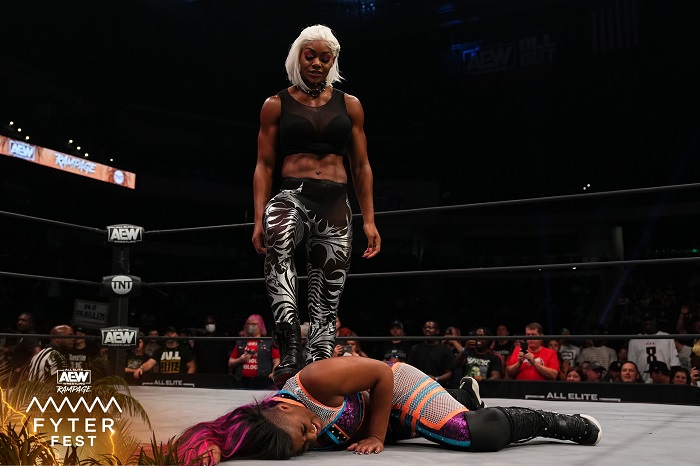 Cargill is the current TBS champion. Cargill has been compared to Goldberg because of her dominance as she is 33-0 according to her AEW roster page. She is also often compared to Chyna because they both share a big, muscular and imposing physique. Sasha Banks has a history of having very good matches with bigger women's wrestlers as she has had some amazing matches with Charlotte Flair. If Banks makes her way to AEW I would be surprised if Cargill wasn't one of her first feuds and hopefully is her first.
A Possible Indication Of Sasha Banks' Return To WWE
However, recently we may have gotten some possible indication of Sasha Banks making a return to WWE. Banks was listed under her real name to participate in a Rams celebrity flag football game, Team Ramsey vs. Team Donald. She was initially listed under the team Donald roster on Rams' Twitter post, but is no longer listed on the official website.
RELATED: FTR'S DAX HARWOOD NAMES WHAT HE THINKS IS MISSING IN MODERN WRESTLING
The game is taking place tonight and the belief is that Banks was pulled because she is set to appear on tonight's SmackDown in a shocking return. However, there are many possible reasons why she was removed from the event which don't involve WWE. With that being said I wouldn't be surprised if she did return tonight or in the near future.
Former WWE Superstar Paige had also expressed her belief that Sasha Banks would be returning soon because of Triple H's new role in WWE saying "so, I think she'll [Banks] be back [to WWE]. I think now with Hunter [Triple H] in charge and kind of like taking the reins and everything."
Do you think Sasha Banks will return to WWE or debut in AEW? Would you like to see Banks face Cargill? Since Punk and Banks made a similar exit from WWE and have some solidarity would you like to see them form an inter-gender faction or tag team? Do you think Banks being pulled from the flag football game indicates a possible WWE return? Let us know if you would like to see Banks return to WWE or go to AEW with the same/similar Boss character or something completely new.
KEEP READING: WILLIAM REGAL GIVES DETAILS ON HIS CLOSE RELATIONSHIP WITH TRIPLE H
Sources: ThatHashTagShow, Fightful, Wrestling Inc.
Full CM Punk and Jade Cargill interview can be found below