Marvel debuted a new trailer at D23 for Marvel's Midnight Suns.
D23 and Marvel Games have officially brought a wealth of rewards, including new gameplay that finally gives a simple deep dive into what Firaxis and Marvel are trying to execute as a card-based RPG. But also a unique take on how our favorite Marvel heroes will take a trip into the supernatural realm while setting the stage for something like never before.
Marvel's Midnight Suns "Live Among Legends" Gameplay Trailer
Well, it also happens that The Illuminerdi is at the event, and we got an inside scoop, including the background and inspiration for Marvel's latest title in their Gaming multiverse.
"Midnight Suns, the game is inspired by the 90's Marvel comic book run titled Rise of the Midnight Suns," According to Jake Solomon, who is the creative director of Firaxis Games. Solomon also mentioned this experience would bring a lot of life to lesser-focused characters such as Nico Minoru and Magik, who many know as Illyana Rasputina, aka Colususs' sister.
RELATED: AMAZING NEW INDIANA JONES 5 CONCEPT ART AND COSTUMES REVEALED AT D23!
Solomon also unveiled a brief deep dive into the premise and narrative of Midnight Suns while explaining the purpose of the newly announced prequel shorts that will introduce the player and audience to the broader lore and help connect the dots to further flesh out the overall gameplay and experience.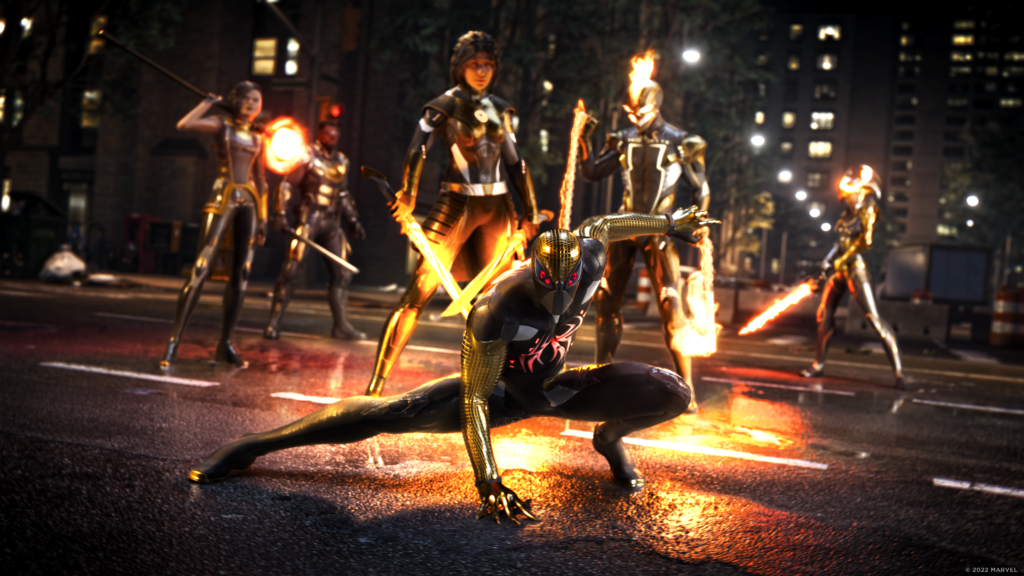 "In Marvel's Midnight Suns, we knew we had a really cool opportunity to dive deep into the dark side of Marvel and introduce some supernatural heroes that may be new to many Marvel fans," stated Jake Solomon, creative director at Firaxis Games. "Prequel Shorts sheds light on the events leading up the game and really brings the world of Marvel's Midnight Suns to life."

Jake Solomon, Creative Director of Firaxis Games via D23 Convention
RELATED: TINYKIN REVIEW: TERRIFIC PS5 GAME AND THROWBACK TO SOME OF THE CLASSICS WE LOVE
The prequel shorts will debut this Halloween and will consist of five that will build into a five-episode mini-arc, further going into detail about how The Hunter came to be. Along with the introduction of the main villain, Lillith, the mother of demons, and Chthon, many know from the comics as an elder god. The first look at the shorts looks incredible and feels like Marvel's first attempt of backdoor piloting or a step into the realm of anime, and I'm here for it.
Seeing Marvel step out of their comfort zone and seek other developers is surreal. They also pull from comic source material's expansive lore and humanity to create a 40-60 tactical RPG. It has been confirmed that the roster will consist of icons such as Wolverine, Spider-Man, Iron Man, Captain America, Blade, Captain Marvel, Scarlet Witch, Hulk, Venom, Ghost Rider, and Doctor Strange, to name a few. Which to note are all rocking various new looks, respective of the mystical tone, and the world as a whole.
2K and Marvel also revealed some insight about the role of "The Hunter, which will be fully customizable and established that with this being an RPG, your choices would matter, so be careful and plan out your thoughts, and steps carefully.
"As a new and customizable Marvel character, The Hunter, players will lead a powerful team of supernatural Super Heroes facing growing unholy threats and experience a tactical Marvel game unlike any other."

Jake Solomon, Creative Director of Firaxis Games via D23 Convention
RELATED: MATTHEW LILLARD DESCRIBES PLAYING SHAGGY AS A CAREER HIGHLIGHT
In addition to the brief Q&A, Marvel revealed that Midnight Suns is officially slated to release later this year on Dec 2nd for the latest Next Gen consoles consisting of PS5, Xbox Series X/S, and PC. And the pre-order bonus is a Defender Doctor Strange cosmetic skin. On a slight sting, the last-gen consoles, XB1, PS4, and Nintendo Switch, will be revealed at a later date.
As of now, no other details have been revealed, but it's no fact to deny that Midnight Suns looks like a lot of fun, and we can't wait to dive in and play.
Are you excited about Midnight Suns? Who do you want to see join the roster? Are you familiar with the 90's comic run? What Marvel Game are you waiting to play? As always, drop a like, post a comment, and follow us on all social media.
KEEP READING: WATCH CAPTAIN AMERICA AND BLACK PANTHER TEAM UP IN EXCITING NEW WW2 MARVEL VIDEO GAME TRAILER
Source: 2K Games and Firaxis Games