D23 is officially underway, and Lucasfilm is not holding back! During the Disney mega-panel featuring Lucasfilm, 20th Century, and Marvel Studios, Lucasfilm gave fans a first look at Tales of the Jedi.
RELATED: WATCH CAPTAIN AMERICA AND BLACK PANTHER TEAM UP IN EXCITING NEW WW2 MARVEL VIDEO GAME TRAILER
Star Wars icon Dave Filoni took the stage to reveal the first trailer for the upcoming DIsney+ series. Created by Filoni and Charles Murray, the show will have six episodes starring Liam Neeson, Janina Gavankar, and Clone Wars alums Matt Lanter and Ashley Eckstein.
TALES OF THE JEDI WILL EXPAND ON ASHOKA AND DOOKU'S ORIGINS
Ahsoka and Dooku are the main focus points of the series. Both stories focus on each character's origin, with Ahsoka's starting with her birth and Dooku's with his turn to the dark side. While both stories look incredible, Star Wars fans are insanely excited to finally see Dooku's transformation from Jedi Master to Sith Lord. Other characters returning for Tales of the Jedi include Quin-Gon Jinn, Mace Windu, Anakin Skywalker, Bail Organa, and Yaddle.
RELATED: MUFASA: THE LION KING PREQUEL GETS A BRAND NEW TITLE AT D23
Ahsoka seems to be a new potential face of the Star Wars franchise. She was already a fan favorite because of The Clone Wars and Rebels. Still, with her live-action introduction in The Mandalorian and her own spinoff show, Lucasfilm is going all in on the character. Tales of the Jedi looks like it will expand on the character's origin leading up to the events of The Clone Wars and potentially going beyond it.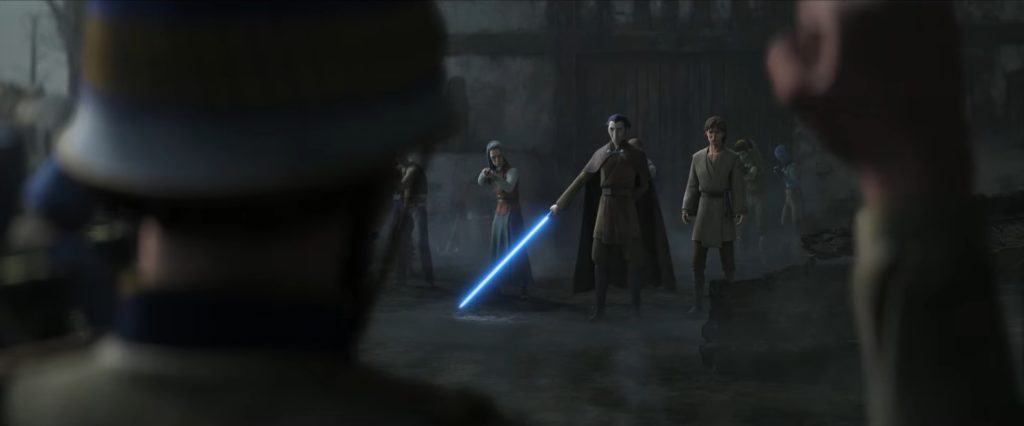 The trailer finishes with a glimpse at the numerous lightsaber fights from the series. We see Dooku fighting Yaddle. We can assume this takes place towards the end of Dooku's episodes after the Jedi Master succumbs to the dark side of the force. Tales of the Jedi is absolutely going to dive into the emotions he goes through as he becomes the Sith Lord most fans know. The trailer shows many scenes where Dooku is battling his inner demons as he tries to determine a suitable punishment for other characters.
RELATED: WILLOW: SEE WARWICK DAVIS IN THE MAGICAL NEW TRAILER
Lucasfilm also revealed a brand new Sith character at the end of the trailer. Labeled as an Inquisitor, they wear a plague doctor-style mask and wield a dual-bladed lightsaber.
You can watch the trailer below and check out Tales of the Jedi when it releases on Disney+ on October 26.
Are you excited about Tales of the Jedi? What other Jedi stories would you like Lucasfilm to expand on? How do you feel about the animated Star Wars series? Let us know in the comments below or on Twitter, and check back with The Illuminerdi for D23 coverage all weekend!
KEEP READING: D23 EXPO: FINAL TRAILER FOR 'ANDOR' SEES CASSIAN ANDOR JOIN THE REBEL ALLIANCE
Source: D23