Is this Disney Dreamlight Valley review a little late because I haven't been able to put down the game? 100%.
Cozy games in general hold a warm place in a lot of gamers hearts. Now mix that with the wide world of Disney and you have something magical. Seriously, this game has been out for a week and while it has had some bugs, the overall word is it's an utter smash. Disney Dreamlight Valley is a mix between Animal Crossing and Stardew Valley, with Sims-style graphics. And while this game is similar to those, it;s leaps and bounds better on so many levels.
RELATED: AVENGERS CAMPUS: DISNEY ANNOUNCES KING THANOS MULTIVERSAL RIDE IN DEVELOPMENT AT D23
Disney Dreamlight Valley transports players to a beautiful world that once homed all of the beloved Disney characters. But due to a curse of The Forgetting, most of these characters have left for greener pastures. Or in poor Minnie's case have ceased existing altogether. It is now your job to help your friends and Dreamlight Valley reach its former glory by completing quests. These quests focus on collecting and making things, while also building friendships with your favorite Disney characters.
Customization in Disney Dreamlight Valley
One of the biggest reasons Disney Dreamlight Valley has captured so many hearts, is due to the ability to customize. And it isn't just your appearance that has a large variety of options. You can also customize cloths, your house, and the world around you.
Taking a look at the avatar customization, there were a few things that stood out. The first thing is that we love any game that focuses on inclusivity. Not only are there different body shapes and sizes, but there are items that speak to a variety of cultures and religions. This means that all players have the ability to make avatars that look just like them, without having to settle for getting close enough.
Another area that is mind-blowingly massive, is the clothing option. This breaks down into two areas; already designed clothing and customization. Already designed clothing can be found in blue bags as you open chests, leveling up yourself and friendships, as well as visit Uncle Scrooge's shop. The customization side has a collection of basic white items that players will be able to add color and designs however they see fit. With one of the biggest draws being the variety of motifs that can be added.
Just check out this TikTok by Madmorph that breaks it down.
Collections Galore
If you are into Disney Bounding, Disney Dreamlight Valley will speak to you on a completely different level. Not only are there 716 clothing sets to dress your character in, but there are 973 furniture sets. This means your character and house can be glammed out to represent all your favorite Disney things. Now it is important to note, that these sets are only a small fraction of movie titles that Disney holds. For example we don't have anything yet for The Princess and Frog, Encanto, Peter Pan, and the list goes on.
However, we do know that this game is going to be getting updates on a regular basis due to the Star Path. As well as there will be more characters and realms added, as was discussed during last weekend at D23. The Star Path is Disney Dreamlight Valley's version of a battle pass, like in Fortnite that allows players exclusive items for a limited time.
The current event going on for the next 28 days is the Pixar Fest and has 5 pages of items that include decorations, motifs, clothing, and Moonstones. Moonstones are used to unlock the premium items, which for this season was around 2,500. As well as if you are able to collect all the rewards, you will be getting a total of 2,175 Moonstones back.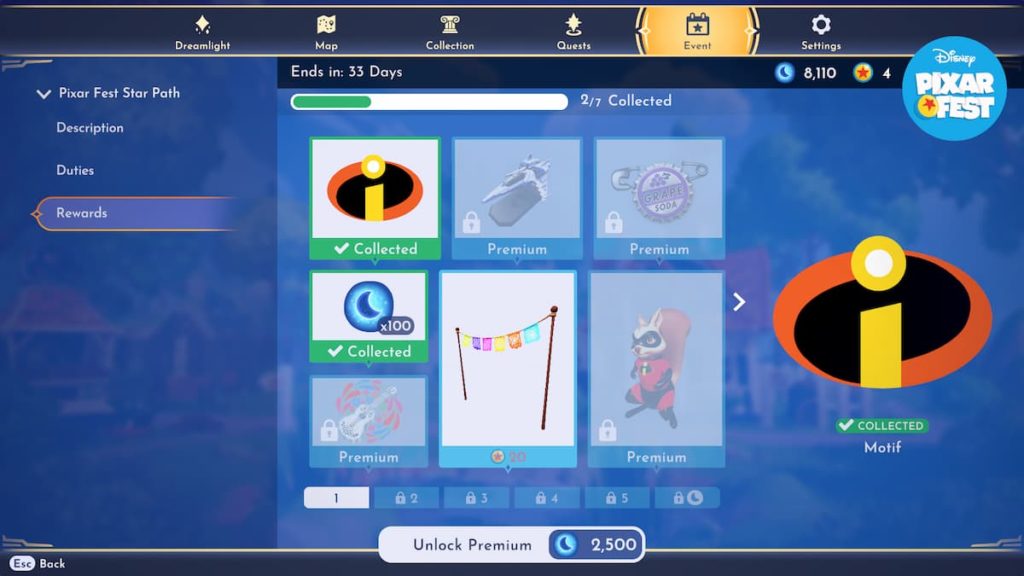 But it isn't just the 1500+ clothing and decorative items you can find. Currently, Disney Dreamlight Valley has categories from Characters, Memories, Crafting, Critters, Fish, Foraging, Ingredients, Meals, and Gems that hold a variety of items to unlock. And again to show how little of the Disney IPs they have integrated into Disney Dreamlight Valley, only 17 characters are available to find right now. It was also announced that players will soon be receiving a few Toy Story characters like Buzz when the new Toy Story realm is added by the end of this year.
The Game Play
While customization and collecting items are a huge drive between why people are obsessed with Disney Dreamlight Valley. It is also important to take a look at the overall gameplay. The main focus is completing quests and leveling up friendships. With a huge focus on leveling up friendships because that is how you unlock more quests and progress to higher tiers. For example as you grow your friendship with Merlin, he will help you upgrade your water can which will be important as you explore further into the map.
Similar to many cozy games, Disney Dreamlight Valley is an open world that allows players choices in what they want to unlock or who/what they want to find first. The only suggestion I have for new players, is that choosing Remy as the first realm is probably the most beneficial overall. Realms are these doors within the main castle, that will transport you to the characters land. And when you start you have three options. Moana, Remy, or Wall-E. Remy is the best choice, only because it will help unlock more recipes you can cook, which will help you complete quests faster.
As players play, they will be able to unlock realms and different areas of the map. Realms are slightly different because the characters in these don't already have established homes in Dreamlight Valley, whereas characters like Mickey do. Areas of the map and realm doors can be unlocked by using Dreamlight, which is earned by completing duties and quests. While bringing characters out of the realms to Disney Dreamlight Valley focus more on money, coins are best earned by selling meals and gems to Goofy at his stand.
While realms are specific to the characters and their story, the zones in Disney Dreamlight Valley are important regarding items you are trying to find. There are about 8 zones to explore as you progress in the game. As well as these zones differ in items they host. For example, you will find different gems and flowers in the Peaceful Meadow compared to the Forest of Valor. As well as the different zones will have different obstacles that you will need to handle.
It cannot be stressed enough how important making and leveling up friendships is in this game. The great thing is that while it might seem daunting, it's actually extremely easy. Completing the quests for these characters will help, but there are two better ways. The first being giving them gifts. Each character has three items they have deemed their favorites and these change daily. While characters will accept any item, making sure to deliver their favorites is a surefire way to become besties in no time.
The other way to become fast friends is by hanging out. This option becomes available as you hit level 2 with the characters and allows you to choose a role for them. While you play Disney Dreamlight Valley, you have 5 actions that will help you find items you need. These include gardening, fishing, mining, foraging, and digging. These also are the 5 roles that are available for you to choose one for each friend you make. For example, Mickey Mouse loves to garden, so I selected the gardening role for him.
The idea of this is that when you are doing one of the actions, if you ask a character who is assigned that role to hangout, you have the chance of receiving extra items. Which is great, because you cannot have too much of anything in this game. The other benefit is that as you are hanging out running around looking for these items, you are leveling up your friendship. Which is even better, because you are basically accomplishing two tasks at once.
And it doesn't have to be the role you assigned them either. It takes time to gather characters, so you might only have Mickey or Merlin when you first start. Even just clearing out the thorns will help your friendships blossom.
It's Magical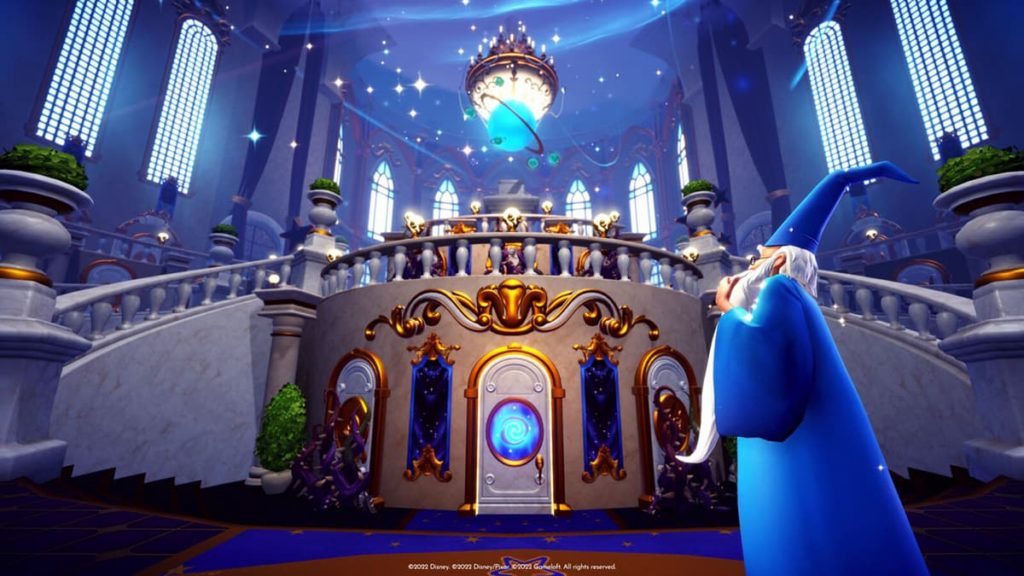 There is no better way to sum up Disney Dreamlight Valley except to say it's magical. It's crazy to think that when the game fully launches next year it will be free to play and NOT play to win. When you hear this about games, you don't tend to expect them to be extremely well developed. But everything about this game just flows easily, while finding a nice balance between the massive list of things to accomplish. Not only could it be argued that Disney has outshined Animal Crossing, but the bar for cozy games has been raised.
And sure we are seeing some bugs between different platforms. Some Switch users have characters disappearing – or in my case my customized clothes changing colors. But overall it's important to remember this game is in early access and just launched last week.
The big question a lot of people have is if Disney Dreamlight Valley is worth the current price. And for me, the answer is yes! Out of a scale of 10, this game is a high 9!
Not only are there more items and quests one could imagine available so early in Disney Dreamlight Valley, but we already have two updates announced. The first one includes the arrival of Scar and more of the main story progression this fall, as well as we will be seeing the addition of the Toy Story Realm later this fall. Plus we can't forget about the Star Pass and what that might bring when Pixar Fest is over.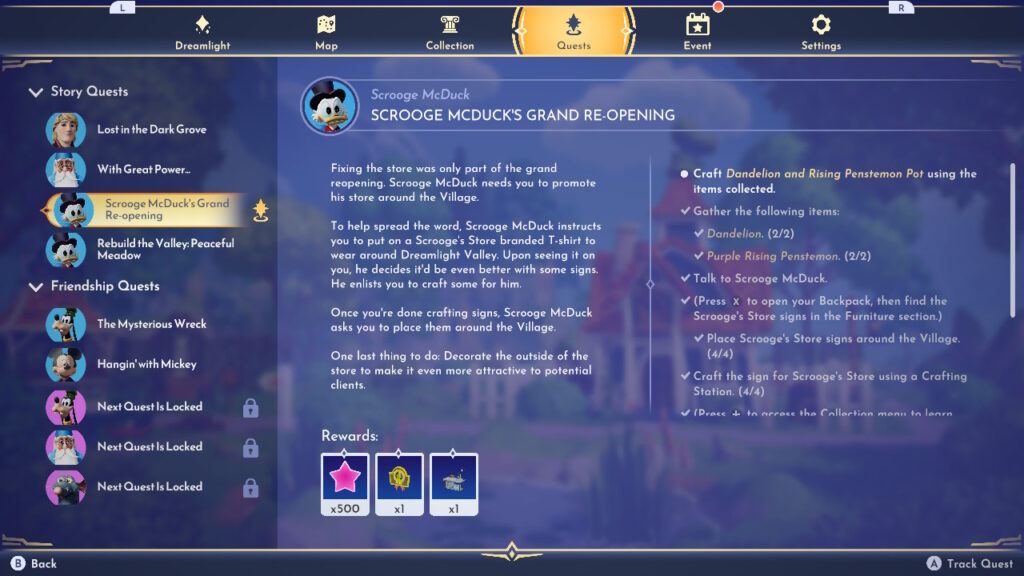 Now you might be thinking, but is this a kids' game? And at first, I was skeptical regarding how little characters there were, and how quickly I was progressing through the game. But that all ended after a few hours, because there is so much built into the questing system alone. The best way to put it, is there is always something to do. Some days you might want to grind hard on accomplishing quests, and maybe other days you want to hang out in the kitchen and just explore more recipes or build up your gold. Personally right now I am on a question to build a Cinderella home by collecting all the items that go with the movie.
Currently, the game is available across all platforms and is broken down in three editions. The Standard Edition is $29.99, the Deluxe Edition is $49.99, and the Ultimate Edition is $69.99. Each package has a variety of special items that will be available. But just in case money is tight, there is another option available to play this game. The Xbox Game Pass which runs about $9.99 a month has the Standard Edition available for PC and Xbox players. Plus, Xbox always has deals for new subscribers so there is a chance you can play it for even less.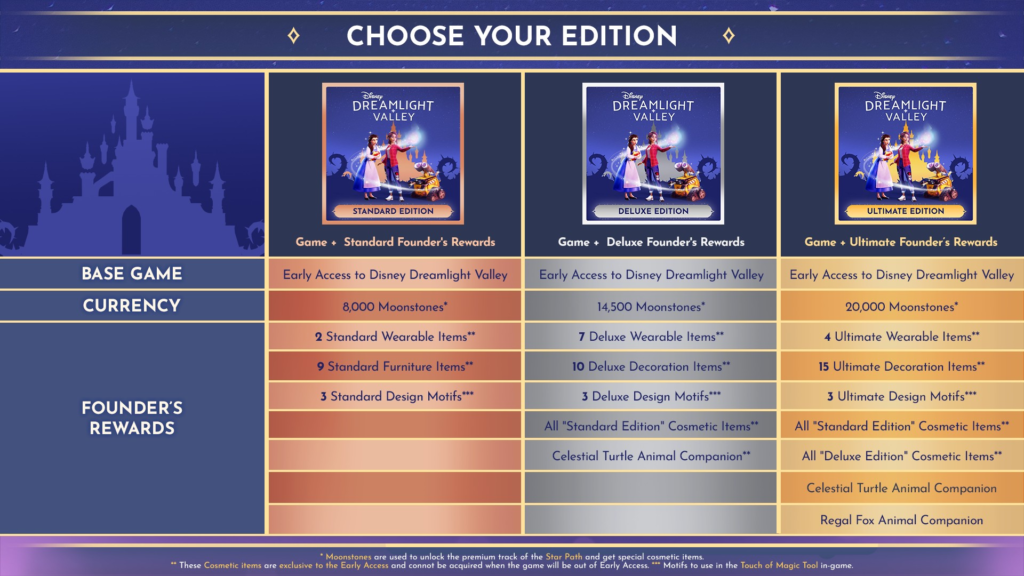 Disney Dreamlight Valley is worth checking out especially if you are a Disney fan or just love cozy games. And if you are still on the fence, go head over to TikTok and check out all the people who are currently playing. And check out our Twitch stream, where we played a little of Disney Dreamlight Valley last Thursday.
Let us know what you think of the game in the comments below. Who you are excited to see get announced next? What are your thoughts on poor ghost Minnie wandering around?
KEEP READING: PIXAR REVEALS MORE FANTASTIC DETAILS ABOUT 2023 FILM AND THE STUDIO'S FIRST EVER TV SERIES