Hey, you! Yeah, you! Do you want to go to school with Wednesday? Have you ever been told that you're different or odd? Do you feel like you don't belong in a world full of Normies and do you feel like an Outcast among your fellow peers? Well, if you answered yes to any of these questions, there's a special place for people just like you.
Welcome to Nevermore Academy!
RELATED: WEDNESDAY: FIRST LOOK AT NETFLIX'S SPOOKY SERIES
Founded in 1791, Nevermore Academy provides an educational haven for the supernaturally gifted Outcasts of the world. Named after its most famous graduate, Edgar Allan Poe, this extravagant boarding school is home to all different kinds of students: Werewolves, vampires, sirens, gorgons, and a spectrum of other students with uniquely chilling gifts.
What is Nevermore Academy?
The school is nestled in the secluded woods of New England and the picturesque town of Jericho, one of the original Pilgrim settlements, is about a 25-minute walk away from the school's location. Admittance to this wonderful school is open for new applications and Outcasts of all kinds are welcomed to enroll.
Not only did Edgar Allan Poe attend but also Morticia Addams is one of Nevermore's notable alumni. You can learn and meet the students who are currently enrolled and you can find out more about the school's unique activities and events. Below, you can watch a video hosted by Principal Larissa Weems with students who share their insights on their experience attending the school.
Amazing, right? Now that you know a little bit more about the school, you can take a short quiz where it will determine if Nevermore Academy is the right school for you! Notifications on those few who have been chosen to attend the academy in the fall, will be mailed out as soon as possible.
If you're interested in attending this beautiful school, you can apply here!
Let's Talk About Wednesday
Netflix's upcoming anticipated series Wednesday is set to release this fall. The series is a sleuthing, supernaturally infused mystery where it follows Wednesday Addams' years as a student at Nevermore Academy. In the school, she attempts to master her emerging psychic abilities, while also clashing with a killing spree that is terrorizing the town and trying to solve a murder mystery that embroiled her parents 25 years ago.
Even though she will be facing all of this mayhem, she's also navigating her new relationships at Nevermore.
Showrunners/Executive Producers/Writers of the series, Alfred Gogh and Miles Millar are both on board with Tim Burton as Director/Executive Producer. Steve Stark, Andrew Mittman, Kevin Miserocchi, Kayla Alpert, Jonathan Glickman, Gail Berman, Tommy Harper and Kevin Lafferty are also part of the working team.
RELATED: THE FIRST POSTER & RELEASE WINDOW FOR THE ADDAMS FAMILY SPIN-OFF WEDNESDAY HAS BEEN RELEASED
When it comes to the cast, it is filled with a large ensemble. Jenna Ortega (Wednesday Addams), Gwendoline Christie (Principal Larissa Weems), Jamie McShane (Sheriff Gaqlpin), Percy Hynes White (Xavier Thorpe), Hunter Doohan (Tyler Galpin), Emma Myers (Enid Sinclair), Joy Sunday (Bianca Barclay), Naomi J. Ogawa (Yoko Tanaka) with Christina Ricci (Marilyn Thornhill). Additional cast members and guest stars include Catherine Zeta-Jones (Morticia Addams), Luis Guzmán (Gomez Addams), Isaac Ordones (Pugsley Addams), Victor Teodor Dorobantu (Thing), Calum Ross (Rowan Laslow), Luvanda Unati Lewis-Nyawo (Deputy Rita Santiago) and many more.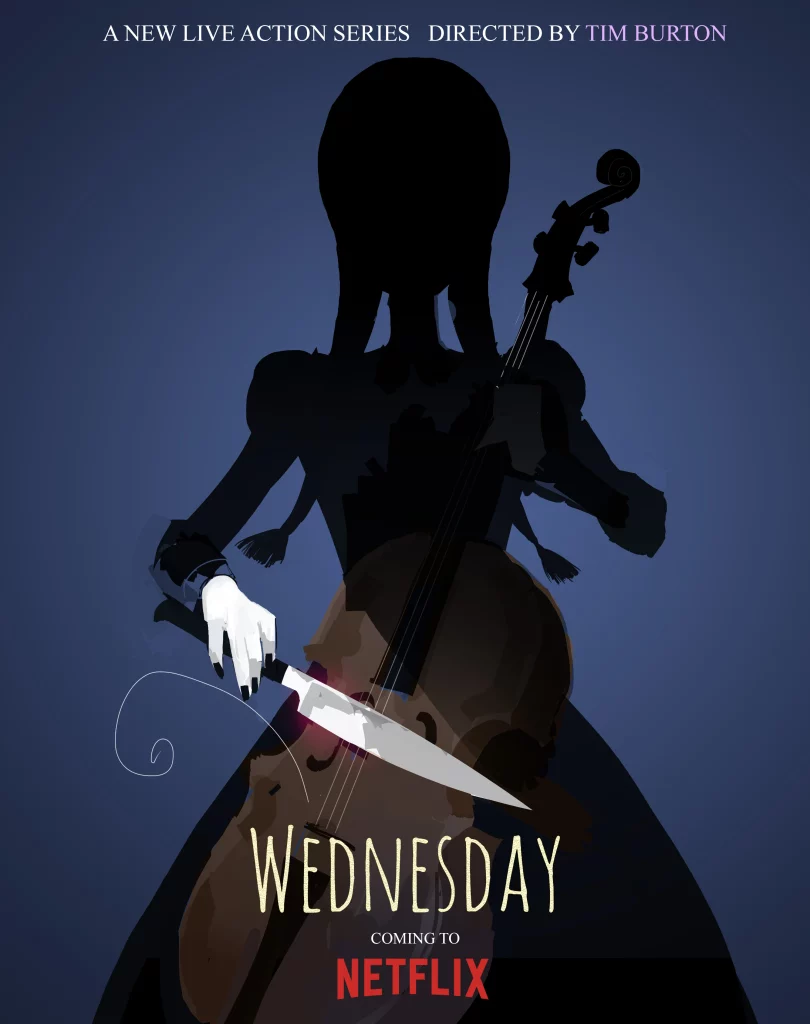 An official release date for Wednesday has yet to be determined by Netflix, but the series is still being advertised to release this fall. Netflix's anticipated event TUDUM is scheduled to happen this upcoming Saturday on September 24th. The global fan party is expected to reveal some new info on upcoming series so we shall expect some news for Wednesday. We are definitely going to keep our fingers crossed for some news.
Are you excited for Wednesday? Do you have plans to watch TUDUM this weekend? What are some news you hope to hear about this weekend? Let us know in the comments or tweet us your answers at @The_Illuminerdi and don't forget to follow us!
KEEP READING: ANDOR'S GENEVIEVE O'REILLY EXPLAINS MON MOTHMA'S "PRIVATE FACE" AND HER DANGEROUS JOURNEY IN NEW STAR WARS SERIES