Andor is only weeks away and with it Star Wars fans will see the return of many fan favorites including titular character Cassian Andor, Saw Gerrera, and Senator turned Rebellion leader Mon Mothma. Mon Mothma has been a staple in Star Wars for many years, but much of her life is still a mystery. Fans have only seen Mon Mothma as a member of the Galactic Senate and a leader within the Rebellion as they fight against the Empire. Andor is a chance to not only flesh out Cassian Andor's story, but Mon Mothma's as well.
RELATED: ANDOR STARS TALK ABOUT EXPLORING THE VILLAINOUS EMPIRE AT THE HEIGHT OF IT'S POWER
The Illuminerdi had the opportunity to attend the Andor virtual press conference which included Executive Producer and Writer Tony Gilroy, star and Executive Producer Diego Luna, Genevieve O'Reilly, Kyle Soller, Denise Gough, and Adria Arjona. Genevieve O'Reilly has portrayed Mon Mothma in Revenge Of The Sith, Star Wars Rebels, Rogue One, and now Andor. However, according to Genevieve O'Reilly this is not the Mon Mothma that fans are used to seeing. Andor will explore a new side of Mon Mothma while she is in the Galactic Senate at the height of the Empire's power.
ANDOR FEATURES ANOTHER SIDE OF MON MOTHMA WHILE THE EMPIRE IS IN POWER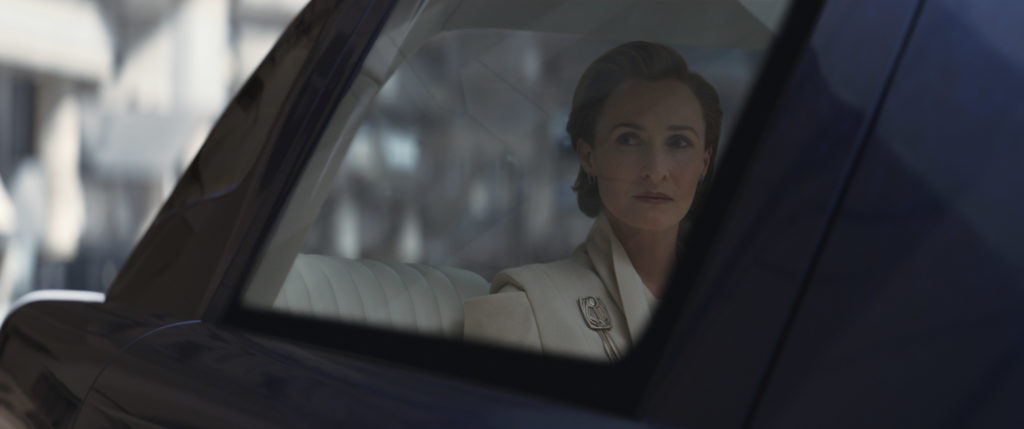 "We've met Mon Mothma before in different iterations, in different versions of the Star Wars storytelling. And each time we've met her, we've met this kind of composed, regal, dignified woman who often like with Cassian in Rogue One, she is to send people out on a mission. I think what's extraordinary about how Tony has written Andor and where he has chosen to begin this story is so very different to where we find Mon Mothma in Rogue One.

She is still that very dignified senator. But for the first time, we get to see the woman behind the role. We get to see a private face of Mon Mothma. We get to flesh out not just the senator, not just the would-be leader of a Rebel Alliance, but also the woman."
RELATED: STAR WARS ANDOR TIMELINE TO JUMP FORWARD ONE YEAR EVERY 3 EPISODES
Digging into these new pieces of Mon Mothma is thrilling especially given how long this character has been a part of the world of Star Wars. Mon Mothma has been a staple in Star Wars throughout many projects spanning more than one era. First at the end of the prequel era as the Empire rises to power, before later becoming an integral part of destroying the nefarious Empire as a leader within the Rebellion.
During the Andor press conference Genevieve O'Reilly talked about not only exploring new aspects of Mon Mothma's personality, but this era within Star Wars:
"I think the most exciting things about Mon Mothma is the bravery and where Tony has decided to begin. We meet Mon Mothma in a place we've never seen her before. We meet a woman steeped in Empire, navigating a very male-dominated Empire with a very powerful Emperor Palpatine at the top of it. Previously, in Rogue One or at other times, we've seen her…around maybe people with different opinions but with like-minded Rebels.

We find her in Andor very alone, living in a world of orthodoxy and construct. We see a woman who has had to navigate her ideals and her beliefs within systems of oppression. And so, we find her in a place we've never seen her before. We find her in a bit of a gilded cage. And so, what I'm excited for is for us to travel that story with her.

To journey with her as a woman and finding her voice, like Diego said, reaching for voices that are fighting for similar things. Finding community, finding collaborators to be able to eventually be the leader that she becomes in Rogue One. So, there's a journey to travel and I'm excited for people to hop on that train with us."
RELATED: ANDOR: DISNEY ANNOUNCES NEW RELEASE SCHEDULE FOR 12-EPISODE DISNEY+ SERIES
Andor is a chance to see how Mon Mothma transitioned from Galactic Senator, who was an ally of Padme Amidala, to a leader within the Rebellion. Fans have never seen Mon Mothma's struggle within the Empire controlled Senate, nor how she helped establish the Rebels under a structured leadership. Mon Mothma has been a part of Star Wars for years, but she has never been a character that fans have had the chance to truly understand. It will be thrilling to finally discover more about this impressive character in the new Andor series.
The first three episodes of Andor are available now on Disney Plus with subsequent episodes debuting each Wednesday. You can watch Rogue One on Disney Plus now. Are you a Rogue One fan? Are you excited to watch Andor? Are you looking forward to exploring a new side of Mon Mothma? Leave your thoughts in the comments below or on our social media and check back with The Illuminerdi for more Star Wars and Andor.
KEEP READING: ANDOR CREATOR REVEALS WHAT INSPIRED THE NEW STAR WARS SERIES