Hasbro Pulse Con 2022 begins today at 8am PT, here's what to expect from the two-day global virtual event.
The global play and entertainment company is set to host its second virtual fan experience, Hasbro Pulse Con 2022 today! The program features a dynamic lineup of panels themed to their iconic brands, including Marvel, Star Wars, Indiana Jones, and Power Rangers. The virtual fan even promises exciting celebrity and influence appearances led by host Khleo Thomas along with cohost DJ Amen. The pop culture and fandom festivities will begin at 8am PT hosted by Thew Adams. Hasbro Pulse Premium Members gain early access to select convention exclusives and pre-orders revealed during the day before the rest of the fans at 3pm PT.
RELATED: Loungefly Debuts Delightful Ted Lasso, Jasmine, and Black Panther Mini-Backpacks
Celebrating the Star Wars phenomenon, actors Simon Mario Kassianides (Axe Woves in The Mandalorian), Dee Bradley Baker (Star Wars: The Clone Wars and Star Wars: The Bad Batch) and Michelle Ang (Star Wars: The Bad Batch)
D-Stroy (Artist, Comedian, Host of "Show off Your Gems" and Shade45 on SiriusXM)
Major athletes, including professional wrestlers Sgt Slaughter (WWE) and former WWE champion Johnny Gargano, as well as NBA Point Guard Ja Morant (Memphis Grizzlies), along with former NFL Wide Receiver Julian Edelman (New England Patriots) and Quarterback and Marvel Legends Collector Brian Hoyer (New England Patriots)
Cast members from "Power Rangers Dino Fury" and "Power Rangers Cosmic Fury," Russell Curry, Hunter Deno, Chance Perez, Jordon Fite, Tessa Rao and executive producer Simon Bennett– to celebrate the show's season two return and what is to come in 2023!
Legendary rapper Murs, who will join West Coast hip hop artist DJ Amen as musical guests for the event
Influencers and fans of Hasbro brands, including Power Rangers enthusiast Andre (@blacknerd Host, Content Creator) and Thew Adams (Thew's Awesome Transformers Reviews)
Comic book writers, such as BOOM!'s Melissa Flores and Ryan Parrott (Power Rangers), Larry Hama (G.I. JOE) and Nick Roche (Transformers)
Hasbro Pulse Con 2022 Day 1 and 2 Program Schedule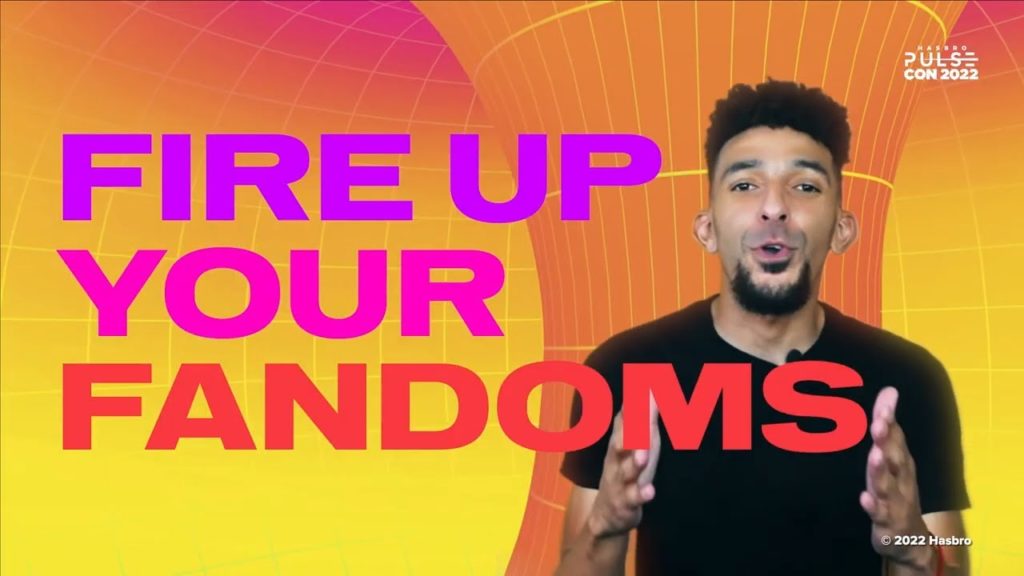 Friday, September 30 – Day 1: Pre-Show starting at 8 a.m. PT/11 a.m. ET
Marvel: Join Marvel product experts from Hasbro for exciting reveals and announcements during the 2022 Pulse Con Marvel Legends Series panel. This year's panel promises never-before-seen Marvel figures, and will feature Hasbro's Ryan Ting, Dan Yun and Dwight Stall, as well as special guests, Johnny Gargano and Brian Hoyer, as panelists to discuss exciting news around the popular Marvel Legends product line.
Transformers: Join the Hasbro Transformers Franchise, Marketing, and Design teams as we reveal the next evolution of Transformers: Legacy. Get ready for a fusion of your favorite Transformers characters into the next phase of the Transformers Generations line. We're bringing you the next figure in the Shattered Glass collection, and we have to say… he's a pretty rad dude. The exclusive reveals continue as we roll out the origin story of one of the most legendary bots on Cybertron.
Power Rangers: You won't want to miss this one, Ranger Nation! The Hasbro Pulse Con Power Rangers panel is packed full of news, sneak peeks and reveals brought to you by the Power Rangers team and some very special guests. Tune in for all the latest from the second half of "Power Rangers Dino Fury" season 29… and beyond. This panel is truly going to be morphinominal!
Starting Lineup: The wait is over. Starting Lineup is back off the bench after 22 years, and we're back like you've never seen before! Join the team as we talk you through the thrilling relaunch, featuring our Series 1 NBA figures!
Fortnite: Ready up, #Fortnite fans! Before you hop off the Battle Bus, join the Hasbro Pulse Con Fortnite Victory Royale Series panel as we explore epic exclusive content, news and reveals brought to you by the Fortnite team themselves, joined by some super special guests.
RELATED: New Power Rangers, Funko, and Stylish Back to School 2022 Stuff
Saturday, October 1- Day 2: Starting at 10 a.m. PT / 1 p.m. ET
G.I. JOE: It's time again! Join the G.I. JOE team with a new series of top secret, exciting reveals from the Classified Series. After that, get to know even more with an exclusive interview from legendary Real American Hero creator Larry Hama. Let's go, Joe!
Avalon Hill: Hasbro Pulse Con is kicking off the Heroscape HasLab as panelists give a broad overview of the new story of Heroscape and deep dive into lore and product offerings (miniatures and terrain pieces). After the panel ends, the conversation continues on the Avalon Hill discord server! Gather your forces, gamers, because the next adventure is coming soon! Join the Avalon Hill team plus a very special guest, the panel will focus on the big gaming news this fall: the return of HEROSCAPE as our next HasLab crowdfunding campaign!
Magic: The Gathering: Past, present, and future collide as members of the creative and design teams reveal secrets from the upcoming Brothers' War expansion, a new Secret Lair and a partnership that will roll out sooner than you may think! Attendees will get a first look at previews from Brothers' War, and maybe just a bit more as Magic kicks off its 30th anniversary celebration.
Indiana Jones: Join members of the Hasbro Marketing & Design teams as they discuss, for the first time, the newly announced Indiana Jones product line, celebrating the classic films. Attendees will get an in-depth look at the products arriving to the line in 2023
Star Wars: During this panel, fans can join members of the Hasbro Marketing & Design teams as they talk about the popular Star Wars line, including the Black Series and the Vintage Collection. Attendees will get an in-depth look at Hasbro's latest action figure and premium roleplay offerings from throughout the saga. Word on the Holonet is there may also be a few surprises…
Hasbro Pulse Con begins streaming at 8am today on the Hasbro Pulse YouTube Channel. 
About Hasbro
Hasbro (NASDAQ: HAS) is a global play and entertainment company committed to making the world a better place for all children, fans, and families. Hasbro delivers immersive brand experiences for global audiences through consumer products, including toys and games; entertainment through eOne, its independent studio; and gaming, led by the team at Wizards of the Coast, an award-winning developer of tabletop and digital games best known for fantasy franchises MAGIC: THE GATHERING and DUNGEONS & DRAGONS.
The company's unparalleled portfolio of approximately 1,500 brands includes MAGIC: THE GATHERING, NERF, MY LITTLE PONY, TRANSFORMERS, PLAY-DOH, MONOPOLY, BABY ALIVE, DUNGEONS & DRAGONS, POWER RANGERS, PEPPA PIG and PJ MASKS, as well as premier partner brands. For the past decade, Hasbro has been consistently recognized for its corporate citizenship, including being named one of the 100 Best Corporate Citizens by 3BL Media and one of the World's Most Ethical Companies by Ethisphere Institute. Important business and brand updates are routinely shared on our Investor Relations website, Newsroom and social channels.
Source: Hasbro Pulse
KEEP READING: New Details On Hasbro's Power Rangers Lightning Collection Wave 14