The past month has been a busy time for fans and collectors of Hasbro's Power Rangers Lightning Collection toy line. A few weeks ago was Hasbro's Power Week event which saw new product reveals every day from August 22nd-28th in celebration of the franchise's 29th anniversary. Despite this flood of news from the brand, there's even more to discuss that Hasbro has not revealed yet for 2023.
UNRELEASED LIGHTNING COLLECTION ACCESSORIES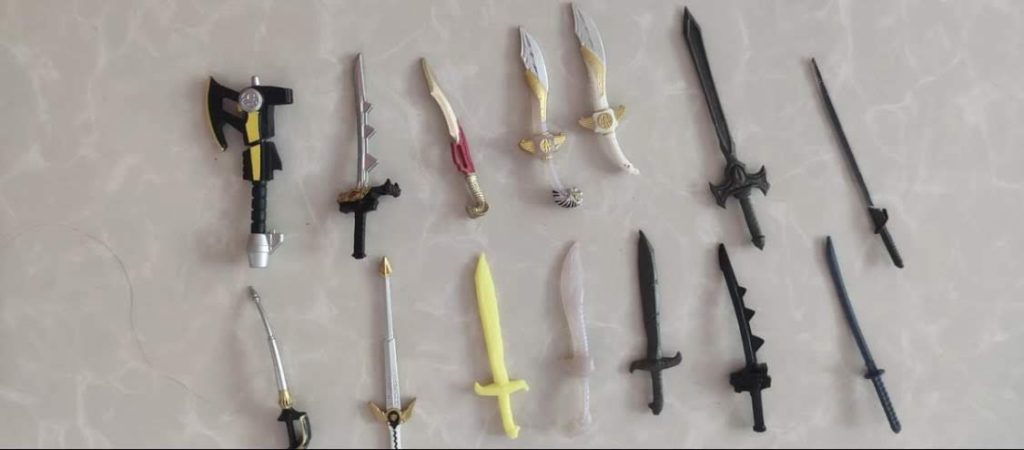 Earlier this week, LightningFigPR posted a photo on Twitter that showcased a number of weapon accessories for Hasbro action figures, not just Power Rangers. Most of these were for figures that have already been released or were unpainted prototypes of other weapons for other brands.
Included in the picture were three unreleased weapons for upcoming Lightning Collection figures: Dino Thunder Black's Brachio Staff and the Quasar Saber and Beta Bow of the Lost Galaxy Pink Ranger.
RELATED: POWER RANGERS LIGHTNING COLLECTION WAVE 12 FULLY REVEALED
This leaked photo confirms that these two figures are in development for next year's release schedule, but that's only half of the four figures that would make up a full wave for the Lightning Collection.
Other weapons in the photo may be teasers for even more figures, or they aren't even for Power Rangers at all. One of them is the Darksaber from Star Wars and others appear to be from releases in the G.I. Joe Classified Series toy line.
ADDITIONAL TEAM MEMBERS
The other Rangers joining this Wave are not the biggest surprises. One of them, Dino Fury Blue, was already accidentally teased last month as part of the Tom Whalen Ranger poster given to all weekend attendees of Power Morphicon 2022. The other is the final main team member from S.P.D. to join the line, S.P.D. Yellow.
RELATED: POWER MORPHICON 2022 EXCLUSIVE POSTERS REVEALED
With the addition of Dino Thunder Black and S.P.D. Yellow, those teams will both be complete in the Lightning Collection, with Dino Fury Blue making Dino Fury half complete and Lost Galaxy Pink leaving Lost Galaxy Yellow the sole member to be released in the future.
WHAT WE KNEW
With this information now being figured out, it helps give names to the Walmart system codenames I first discussed back in January. These four figures should be the identities of the codenames "PRG CLERK," "PRG MANCIPLE," "PRG SQUIRE," and "PRG LAWYER," though it is unclear who is who at this point in time.
RELATED: UPCOMING POWER RANGERS LIGHTNING COLLECTION WAVE LISTINGS FROM WALMART
Last month during Power Week, Hasbro had only begun to reveal the characters for Wave 13, and with that wave only being halfway officially revealed, we won't see Hasbro confirm these upcoming figures for a while. Though it's possible, they could start teasing them during the Power Rangers Brand Panel at Hasbro Pulse Con 2022, which is scheduled to happen on Friday, September 30th.
You can check out more details on Lightning Collection Wave 14 on this weekend's episode of Lightning Storm:
To stay up to date with all the news for the Power Rangers Lightning Collection, fans can check out The Illuminerdi's Josh Perry on his weekly Lightning Storm YouTube series every Saturday at 9:00 am Pacific or on Twitter at @LightningFigPR. What do you think of this lineup for Wave 14? Leave your thoughts in the comments below or on our social media.
KEEP READING: LIGHTNING COLLECTION DINO CHARGE BLUE BOLDY UNVEILED BY HASBRO PULSE: THE MIGHTY KODA HAS BEEN UNLEASHED
Source: LightningFigPR