Ravensburger's Disney Lorcana announce the official names of the ink colors that will be included in the game at Essen Spiel.
At this year's Internationale Spieltage SPIEL, otherwise known as Essen Game Fair or Essen Spiel, Ravensburger revealed some news about their highly anticipated card game, Disney Lorcana. This upcoming card game is Ravensburger and Disney's foray into a collectible trading card game. The tried and tested gameplay from Ravensburger games combined with the sheer brand power of Disney is likely to bring this trading card game to the forefront of the industry very rapidly. Trading card games based on popular IPs tend to do pretty well, and Disney is arguably the strongest IP there is. So hypes and hopes are high for Lorcana.
RELATED: Disney Lorcana Debut Release Is D23 Expo's Hottest Item
The Official Names of the Disney Lorcana Ink Colors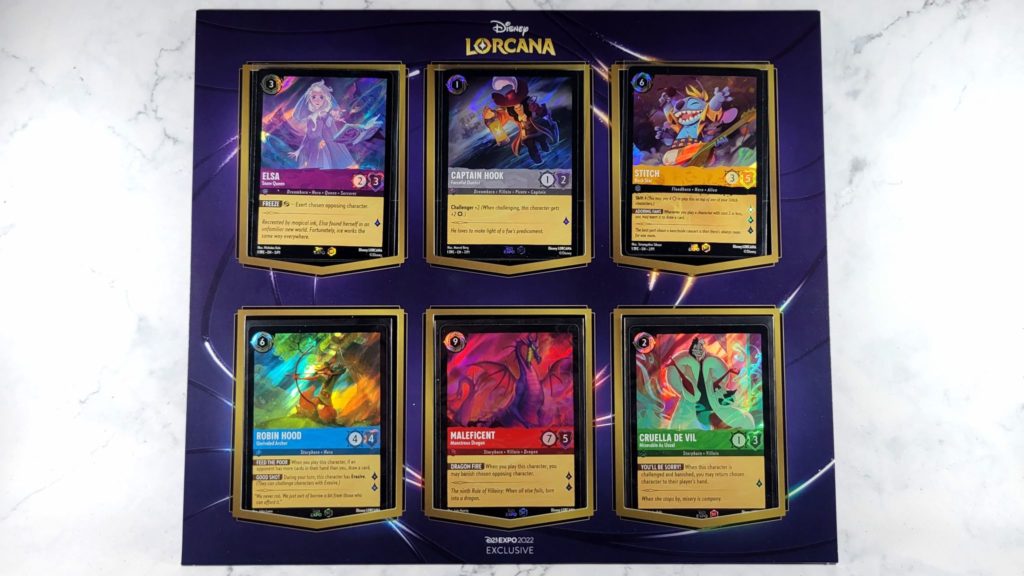 At this year's Essen Spiel, Ravensburger revealed the official names of the Ink Colors in Disney Lorcana. This follows the release of the first six cards at this year's D23 Expo. The six official ink names are:
Amber
Amethyst
Emerald
Ruby
Sapphire
Steel
The six Lorcana cards released at D23 are all labeled using different colors, which just so happen to match the names announced. See how they match up below:
RELATED: Yu-Gi-Oh! is Triumphantly Going Back to School and Back to Blackwings With New October 2022 Releases
Ink Colors appear to correspond to the characters the same way Energy Cards and Land Cards do in Pokemon and Magic the Gathering. The amount of Ink and the Color of it will probably affect what and which cards you can play. Colors may even interact with each other differently. Steel not being a naturally occurring mineral kind of throws things off. Why steel couldn't be platinum, iron, or quartz is yet to be explained. Why not stick with the theme? Is it deliberate and meaningful to the gameplay or lore? Did someone just not think of it? Hopefully, answers will be provided soon, but with 10 months left until the game's release, there's still a lot of time.
Little else is really known about the game. Characters are classified as Heroes and Villains, which will likely affect which cards they can interact with. But then there are categories like Dragon, Pirate, Captain, Alien, Sorceror, Queen, etc. Which seem to all list in a particular order. Species, class, and rank, seem like pretty advanced mechanics. Disney Lorcana is said to be a "gameplay experience that will be equally fun for Disney superfans, trading card game beginners, and the most enthusiastic and advanced players." Having 4 different categories in addition to Ink Color is a lot to consider. But Ravensburger is renowned for making complex rules easy to learn.
RELATED: Pokémon TCG: Trick or Trade BOOster Bundle, Pokémon Center Merch Release
The most interesting category of the cards is what appears to be their origin. From the six-card set, there are three different origins: Storyborn, Dreamborn, and Floodborn. It's intriguing to think how their origins will play in, and how the different categories and Ink Colors will interact. Are there advantages to different origins? Can heroes and villains interact? Is having more categories on a card a good thing? Only time will tell.
Disney Lorcana will release globally in Fall 2023 and will be supported by four new card set releases each year as well as a robust organized play program. Disney looks to ensure their 100th anniversary will be magical on all fronts, including trading card games. And we could not be more excited.
What do you think about the official Ink Color names of Disney Lorcana? Were you fortunate enough to get the set? Are you planning to play when the game releases? Let us know and share your theories with us on Twitter.
Source: Ravensburger
KEEP READING: Yu-Gi-Oh! and adidas Join Forces to Create and Launch New Footwear Styles