MJF announces what he thinks of wrestling, his plans for the future and the one man he goes to for advice.
MJF is one of the hottest guys in wrestling today. He is one of the best talkers in the business and he knows it. If Paul Heyman decided to become a wrestler instead of a manager then he would be a lot like MJF. Everything he touches turns to gold. He has a very bright future in pro wrestling. Which makes what he thinks of wrestling very surprising.
RELATED: FTR'S DAX HARWOOD NAMES WHAT HE THINKS IS MISSING IN MODERN WRESTLING
On a recent episode of Notsam Wrestling, MJF announced he is not a fan of pro wrestling, but studies wrestling and is very good at it. He also talked about things he wants to do once he is done with wrestling.
"I don't even like wrestling. I study it. I had to, in order to be the best," MJF said. "Throughout studying it, I grew an appreciation towards professional wrestling, but once I'm done with wrestling, you will never see me again. Ever. I'm using this sport like a succubus, I'm sucking the life out of it, the blood, the money and then I will be gone.

I've already booked a HUGE movie, I'm not allowed to announce what it is, but it will be happening and it will be announced soon. I have that going on. The people at Warner Brothers Discovery are crazy high on MJF and are coming up with potential ideas for MJF outside of the wrestling-sphere. There's also a podcasting opportunity that has been thrown my way that I am considering."

H/T To RingsideNews For Transcription
He Doesn't Love It? But He Is So Good At It
MJF is one of those guys where you don't know what is real and what is in-character. It is hard to imagine that as good as MJF is at all aspects of pro wrestling that he isn't a fan. Wrestling is such a demanding profession and to be one of the top guys like he is makes it even more demanding. The amount of effort required to be at that level and to not have a love for it seems insane.
RELATED: TONY KHAN EXPLAINS WHY HE THINKS TRIPLE H TAKING OVER WWE IS GOOD FOR AEW
However, on the other hand MJF having opportunities outside of wrestling I very much do believe. What this movie could be is anyone's guess. Probably a Marvel or DC movie. Maybe they want him to be the new Doctor Doom or the lead in a Casablanca remake. The podcast opportunity is probably one with AdFreeShows and Conrad Thompson because he controls the wrestling podcast market.
Even though MJF is at the top of his game even masters need to talk to other masters. The wrestler revealed that he still talks to Cody Rhodes when he needs advice.
"I'll still call him [Rhodes] when I honestly need… rarely do I need advice, I mean, look at me," MJF said. "But I'll call him because I respect the sh*t out of him. I'll call him to get a second masterful opinion." H/T RingsideNews
Cody Rhodes Still Impacting AEW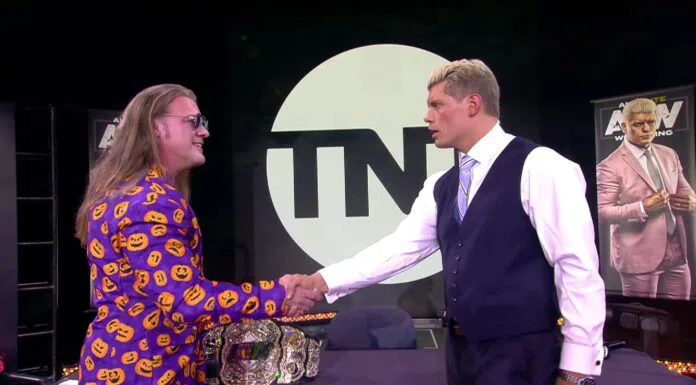 Rhodes helped to build AEW from the ground up.  In a shocking move he and Tony Khan were not able to reach an understanding when contract negotiations came up. In February of this year Rhodes left AEW and joined WWE wrestling against Seth Rollins at WrestleMania. He unfortunately suffered a torn pectoral muscle which has sidelined him since June.
MJF has mentioned many times that joining WWE is something which is not off the table  He has even gone as far to mention Triple H and the other Khan of pro wrestling, Nick Khan, in his promos. With MJF and Rhodes still having a close relationship a jump to WWE is even more probable at some point in the future.
Is MJF being honest when he said he doesn't like wrestling? Do you think he has a big movie announcement? Do you think we will ever see him in WWE? With Triple H running WWE would MJF do well in WWE? Does having Rhodes in WWE make MJF jumping over more likely? Leave a comment below and let us know what movie or movie role MJF would be perfect for.
KEEP READING: AEW: DALTON CASTLE GIVES AN UPDATE ON HIS HEALTH AND STATUS
Sources: RingsideNews, Notsam Wrestling, RingsideNews