The PowerA MOGA XP7-X Plus provides an incredible, intuitive, and functional cloud gaming solution to get the best experience from your phone.
Cloud gaming will play a major role in the future of gaming. It reduces the barriers and requirements to play mainstream console/PC games by allowing gamers to play with a screen and internet connection. It's one of the most incredible advances in technology that seems to be at the beginning of its rise to prominence. However, being a new technology it takes some getting used to. Playing console-quality games needs a controller. The touch screen is just too awkward to keep pace. But having a controller and a phone together in a comfortable and conducive manner is a problem. Luckily, The PowerA MOGA XP7-X Plus is an incredible solution.
The PowerA MOGA XP7-X Plus
The PowerA MOGA XP7-X Plus Bluetooth controller is an elegant solution for cloud gaming needs. It is a modular controller that wraps around your phone placing the controls on both sides without obstructing the image. It essentially sets your phone up to one of the most classic mobile gaming setups that have been used since the Sega Game Gear was introduced 32 years ago. It not only gives players to control their games with the intuitive and familiar fear of an Xbox One controller, but it also allows players to keep the game screen exactly where they want to see it. It makes the new way of gaming feel familiar.
RELATED: Gamevice Flex To Launch on October 25
Its standard, most marketed use, alone is already basically flawless. The only critique would be it doesn't fit a lot of phone cases well. It just fits my Note with a slim case. If I had an Otterbox it likely would not fit and I would have to take it out of the case. Even now, it feels more secure without the case. In the case, it feels like it could fall out. It hasn't, and I have held it vertically above my face while playing Halo Infinite, but I just know one annoying kill could cause me to jostle my phone out of the MOGA XP7-X if I leave it in its case.
Standard-sized phones will likely run into similar issues, not because of the phone's length, but the thickness of the case the MOGA XP7-X can account for. That's a luxury that a lot of outside accessories do not account for, so it's not really a drawback. However, if you have one of those cases where you have to use tools to get your phone in and out of it, it could be a major matter. You can see the difference in fit from the first image in the slideshow above and the image without the phone in the case in the final two sections.
Tabletop Mode
The MOGA XP7-X Plus has a secondary setup option. There's the standard handheld mode and tabletop mode. The centerpiece of the MOGA XP7-X Plus controller slides out and acts as a stand that can be set on a surface to hold up a phone or tablet. What is truly great about this stand is that it is able to hold the device at a few angles. It is awesome for tablets, but plus-sized smartphones are smaller I would probably stick to handheld mode. Without the centerpiece, the weight and stability of the controller feel off. The tension that keeps the controller shape is noticeable. It doesn't actually change the shape, but you can feel something is different.
An alternate use of the MOGA XP7-X Plus is just like a standard Bluetooth controller. You can sync it up to your computer and cloud game there. While it is a great option to have, the effort it takes to resync it from PC back to mobile does take effort is noticeable. While not difficult, it is extra steps that having a dedicated controller for your PC or gaming device would not require. You can always just use it as a wired controller to prevent the Bluetooth syncing hassle. These options really make it the best all-in-one cloud gaming accessory.
RELATED: Naruto Gets 2 Exclusive Secretlab Gaming Chairs
The Best Part
The feature that takes the MOGA XP7-X Plus to the moon and back, is the built-in 2000mAh power bank. This built-in power bank charges your phone through the inductive charger while gaming in handheld mode. What impresses me is that the charger outpaces the drain of cloud gaming, enabling you to game nearly all day. If your phone and MOGA XP7-X Plus are at full battery, you can game longer using your phone and the MOGA XP7-X Plus than a Nintendo Switch. Imagine being able to play through the entire campaign of Gears of War on a single charge. In addition, the induction charging and Bluetooth connectivity allow it to be used for iOS and Android.
There are also two mappable buttons that can be mapped without the need for an external app. Much like an Xbox One Pro Controller, It's a great feature that only adds to the controller's utility. But even without it, it'd still be an incredible accessory.
The Verdict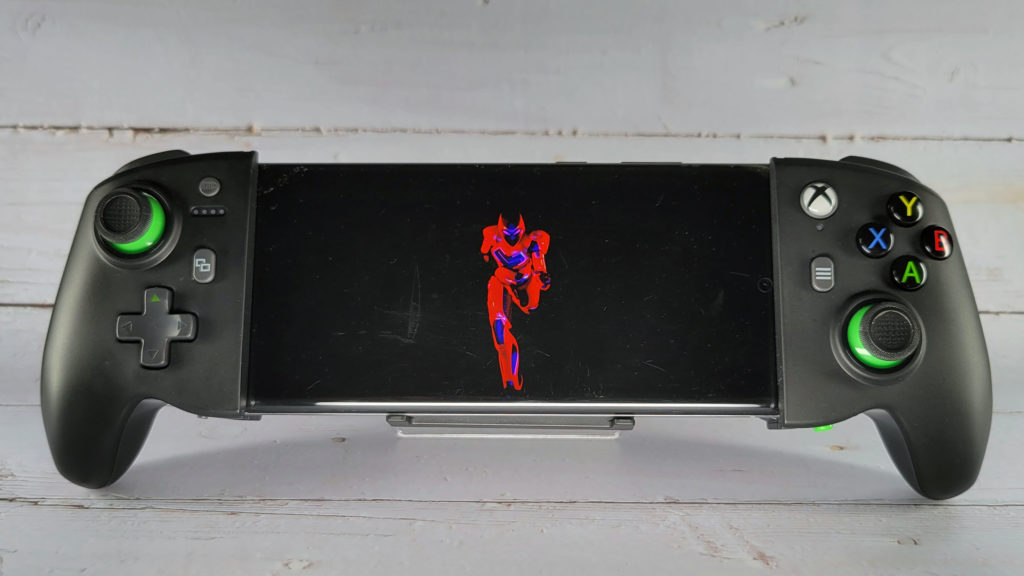 The PowerA MOGA XP7-X Plus is the ultimate cloud gaming solution for smartphones. It turns your phone into a familiar mobile gaming device that allows you to play even the most robust console games. It also allows you options to turn your tablets into an awesome portable gaming system. With its 2000mAh battery, it also enables you to game longer than any other non-power outlet-connected option out there. The cherry on top, it is not limited to only one mobile operating system. For its perfect solution to cloud gaming on smartphones, genius functionality, and versatility, I give the PowerA MOGA XP7-X Plus a 10/10.
The PowerA MOGA XP7-X Plus is available now for $99.99 (MSRP) on PowerA's Site.
About the PowerA MOGA XP7-X Plus
The feature-packed MOGA XP7-X Plus Bluetooth Controller gives you the power to play games on Android mobile and tablet devices, as well as PC, with maximum comfort and precise control. Play stronger, play longer and control the game—all with the MOGA XP7-X Plus.
Mappable Buttons: Quickly program two Advanced Gaming Buttons on-the-fly, mid-game. No app needed.
Boost Mode: An integrated 2000mAh power bank lets you wirelessly charge your compatible device while you play
2 Ways to Play: Play in immersive handheld mode or use the genius device stand for tabletop gaming in seconds
Mobile and Cloud: Game with an edge on top controller-enabled Android titles and GamePass Ultimate
Officially licensed by Xbox: The MOGA XP7-X Plus is licensed by Xbox for quality, reliability and performance
Are you getting a PowerA MOGA XP7-X Plus? What is your cloud gaming setup? Do you prefer the Xbox or PlayStation controller layout? Let us know your thoughts and share your setups with us on Twitter.
KEEP READING: Logitech G CLOUD Brings a New Way to Game on the Cloud in 10/22