Ronda Rousey discusses how her suggested finish of Extreme Rules changed because a longtime staple of hardcore wrestling is now forbidden by WWE.
When Ronda Rousey first joined the WWE fans were apprehensive about if the MMA icon would be willing to embrace the wrestling lifestyle. The concern about whether she would be willing to lose, would show respect to fellow Superstars and the business and if she would be willing to have a long and brutal match.
She Proved Us Wrong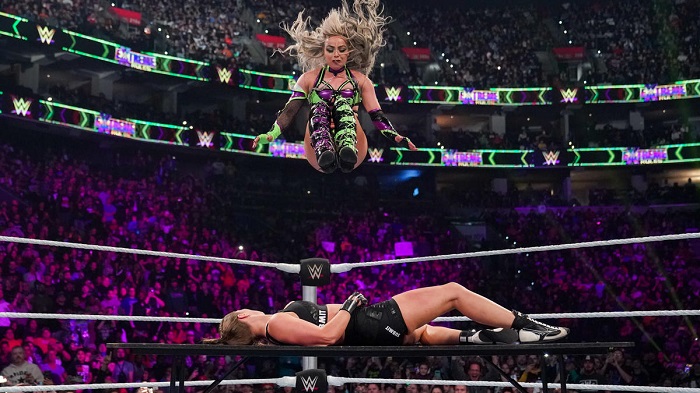 Since joining WWE, Rousey has proven fans wrong on all their concerns. She is willing to do whatever she is asked to do. At times she may be too willing to go to the extreme.
RELATED: LIV MORGAN'S PUSH IS DIRECT RESULT OF TOP WOMEN SUPERSTARS' ABSENCE
During a recent stream on her YouTube, Ronda Rousey was asked if there were any spots she wanted to happen in her Extreme Rules match against Liv Morgan which WWE turned down. She went on to describe the finish she suggested which involved a lot of interaction with a lot of thumbtacks and why it was turned down.
"Yeah, actually. I pitched the finish to be thumbtacks," Ronda Rousey said. "She [Liv Morgan] would put down thumbtacks and powerbomb me onto the thumbtacks. Then as a repeat of our finish before, I would go for the armbar in the thumbtacks, but they would start counting the pin. Then I'd have to push up on my one shoulder into the thumbtacks to keep the armbar on. Then Liv would be biting her hand trying not to tap, and then pass out face down into the thumbtacks with her hand there to protect her face."

H/T To Wrestling Inc. For Transcription
No Thumbtacks, Sorry Ronda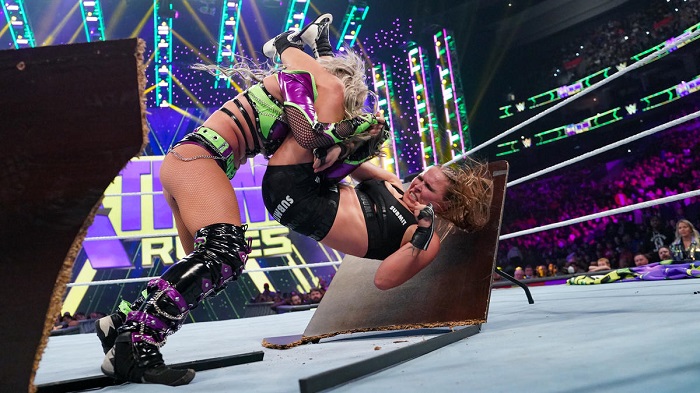 The Rousey and Morgan match ended up with a finish not too different from the one Rousey wanted minus the thumbtacks. Morgan was caught in a bicep crusher and began to pass out from the pain with an odd smile on her face.
Even though the match didn't have thumbtacks strewn across mat it still had plenty hardcore weapons and spots. These weapons include staples like a bat, a fire extinguisher and the ever popular chair and table. It was plenty hardcore without thumbtacks, lightbulbs, barbed wire wrapped objects or any other cutting weapons.
PG Means No Blood
Speaking of cutting, Rousey reveals the reason behind WWE turning down the thumbtacks was because of the cutting and blood they cause. She revealed that WWE is not allowed to so Superstars intentionally cut the flesh of their opponent on TV because of legal purposes. This is due to guidelines which were instituted during the hated PG Era of WWE dating back to 2008.
RELATED: WWE RAW MAY BE RATED TV-14 FOR MATURE AUDIENCES IN THE NEAR FUTURE
The good news is WWE is no longer rated PG and has shifted to PG-14. This will lead to a bit more "mature" content like cursing and blood.
A Outdated Guideline Or A Double Standard?
However, what is weird is that Ronda Rousey said that was for TV, but Extreme Rules is not on TV. So why can't they do that during a PPV? Brock Lesnar elbowed the living daylights out of Randy Orton's head and cut him badly a few years ago and that was alright.  
It is possible Peacock doesn't want to have that sort of violence in a reality based program on their app or at least not women doing it. It is also possible WWE is just adhering to the same PG Era rules as Vince McMahon had. Triple H is still taking over and maybe hasn't set new guidelines yet..
I want to see women have the same matches as the men and don't want women to have limitations put on them because they are women. If they are both ok with getting powerbombed on thumbtacks then WWE should let them.
Why do you think WWE rejected Ronda Rousey's finish?  Do you like Ronda Rousey's finish more than the one we got? Do you think WWE should allow women to use all the same hardcore weapons as men or should some be forbidden? Leave a comment over on Twitter and let us know if you think WWE going PG-14 should include more blood. 
KEEP READING: SARAYA TALKS TRIPLE H'S LAST MINUTE PLEA TO STAY WITH WWE AND HER RECOVERY
Sources: Wrestling Inc., Ronda Rousey's YouTube