Liv Morgan's recent push is said to be the result of having a void on the SmackDown babyface roster.
According to the Wrestling Observer Newsletter via Wrestling Inc., Liv Morgan's championship win is a direct reaction to Sasha Banks and Naomi's walkout and rumored release.
Morgan climbed the ladder and brought down the Money in the Bank briefcase at Money in the Bank PPV. It earned her an opportunity to challenge any women's champion for a full year. In a rare move and contrary to what she said she would do post her MITB match win she "cashed in" her briefcase the same night. She challenged and pinned the then SmackDown Women's champion Ronda Rousey after Rousey's match with Natalya.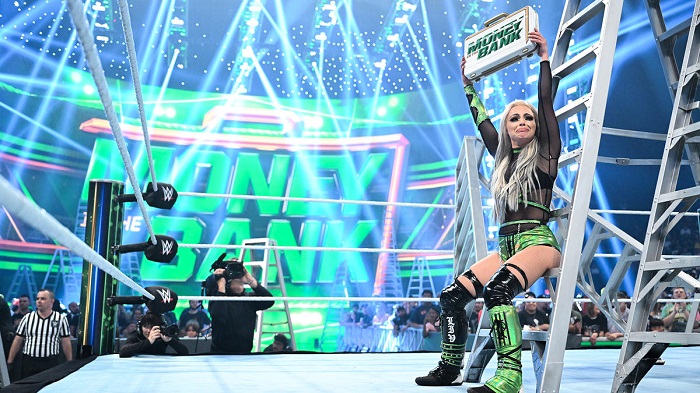 RELATED: WWE RAW MAY BE RATED TV-14 FOR MATURE AUDIENCES IN THE NEAR FUTURE
Liv Morgan has been in the Women's Championship level for a while now and had wrestled in championship matches a few times, but was never able to get the win. Despite being beloved by fans, Morgan was never given the opportunity to hold the championship she was so close to getting so many times.
Some Good To Come Out Of The Departure Of Banks And Naomi
Luckily for Liv Morgan, the Banks and Naomi walkout left a need for a top-level babyface on SmackDown and WWE decided to give Morgan the spot. Melzer of Wrestling Observer Newsletter described it as a "pick of the draw' decision as they don't have many babyfaces at that level besides Asuka and Bianca Belair.
The original plan was to have Naomi feud with Belair for the Raw Women's Championship and Banks feud with Rousey for the SmackDown Women's Championship. However, Banks and Naomi were the WWE Women's Tag Team champions and they felt that having singles matches and feuds would diminish the tag championships. They walked out of Raw in May and WWE vacated the Women's Tag Championships and has yet to find new champions.
Morgan As Champion Is Money So Far
According to PWInsider via Wrestling Inc., Liv Morgan's short title reign has thus far been considered a success. Her merchandise is selling extremely well and is getting some of the biggest crowd reactions when she comes to the ring.
Despite fans loving Morgan and probably being the top babyface in the company and that includes the men's division some have recently been very critical of her. One of those who has been critical is Bully Ray formerly Bubba Ray Dudley in WWE. He was mostly critical of the way she carried herself and that she smiled when she "cashed in" as he said this telegraphed her winning the championship.  
RELATED: BAYLEY MAY BE ON HER WAY BACK TO A WWE RING
Liv Morgan has kept her head up in the face of her few, but highly vocal critics. She recently appeared as a guest on WWE After The Bell with Corey Graves and spoke on how she deals with the haters.
"Everyone has their opinion and everyone is entitled to their own opinion," Morgan said. "What you think about me is none of my business, you know? If you love me, if you hate me, I mean, I can only do what I feel is right and that's something that I've kind of done my whole career."

H/T To Wrestling Inc. For Transcription
A Very Difficult First Challenge
Liv Morgan's first big test as champion will be a very big one. She is yet to defend her championship on a televised event. She has defended it at live shows in Triple-Threat matches with Rousey and Natalya with Natalya being pinned by Liv Morgan. However, on July 30 at SummerSlam that will change when she faces Rousey, the woman she took the championship from.
I unfortunately don't think Morgan will come out of SummerSlam the champion. Rousey is too dominant and WWE is using her like a female Brock Lesnar and doesn't lose very often and it is usually only against Charlotte Flair. Hopefully Morgan will put up a good fight so she can come out of the match looking good and doesn't lose too much momentum.
What did you think of Liv Morgan winning MITB and "cashing in" on Rousey? Do you like Morgan as champion? Do you think she is ready to hold the championship? Will Morgan leave SummerSlam as champion? 
KEEP READING: NATALYA EXPLAINS HER UNIQUE MENTALITY TOWARDS WRESTLING INSPIRED BY HER FATHER
Sources: Wrestling Observer Newsletter, Wrestling Inc., PWInsider, WWE After The Bell with Corey Graves, Fightful Select