AJ Styles reveals why he decided to leave his longtime home in Total Nonstop Action wrestling.
Styles has made a huge impact in promotions all over the world including Ring of Honor, NJPW and of course WWE, but his biggest impact was in TNA.
RELATED: BOBBY LASHLEY TALKS ABOUT THE BIG CHANGE BETWEEN HIS CURRENT AND ORIGINAL RUN IN WWE
Styles wrestled for TNA from 2002 to 2014. It seemed like he would stay with the promotion his entire career, but he eventually left the promotion. He recently talked about how his exit wasn't on the best of terms during an interview with WWE After The Bell With Corey Graves.
"When I worked at TNA, the reason why that fell apart is because they wanted me to do the same amount of work but wanted me to take less money," Styles said. "And I didn't feel that was right, because I always did everything to the best of my ability. I represented TNA well, and now they're going to cut me because you made bad mistakes. That's not how it works. When you work hard, you're supposed to get rewarded for it." H/T To Wrestling Inc. For Transcription
AJ Styles And The Big Names Who Joined TNA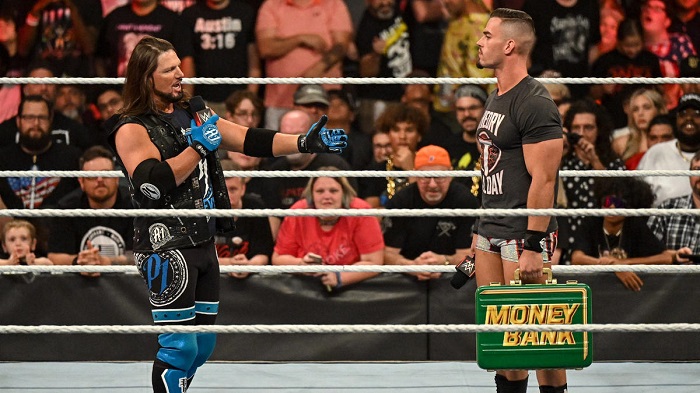 Styles was wrestling for WCW in 2001 right before WWE bought it out. Shortly after WCW's end Jeff and Jerry Jarrett decided to start their own promotion called NWA-TNA. It ended up being the place ex-WCW, ex-WWE and ex-ECW wrestlers could go and was the only US rival for WWE.
However, the foundation of the promotion was not built on veteran wrestlers but on the young talent from indie promotions wrestling veterans.  Some of the big names who got their start there are Samoa Joe, Christopher Daniels, Frankie Kazarian, and Styles.  They would take on veterans like Jeff Jarrett, Sean Waltman aka X-Pac, and Jerry Lynn. 
As time went on more stars joined the promotion like Sting, Booker T, Kurt Angle, Jeff Hardy, and many more huge names.  However, Styles became one of the faces of the promotion and one of if not the top stars of the promotion.
You Want The Face That Built The Place To Take A pay Cut?
Styles didn't feel the respect he felt he deserved for putting his all into a young promotion. He helped to bring the promotion up to its peak and a pay cut to him was like a slap in the face.
RELATED: SETH ROLLINS EXPLAINS WHY BRAY WYATT WAS DIFFICULT TO WORK WITH
After wrestling for 12 years in TNA Styles decided to leave and see what else was out there. This left TNA fans to question his loyalty and it upset Styles. He remembers one fan in particular who really got under his skin.
"This is all a business. This is how I support my family," Styles said. "Loyalty can only go so far and trust me, when you're not getting the job done in the ring or wherever they need you, where's the loyalty there?"

Styles circled back to the lack of loyalty claims.

"They have to do what's best for their business, and I have to do what's best for mine. I am very loyal when I'm under contract to that company. So, that just really bothered me that 'he' questioned whether or not I could succeed outside of TNA and where my morals were as far as that I should stay loyal to a company that helped me get my start."
AJ Styles Shows He Can Be Phenomenal Anywhere
After Styles' exit, he showed the world that he could be successful outside TNA.  He returned to ROH and went to NJPW to lead the Bullet Club as well as wrestling for many popular indie promotions like CZW and PWG.
In 2016 Styles signed with the biggest promotion in the world and became a star in a little promotion called WWE.  In WWE he became a two-time WWE champion, Intercontinental, United States Champion, and Raw Tag Team champion.
Most recently Styles has been involved in a feud with The Judgment Day. He just brought his two friends, Luke Gallows and Karl Anderson, back to WWE. So much for not being loyal.
TNA is now IMPACT Wrestling and is still going strong.  However, with AEW growing and growing IMPACT is not what it used to be.  Perhaps if AJ Styles stayed, AEW would have fizzled out immediately.
Do you think AJ Styles would be as good as he is if he went straight to WWE after WCW and didn't go to TNA?  Did he stay in TNA for too long?  If he ever left WWE do you think he would go to NJPW, AEW, or his old home in TNA/IMPACT?  Do you think if stars like Styles and Samoa Joe had stayed with TNA would AEW have stood a chance?  Leave a comment and let us know what you think is Styles' top moments in TNA.
KEEP READING: RONDA ROUSEY NAMES HARDCORE SPOT WWE FORBID IN EXTREME RULES MATCH
Sources: WWE After The Bell With Corey Graves, Wrestling Inc.