The opening night of GKIDS, Annecy International Animation Film Festival, and Variety's Animation Is Festival featured the world premiere of the new stop-motion animated feature, Wendell and Wild. The new vision comes from esteemed filmmakers Henry Selick and Jordan Peele. Selick directs from a script he co-wrote with Peele from an unpublished book he wrote with Clay McLeod Chapman.
Wendell and Wild kicked off the Animation Is Film Festival, offering a movie with a darkly horrific edge but one that still has a deeply emotional and heartwarming core. The Animation Is Film Festival is a great event that supports the best new works in animation from across the world, with programming suitable for both adults and families. This is a festival tailor-made for animation lovers and enthusiasts. The festival is appropriately titled because animation is an art form, not a genre, and it is not just for kids.
RELATED: ONE PIECE FILM: RED OFFICIALLY SELECTED FOR A SPECIAL SCREENING AT ANIMATION IS FILM FESTIVAL
Selick is a visionary artist, so it's fantastic to see him return to feature stop-motion animation after Coraline, which was first released 13 years ago. As he explained in the introduction and post-show Q&A session, the film's premise was borne from an idea of imagining his younger kids as demons, which come in the form of the film's eponymous Wendell (Keegan Michael Key) and Wild (Jordan Peele).
HENRY SELICK AND JORDAN PEELE'S COLLABORATION PAYS OFF BEAUTIFULLY IN WENDELL AND WILD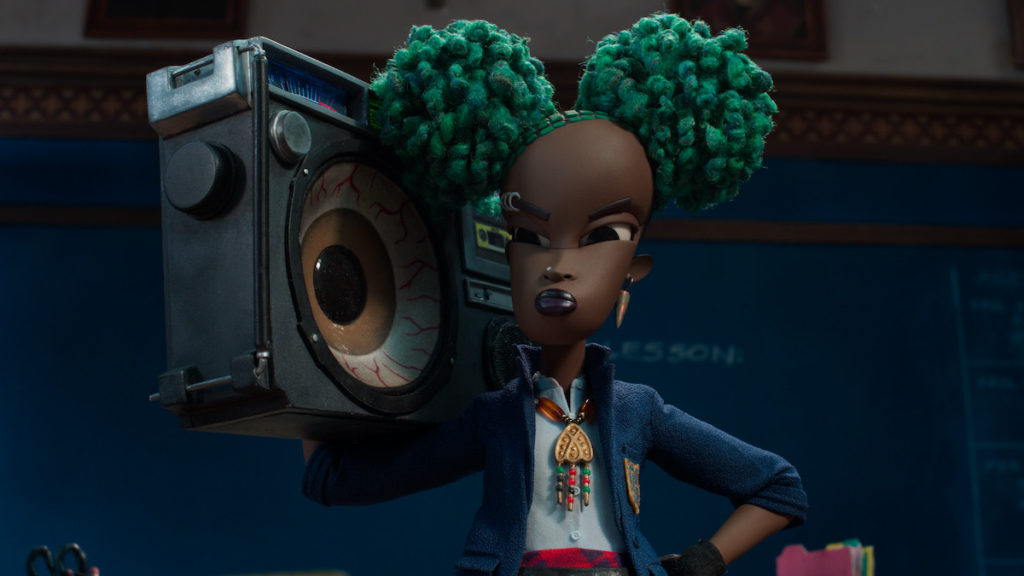 Selick's vision took shape after the work Key and Peele were doing with their hit sketch comedy show on Comedy Central. He later got into contact with Jordan Peele before he even made Get Out and got to read the script, and the two would come together to collaborate on this film together.
In Wendell and Wild, the young girl Kat (Lyric Ross) sees her happy life with her loving parents come to a tragic end after a terrible car accident. Blaming herself for the accident, Kat goes through hell, going through the foster care system over several years. She is given a reprieve from juvenile detention as part of a social program to give her another chance at a private Catholic school in her hometown, which has seen better days.
Kat is none too eager to make friends at her new school, but she soon finds she has been afflicted with a strange curse, putting her into contact with two knuckleheaded demons, Wendell and Wild. Wendell and Wild are stuck working the service of their giant, master demon father, Buffalo Belzer (Ving Rhames), who forces souls vanquished to his underworld to endure his macabre amusement part. However, Wendell and Wild have dreams of designing and building their own underworld amusement park. Kat's strange curse, branding her a Hell Maiden, puts her in contact with Wendell and Wild. She makes a bargain with them, getting them to bring back her late parents in exchange for her servitude.
RELATED: SUMMER GHOST: NORTH AMERICAN RIGHTS TO NEW FILM ACQUIRED BY GKIDS
After stealing their father's magic hair cream that has the power to revive the dead, it appears Wendell and Wild might have the cure to answer Kat's deepest desires. However, the greedy corporate benefactors of Kat's school want to tear down the entire hometown and replace it with their own private prison. Kate will have to confront her fears in order to save the town that her parents so greatly loved and supported.
Wendell and Wild, thanks to its PG-13 rating, has a nicely honed dark, horrific edge to it. It enables Selick and Peele to go a little darker than usual compared to some of his previous stop-motion animated features. However, the darker subject matter and thematic material with the demons, the murderous corporate overlords of Klaxon Corp, and Kat's deeply traumatic imbue the movie with a nice edge. Not to mention, the material never talks down to the audience and treats its younger characters and viewers with respect.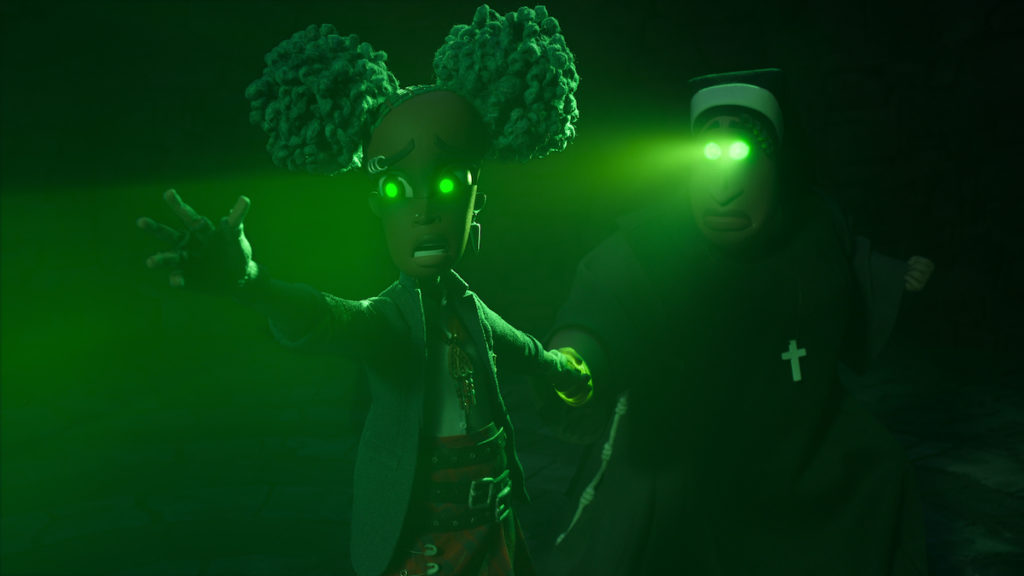 The way Selick explores and visuals Kat's trauma and her loss is the heart and soul of this movie. At its core, Wendell and Wild is a story about loss and overcoming devastating trauma. Kat's loss did empower her and helped her survive, but it's also holding her back. There is also a nice message about unconditional parental love for their children, both from Kat's parents and in the form of Wendell and Wild themselves, who simply want their dad Buffalo Belzer to acknowledge them and their ideas.
The stop-motion animation here is wonderful. All the characters look delightfully unique. Illustrator Pablo Lobato was the character designer for the film, and the models incorporate aspects of the actors' own likenesses into their character models. Considering his background as a caricature artist, it gives the character models a definitive style. Selick and his team of artisans also put together some impressive visuals and sequences that look astounding.
The way Kat's traumatic memories are visualized is scary and nightmarish. However, through all the scariness and horrific imagery, it never gets loses the sense of the message of confronting one's demons and coming to terms with the past. While the plot does get scary, dark, and intense at times, Selick never sends the plot over into full-blown horror.
The plot does get a bit convoluted at times. The film starts to grow a bit convoluted and overwrought in the middle portion. Also, it would have been nice to see Wendell and Wild interact with Kat more after they enter the surface world. After they make their way to the surface, Wendell and Wild spend most of their time scheming with the revived corpse of the private school's headmaster and priest, Father Bests (James Hong), to get money for their theme park. Eventually, the film does come together by the final act, where all the characters and subplots actually converge well.
Wendell and Wild is an eye-popping animated feast. It has a great message, fun characters, a wonderfully diverse cast, and outstanding visuals. The plot does get dark, scary, and intense at times, but it's never inappropriate for children. This is a great film that parents can watch with their kids for the Halloween season. I give Wendell and Wild a 4/5.
Wendell and Wild debuts on Netflix on October 28, just in time for Halloween. The film stars the voices of Lyric Ross Kat, Keegan-Michael Key as Wendell, Jordan Peele as Wild, Angela Bassett as Sister Helley, James Hong as Father Bests, Sam Zelaya, Tamara Smart as Raul, Tamara Smart as Siobhan, and Ving Rhames as Buffalo Belzer.
Are you a fan of stop-motion animation and the films of Henry Selick and Jordan Peele? Do you plan on checking out Wendell and Wild and adding it to your Netflix queue? Let us know in the comments below and share your thoughts on the film with us on Twitter!
KEEP READING: HALLOWEEN ENDS REVIEW: DAVID GORDON GREEN'S FINAL CHAPTER IS THE WORST HALLOWEEN FILM EVER