At New York Comic Con on October 6, Hulu introduced the cast of the upcoming animated series Koala Man during the panel of the show. The new animated series is boasting a fairly prolific all-star cast, including the likes of Jemaine Clement (Moana, Flight of the Conchords), Rachel House (Soul, Thor: Ragnarok), and Jarrad Wright.
On top of that, the panel announced that Miranda Otto (The Lord of the Rings, War of the Worlds) and Hugo Weaving (The Matrix, The Lord of the Rings) will be making guest appearances in the show, which arrives next year on Hulu.
RELATED: SOLAR OPPOSITES SEASON 2 TRAILER PROMISES ANOTHER EARTHBOUND ADVENTURE
The upcoming animated series, Koala Man, comes from Australian creator and animator Michael Cusack (Smiling Friends), who also voices the show's titular hero. It's executive produced by co-creator Justin Roiland (Rick and Morty, Solar Opposites), Dan Hernandez, and Benji Samit (Pokemon: Detective Pikachu). Michael Cowan is also attached as an executive producer.
INTRODUCING KOALA MAN AND EVERYONE ELSE
The series followed the middle-aged dad, Kevin (Cusack), who has a super alter-ego that is not-so-secret. His only superpower is a passion for following the rules and dealing with petty crime in the town of Dapto. However, while Dapto seems like an average Australian suburb, it's actually filled with the forces of both cosmic and man-made evil who are getting ready to pounce on unsuspecting Daptonians.
Kevin is on a journey to clean up his hometown, often roping his frustrated family into his misadventures, as Koala Man. Koala Man has the willingness to do whatever it takes to defeat his foes, supernatural horrors, or jerks who simply don't take their rubbish bins down on their designated days.
Officially joining the cast of the series is the legendary Jemaine Clement as Principal Bazwell. Bazwell is seen as a "nerdy and caring mentor" to Kevin's son, Liam. He's "an ineffectual dandy of a man," but he always looks to support his students with a helpful anecdote or an encouraging song lyric.
Hugo Weaving portrays King Emudeus, a wise and noble monarch to the emus of Australia. Mirando Otto also joins the cast as Mindy, a young koala cub who has a deep and mysterious connection with Koala Man.
Jarrad Wright portrays Spider, the best friend and neighbor of Kevin, who is always good to help Koala Man with one of his missions, especially if someone needs to provide an illegal weapon for the task. Rachel House voices Janine, the best friend and coworker of Kevin's wife, Vicky. She works at the school canteen and is described as a "hard partier." Additionally, House also voices Louise in the show. Louise is the proprietress of the bowling club, who has a deep, inexplicable attraction to Koala Man.
RELATED: PREY'S GARGANTUAN RELEASE BECOMES HULU MOST SUCCESSFUL PREMIERE EVER
Other previously announced cast members include Sarah Snook as Kevin's wife Vicky, Demi Lardner as daughter Alison, Cusack again as Kevin and Vicky's son Liam, and Hugh Jackman (X-Men, Logan, Les Misérables) as Big Greg. Greg is the most popular man in Dapto and head of the Town Council. Cusack also voices Darren and Damo, two ne'er-do-well residents of Dapto.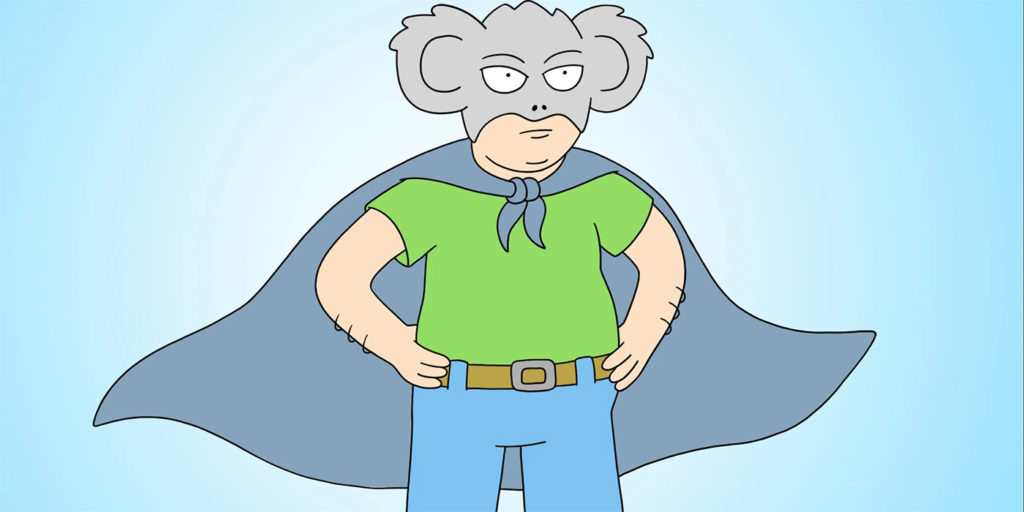 20th Television Animation is producing Koala Man for Hulu. The show debuts on the streaming service on January 1, 2023. What do you think of Koala Man so far? Do you plan on giving this show a look on Hulu? Let us know what you think about the upcoming animated series on The Illuminerdi Twitter account.
KEEP READING: SOLAR OPPOSITES SEASON 1 REVIEW: DELIGHTFUL SCI-FI COMEDY STUCK IN RICK AND MORTY'S SHADOW
SOURCE: Hulu