The long-awaited release of God of War: Ragnarok is just around the corner. With the release finally upon the world, Sony PlayStation dropped a new live-action trailer, featuring some great celebrity appearances by Ben Stiller, John Travolta, and even King James himself, LeBron James.
The new comedic skit trailer is a real hoot. You can check out the video, courtesy of IGN, below:
RELATED: GOD OF WAR: RAGNAROK STORY TRAILER DELIVERS MORE GRIPPING ACTION & INTRIGUE
NEW GOD OF WAR: RAGNAROK TRAILER FEATURES BEN STILLER DRESSED AS KRATOS
The trailer/skit features a group therapy session, led by actor and filmmaker Ben Stiller, along with John Travolta, and NBA star LeBron James. Along for the ride is Stiller's son Quinn, LeBron's son Bronny, and Travolta's daughter, Ella.
Together, Stiller tries to counsel the group on how to explore the Kratos and Atreus father and parent dynamic in their relationships, and how they can all strive to be more like Kratos and Atreus from the God of War games. The kids are all clearly embarrassed by this goofy counseling session, but that's the humor, such as LeBron says, "When Bronny said he'd rather play against me than with me, shot in the heart" and then he motions to his heart on how badly his son wounded him. Yeah, this is funny.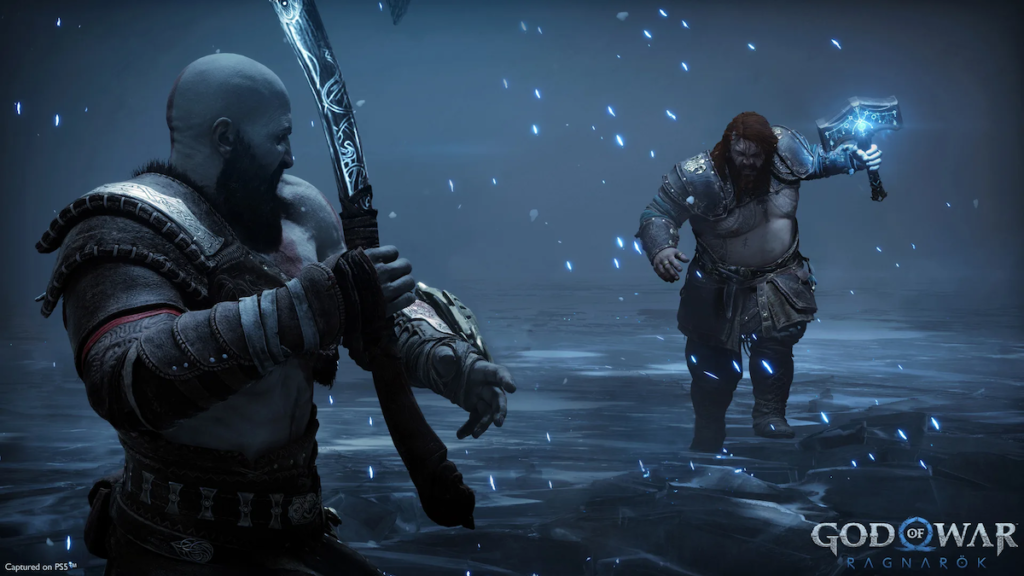 In response to LeBron's confession, Stiller quips, "I think we call that a Le-breakthrough. Some shots you just can't block" Meanwhile, Travolta talks about wanting his own "Le-breakthrough," asking his daughter why can't she insult him. Ella then curtly says, "OK, you're old and you're bald." The parents all nod with realization, "Just like Kratos." It's fun to see the riffing on the dysfunctional, yet charming, father-and-son relationship that Kratos and Atreus share in the series.
There is only a little bit of new gameplay footage, but this was more about getting a bunch of well-known celebrities together in a room to get them to promote a video game. The sketch was somewhat reminiscent of old 1990s video game commercials that would be more about little comedy sketches or mini-movies selling the product over the footage. Remember those sketches of a guy wearing a Crash costume for the Crash Bandicoot series? This trailer is somewhat reminiscent of that. And Crash Bandicoot was also originally a Sony PlayStation property [at least in the 1990s he was], so it all tracks.
The new celebrity live-action trailer follows the God of War: Ragnarok launch trailer that was released just over a week ago. The sequel will feature Kratos and Atreus on a new quest as they search for answers and prepare to face the coming battle for the end of the world, Ragnarok. As they search for answers, all the eyes of Asgard are upon them, including Odin's.
RELATED: GOD OF WAR RAGNAROK RELEASE DATE OFFICIALLY ANNOUNCED
The new game will feature Kratos and Atreus at least meeting the Norse God of War, Tyr. Also, Kratos will, at last, confront the God of War version of Thor. Not to mention, based on one of the story trailers, Odin himself will be appearing in the game in some form, voiced by actor Richard Schiff.
Fans and gamers will finally be able to experience the latest adventure of Kratos and Atreus for themselves when God of War: Ragnarok officially launches next week. The game hits PlayStation 4 and PlayStation 5 on November 9.
What did you think of the trailer? Did you have a good time watching the celebrities profess their fandom for Kratos and Atreus? Let us know what you think about the video on The Illuminerdi Twitter.
KEEP READING: GOD OF WAR: WHO COULD PLAY KRATOS IN THE NEW SERIES?
SOURCE: IGN