AEW wrestler Shawn Spears formerly known as Tye Dillinger gives an unofficial update on Tyler Breeze's wrestling career.
Tyler Breeze started his WWE career in 2010 with FCW. He went on to NXT and had a very solid run there and in not much time he became a fan favorite. Despite being popular he only won the tag titles in NXT along with Fandango, but did challenge for the NXT Championship. He fell into the go-to position when NXT needed a solid wrestler for someone to have a feud with. WWE even trusted Breeze enough to have a match with Japanese legend Jushin Thunder Liger.
Tyler Breeze eventually made his way to the main roster and teamed up with Fandango and formed the tag team Breezango. Their Fashion Files segments were very popular, but the pair were eventually released in June 2021.
RELATED: AEW: DALTON CASTLE GIVES AN UPDATE ON HIS HEALTH AND STATUS
Since then Breeze has focused on his wrestling school he runs with Spears. In an interview with The Sessions with Renée Paquette, Spears revealed if Tyler Breeze has any plan to return to the ring.
"He still works out, he's still in shape," Spears said. "There will be times we'll hop in the ring and have 20, 25 minutes. We just did that a couple of weeks ago with the Gunns, just at the school to get some cardio in. He can still go, he still does everything. But I say to him, 'Hey man, getting ready for a second run?' He goes 'Nah, [I'm] retired.' So I don't know. That's the true answer. But I see the excitement sometimes when he hops in."

H/T To Wrestling Inc. For Transcription
A Huge Talent Lost On The Main Roster
Tyler Breeze is another in a long list of extremely talented wrestlers who has everything he needs to be a top star in WWE, but is missing one thing. Vince McMahon didn't seem to like him or at least he didn't get "Tyler Breeze." There was a rumor that Breeze was buried on the main roster because he left an event early and even though he got it approved he didn't ask the right people.
Breeze was trained by one of the most underrated wrestlers ever in Lance Storm. His style is very similar to that of Storm's as well.  They both have a very technical style, but with Breeze having a lot more charisma and better on the mic.
RELATED: SHOCKING REASON WHY AJ STYLES DECIDED TO LEAVE TNA
Despite McMahon not seeing the potential in Tyler Breeze he may still have a chance to realize that potential in WWE. McMahon is gone and Triple H is the guy now and he trusted Breeze enough to have him wrestle Liger in NXT. It would not be crazy to think Breeze may be on Triple H's list of guys he wants to bring back.
Spears also wants to see Tyler Breeze make a return to the ring and thinks he still has a lot to offer in the ring.
"He's done very well for himself, he's a very smart guy," Spears said. "But I think it still creeps in every now and then, and I only know that because of how passionate he is when he teaches too. So if he didn't care, he'd be a little more relaxed. It's just a matter of timing, or the right opportunity to present itself. I hope that he's not done, because he still has a lot to offer. Just an incredible coach, good human being, and a benefit to this industry."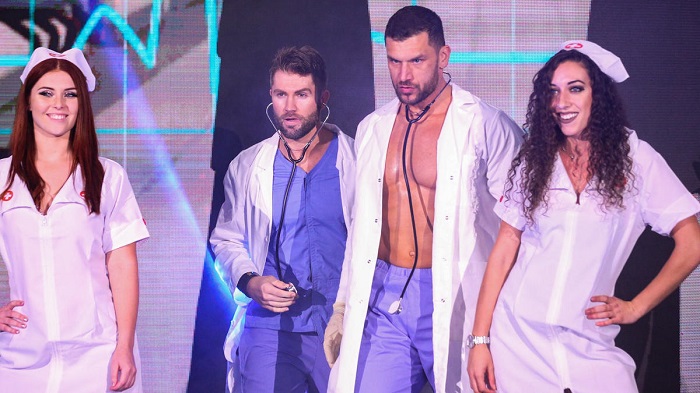 Will It Be A WWE Or AEW Ring?
The right time and the right place just may be closer than we think. Spears is with AEW so Breeze may have an easy way in over in AEW.
I hope that Breeze returns to wrestling because he was someone who I thought would be a big star on the main roster and having huge feuds with guys like Seth Rollins. That unfortunately didn't happen, but he is only 34 years old so he still has a lot of time. If he doesn't end up in a WWE ring I think pairing him up with Dalton Castle in AEW, whether that be with or against Castle, would be pure money. Their gimmicks are very similar and both are extremely talented and haven't gotten the chance to show just how good they are. 
What did you think of Tyler Breeze's WWE run? Would you like to see him return to the ring? Would you rather see him in a WWE, AEW or IMPACT ring? Leave a comment over on social media and let us know who from WWE and from AEW you would like to see Breeze wrestle.
KEEP READING: MATT CARDONA SAYS HE WILL MAKE BIG WWE RETURN UNDER 1 CONDITION