Netflix has dropped the official trailer for the world's favorite conspiracy-driven adult-animated series, Inside Job.
After spending her whole life preparing to take over Cognito Inc., Reagan Ridley was usurped by her other, Rand Ridley. Now Reagan has turned to alcohol but is at least joining groups in an attempt to recover. There, she meets a member of The Illuminati who reignites her spark, and Reagan not only wants to get better, she wants to get revenge. At least that's what it seemed like from the teaser trailer of Inside Job Part 2. Will the revenge plot take over Part 2 or will it get immediately resolved? Watch the official trailer below to find out what is in store.
Inside Job Part 2 | Official Trailer
RELATED: Wednesday Debuts Mesmerizing Welcome to Nevermore Featurette Ahead of 11/23 Premiere
Is that freaking Keanu Reeves in the trailer? That looks a lot like John Wick. If that is John Wick, is this before or after John Wick: Chapter 4? Or is this an Inside Job spoof that parodies the famed assassin in looks and demeanor but not actually the character? It could also be a clone, even though the cloning department was abolished in Part 1. It could also be just Keanu Reeves. Keanu Reeves appearing as himself is a Netflix staple since Always be my Maybe. This could also be an animated rendition of a real-life Keanu Reeves adventure! There's no way to know for sure!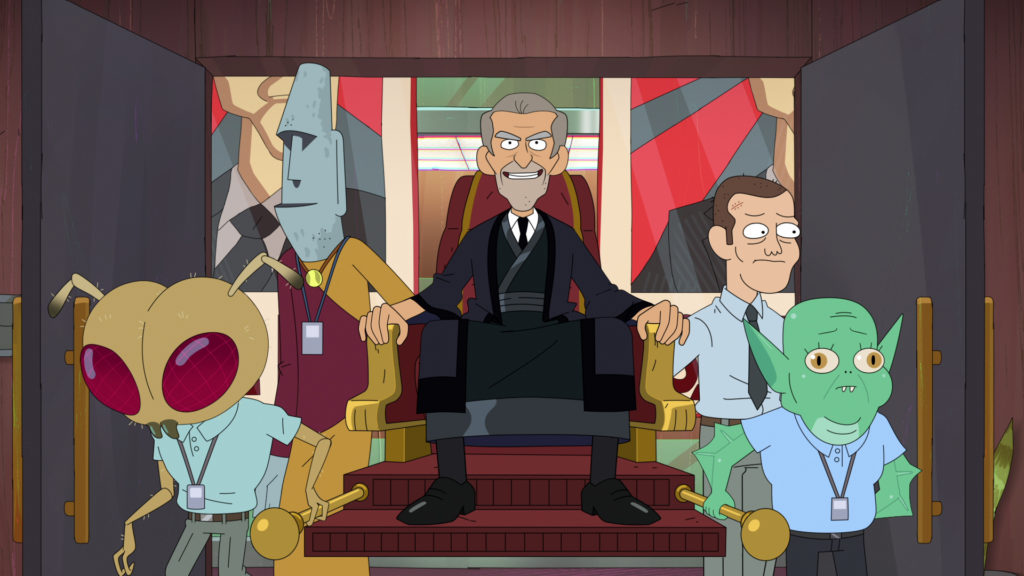 RELATED: Money Heist: Korea – Joint Economic Area Part 2 Teases the Thrilling Finale of the Ultimate Heist
But on to other things that happened in the trailer. Reagan begins by complaining no one had her back, but it looks like she reunites with The Gang. It also seems like she and Adam Scott's character team up in a number of ways. Comedy, conspiracy, and color frames of violence flood the screen and maybe secretly decode secret messages into our brains. I don't know about you, but everything in this series seems possible at this point. The series seems more grounded than reality so personally, I can't wait for it. Also, I really need to know how and why that seems like Keanu Reeves. They used his picture for the thumbnail of the video.
IT MUST MEAN SOMETHING!
Anyway, Inside Job Part 2 premieres exclusively on Netflix on November 18, 2022.
ABOUT INSIDE JOB
Part 2 Premiere Date: November 18, 2022
Created by: Shion Takeuchi, Alex Hirsch
Executive Producers: Shion Takeuchi, Alex Hirsch
Cast: Lizzy Caplan, Christian Slater, Clark Duke, Andrew Daly, Bobby Lee, John DiMaggio, Tisha Campbell, Chris Diamantopoulos, Brett Gelman, and Adam Scott
Synopsis:
Inside Job is an adult animated comedy about the shadow government– and the dysfunctional team whose daily grind is committing the world's conspiracies. From convoluted coverups to secret societies to masked orgy etiquette, navigating office culture at Cognito Inc. can be tricky, especially for anti-social tech genius Reagan Ridley. Even in a workplace filled with reptilian shapeshifters and psychic mushrooms, she's seen as the odd one out for believing the world could be a better place. Reagan thinks she can make a difference, if only she could manage her unhinged, manifesto-writing father, her irresponsible coworkers, and finally snag the promotion she's been dreaming about.
Do you believe the world is run by secret societies? Are there any conspiracy theories people accuse you of being crazy to believe in? Is Inside Job really an inside look at the secret societies that control the world? If you believe it's possible or safe to do, let us know your thoughts and secrets on Twitter!
Source: Netflix
KEEP READING: Blockbuster Review – It is the Perfect Time for a Blockbuster Night… On Netflix