With "Rix Road," the first season of Andor came to a satisfying close. As teased in the previous episode, all roads led to Ferrix for the main cast, except for Mon Mothma. We opened and wrapped up the season here, showing that Cassian's homeworld is basically this series' version of Tatooine. But instead of being an Easter Egg or a cheap form of fan service, going back to Ferrix was always justified, and this episode was no exception. Oh, and there is a post-credits scene, in case you missed it!
Spoilers for Andor episode 12, "Rix Road," ahead.
On paper, the premise of "Rix Road" is quite simple. Cassian goes back to Ferrix to attend his mother's funeral and then he decides to rescue Bix. That would even seem like a part of an hour-long episode in any other show, so leave it to Tony Gilroy to create such a complex and layered script that was executed to perfection by director Benjamin Caron. Cassian going back to Ferrix becomes the common ground most of the characters in the show find to meet up, though they don't even know it.
RELATED: Andor's Genevieve O'Reilly Explains Mon Mothma's "Private Face" And Her Dangerous Journey In New Star Wars Series
We know, after watching last week's episode of Andor, and knowing this was the finale, that something big was going to happen. And in the larger context of the show, it seems inevitable that Ferrix will become ground zero for the Rebellion. But we're not there yet. Gilroy and his writing team have done an excellent job of putting our characters under the most strenuous circumstances, to the point that they all just need a final push to cross the tipping point. The brilliance of Gilroy's writing is to have that push come at the same time for everyone.
We're talking about Maarva's speech, of course. B2-EMO steps forward from the crowd and plays Maarva's final words to the Daughters of Ferrix and the entire town, in front of the Imperials. And she calls for action. For war. This is all the citizens of Ferrix needed, and also all the Empire needed. The latter may have been the ones that moved first, but the waters were boiling already and it was a matter of seconds before any regular citizen started the charge against the Imperial trooper line. However, this push does not only apply to this ground battle.
RELATED: Andor Stars Talk About Exploring The Villainous Empire At The Height Of Its Power
Stellan Skarsgård's Luthen Rael is not far away from that point, and upon listening to Maarva's words, he realizes something. The fight he's been having in secret and with his close friends, the little birds that he's sent into many nests to feed him back information from both his enemies and allies is not that unique. People are standing up. Maarva said as much earlier this season, but Luthen just didn't know it. He was solely focused on getting the job done, and now killing Cassian became his main goal, and he lost sight of the bigger picture.
It is Maarva's speech that opens up his mind, allowing him to start recruiting people from around the galaxy to form, in season 2, the Rebel Alliance.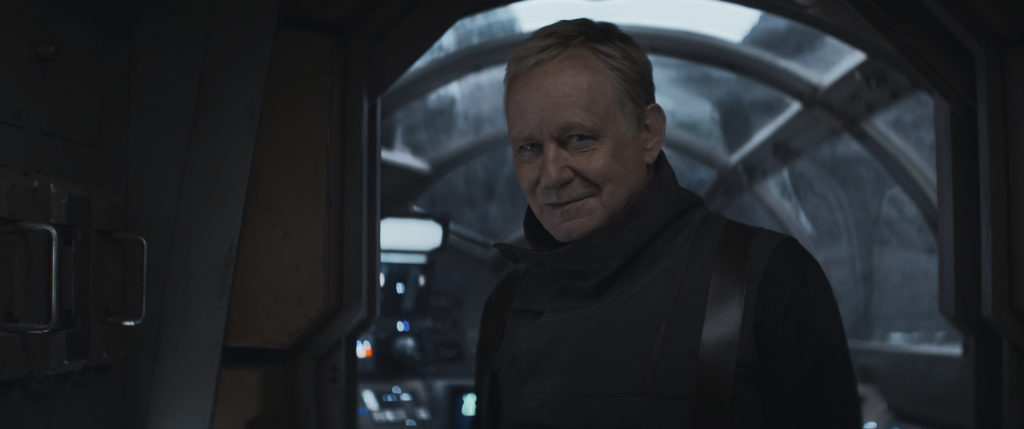 Maarva's speech is also the reason why he takes Cassian in at the end of the episode, as well as the reason why Cassian decided to join. He realizes that to make her mother proud and ensure her legacy lives on, he must step up. Aldhani was not meant to be an isolated incident. He's been in this life since he was six years old. Though Cassian's final push may not have come from Maarva alone…
Also listening was Adria Arjona's Bix, who for a second seemed like she wanted to stay there, captive. Thankfully, it wasn't the case, and I definitely believe that it was Maarva speaking that brought her back to reality. I doubt she knew about her death before that moment, so the combination of her speaking, and what she said, prompted her to snap out of it. She was dreaming about Cassian rescuing her, as she revealed later, so she was confused at first when Diego Luna's character walked through the door. Bix was the absolute heart of the episode.
RELATED: Andor Review: A New Dark Immersive Experience For Star Wars Fans
Brasso telling Cassian that she loved him "more than anything he could ever do wrong" was the most tearful moment of the episode and an announcement that we may be in for an emotional rollercoaster. There is no doubt in my mind that the rest of Brasso's message was also very much responsible for Cassian joining Luthen at the end.
On the other side, the Imperials are having a horrible day. Dedra Meero is in town, and so is Syril Karn, though they don't know about each other until they are already on the ground. We got an interesting reveal at the beginning when we realized that the ISB does not believe Anto Kreegyr is Axis, which probably means that Bix told them as much. They will definitely still be looking for him in the second season. Dedra is focused on finding Cassian as a new link to Axis, and while failing at that, she is rescued by Syril Karn from the hands of filthy rebels.
This part, I must say, was a bit confusing, because she was being carried down the street by half a dozen people, and all of a sudden, she's on her feet and pulled aside by just one? Something was missing there. Our two favorite Imperial extremists then meet again, in a moment filled with unrealized sexual tension.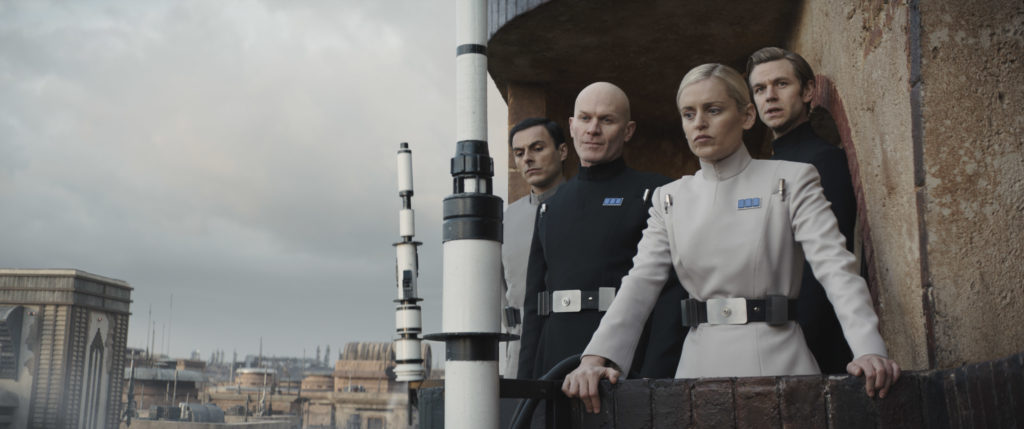 Back in Coruscant, Mon Mothma is essentially kissing her family goodbye. In an effort to get rid of annoying Imperials, she makes sure the driver knows that she suspects her husband may be messing with the family's financials. He is obviously confused, though it didn't escalate as much as it could have from there. It's unknown how that will affect their marriage going forward, but they are probably at a point of no return if they weren't already.
I suspect the two will split up at the beginning of the next season, as Mothma finally embraces the Rebellion and leaves the Senate and Imperial bureaucracy. Her daughter is no longer holding her back, as she and her husband give her away later in the episode so that she can finally stop worrying about the money she was moving around.
RELATED: Lucasfilm Reveals Star Wars: The Acolyte Has Begun Production & Confirms New Cast Members
And finally, in the post-credits scene, we got confirmation that the prisoners in Narkina 5 were building parts of the Death Star, as most people had speculated. It was a nice touch done in a great way and a perfect use of a post-credits scene. It tied up a loose end from the season and got us ready for what is coming next. Andor season 1 may not have been perfect, but when it was at its best, it was the best Star Wars content we've had on television. And even its lowest points were higher than the low points from any other show.
I loved the season finale, though I still think that episode 10, One Way Out, is my favorite of the season. It may not have been the space opera, alien-filled, cameo-fest that some were expecting (we didn't meet Bail Organa or Krennic, as many had anticipated), but it was a thrilling ride that brought a brand-new side to the Star Wars galaxy. I wouldn't like Star Wars to be like this every time, but I definitely appreciated the change of pace. Now, let's look forward to The Mandalorian bringing back some familiarity in a couple of months.
Andor will be back for a second and final season which will cover the four-year gap between season 1 and the events of Rogue One. Filming began this week in the U.K.
What did you think of the Andor season finale? Did I miss any key moments that you think were worth commenting on? Did you enjoy the season overall? Let us know in the comments and on our social media!
KEEP READING: Bob Iger Returns To Head Disney and Bob Chapek Goes Down In Shocking Changeup