The newest installation to the Star Wars saga is just around the corner with Andor set to debut on Disney Plus tomorrow, September 21, with the first three of twelve episodes. Andor, created by Tony Gilroy and produced by series star Diego Luna, follows titular character Cassian Andor roughly five years before the events of Rogue One. Andor reveals not only how Cassian became a part of the Rebellion, but his tragic origins as well.
At the start of Andor Cassian gets himself into some trouble on the salvage planet he lives on, Ferrix, gaining not only the attention of local law enforcement, but eventually the Empire as well. In order to get off world and away from those hunting him Cassian is forced to use his quick thinking and skills before eventually taking a chance on a mysterious man who offers to give him an opportunity to use his abilities to fight against the galactic oppressors, The Empire.
RELATED: D23 EXPO: FINAL TRAILER FOR 'ANDOR' SEES CASSIAN ANDOR JOIN THE REBEL ALLIANCE
Andor is a new kind of Star Wars series focusing not on the usual force wielders, bounty hunters, or dog fights in space, but instead the more morally grey duplicitous spies who risk everything behind enemy lines and are willing to get their hands dirty for the cause. Many fans remember Cassian Andor's famous line in Rogue One where he talks about doing terrible things in the name of the Rebellion, but now fans will be able to see this character's journey including what drew him to the Rebellion, what makes him ideal to be one of the Rebellion's top spies, and what terrible things he did in the name of freedom for the galaxy.
ANDOR EXPLORES CHARACTERS NEW AND OLD IN AN IMMERSIVE STAR WARS THRILLER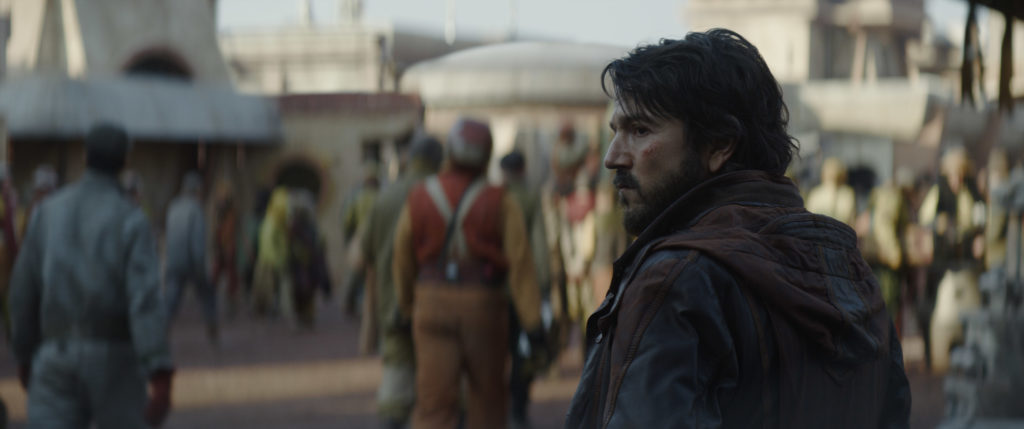 Andor not only reveals more about old favorites, including Diego Luna's Cassian Andor and Genevieve O'Reilly's Mon Mothma, but introduces interesting new characters including Maarva who raised Cassian after he suffered an immense childhood trauma, played by Fiona Shaw, Bix Caleen an ally of Cassian's on the salvage planet Ferrix, played by Adria Arjona, Luthen Rael an important spymaster and recruiter within the Rebellion, played by Stellan Skarsgård. On the other side Andor introduces two new antagonists with Denise Gough an ambitious up and coming Supervisor in the Imperial Security Bureau and Kyle Soller a Deputy Inspector with the Corporate Security that covers the planet Ferrix played by Syril Karn.
Through these characters the new series explores how each of them impacted Cassian's origins and how he became an important part of the Rebellion's espionage team as well as new types of Star Wars characters. The antagonists in the series, who are almost middle management within the Empire, see Cassian not only as a threat, but a stepping stone to more power within the corrupt and oppressive Empire.
While characters like Luthen Rael have a manipulative streak in order to accomplish what must be done bringing into question if they ends justify the means. The new series also explores a new side of Mon Mothma introducing the difficulties not only in her home life, but as a senator on the powerless Galactic Senate who is secretly working against the oppressive Empire.
RELATED: ANDOR OFFICIAL KEY ART AND TRAILER RELEASE FROM DISNEY+ AT STAR WARS CELEBRATION 2022
Each actor brings an authenticity and nuance to their performances. Diego Luna once again captures this morally complex intelligent character while adding new depth and layers into his performance. His chemistry with both Fiona Shaw and Adria Arjona is impressive making it seems as though he has a long standing relationship with both their characters. Shaw infuses her character with a determination, frustration, fear, and deep love which shines through on screen.
Adria Arjona manages to show immense grief, intelligence, and a quick wit throughout the first four episodes. Stellan Skarsgård unsurprisingly brings an impressively layered performance oscillating between seeming to be a character looking out for those around him while also playing puppet master willing to manipulate whoever necessary for the bigger cause.
Genevieve O'Reilly infuses new pathos to this legacy Star Wars character as she shows the burden that her long and secretive fight has had on her life as well as the difficulties she faces in her home life. Denise Gough and Syril Karn each deliver a different kind of menacing and calculating antagonist with intriguing motivations to hunt down the titular character after Cassian puts himself on their radar at the start of the series.
Andor feels like an immersive world with the characters exploring new corners of the Star Wars galaxy while also visiting old favorites in a new era. Exploring a new planet with the salvage world that Cassian lives on at the start of the series is fascinating introducing a new kind of planet to Star Wars with Ferrix. Ferrix feels like a low income mining and salvage town, but deeply rooted in the sci-fi genre. The struggles and grittiness is palpable and contrasts brilliantly with the lavishness of Coruscant, which is explored as more is revealed about Mon Mothma. Each planet feels vastly different and immersive while still capturing the magic of the Star Wars universe.
RELATED: ANDOR: DISNEY ANNOUNCES NEW RELEASE SCHEDULE FOR 12-EPISODE DISNEY+ SERIES
Now, this is not an unfamiliar era in Star Wars with the beloved animated series Rebels also taking place during Andor, but the two series are vastly different in tone. Rebels is more focused on the found family element which makes sense given that it is targeted towards a younger audience, although there are very real and dark aspects of the animated series, while Andor explores the darker aspects of why a Rebellion is needed in a grittier story.
Andor is described as a thriller and while tensions are high throughout the first four episodes, with Cassian constantly trying to avoid authorities, it doesn't quite reach the heights it could. While Andor's pacing, which is slower than the other live-action Star Wars series, does give the series time to introduce new aspects of Cassian's past and new characters it also takes away some of the high stakes tension.
Andor is a slow burn especially for most of the first three episodes, but episode three ramps up near the end with an exciting action sequence. Andor begins to introduce the larger scope of the story in the third and fourth episode while the first two episodes and a good chunk of the third are focused on Cassian's need to escape Ferrix after his actions gain not only the attention of local authorities, but put his community in danger. The slow pace of the first few episodes can at times deflate some of the tension and could have been condensed into a tighter start to the series.
From the start Star Wars has been a franchise targeted towards both children and adults, but the Disney era has introduced some more mature additions to the saga including Rogue One and The Mandalorian, but Andor takes it a step further. The gritty and darker feel of the series is more reminiscent of Blade Runner or even fantasy franchise Game Of Thrones than other Star Wars series. This new style and tone offers a deeper look into the traumas and darkness that the Empire has cast over the galaxy allowing characters to explore these evils from both sides.
RELATED: ANDOR CREATOR REVEALS WHAT INSPIRED THE NEW STAR WARS SERIES
Andor is a fresh take on Star Wars that opens the door to a new kind of Star Wars story. And while fan favorites like Saw Gerrera have been shown in the trailer, the first four episodes aren't focused on cameos or the usual force wielders. Instead Andor is fully focused on the more ground level characters that decide to stand up and fight against the Empire when enough is enough. This series has a ton of potential to be a dark, gritty, immersive Star Wars series like nothing fans have seen before and hopefully as the story progresses the pacing will lean more into the high tension suspense of a political espionage thriller.
Andor debuts on Disney Plus September 25 with the first three episodes and subsequent episodes each Wednesday. The first season consists of twelve episodes covering one year while season two will also consist of twelve episodes taking place over the next four years leading into Rogue One. Are you excited for Andor? Are you a fan of Rogue One? Have you been hoping for a more mature and gritty Star Wars series? Leave your thoughts in the comments below or on our social media and check back with The Illuminerdi for more Star Wars and Andor.
KEEP RADING: DIEGO LUNA TEASES EXPLORING CASSIAN'S PAST IN ANDOR AND WHAT MAKES THIS EXCITING NEW SERIES STAND OUT AMONG OTHER STAR WARS SERIES