Cocaine Bear is certainly a catchy title for a movie. The year 2022 contains two of the craziest movies we've seen in a long time. Everything Everywhere All At Once took the concept of the multiverse and ran with it to unprecedented heights, delivering a rollercoaster of emotions, thrills, and hot dog fingers. As Paramount revealed the trailer for the next in a series of outrageous movies, Damien Chazelle's Babylon, Universal Pictures has started to promote a new movie called Cocaine Bear.
If the name isn't enough to convince you to start booking your tickets already, here is the official premise of Cocaine Bear:
"Inspired by the 1985 true story of a drug runner's plane crash, missing cocaine, and the black bear that ate it, this wild thriller finds an oddball group of cops, criminals, tourists and teens converging in a Georgia forest where a 500- pound apex predator has ingested a staggering amount of cocaine and gone on a coke-fueled rampage for more blow … and blood."
Additionally, the studio has also revealed the first poster for Cocaine Bear: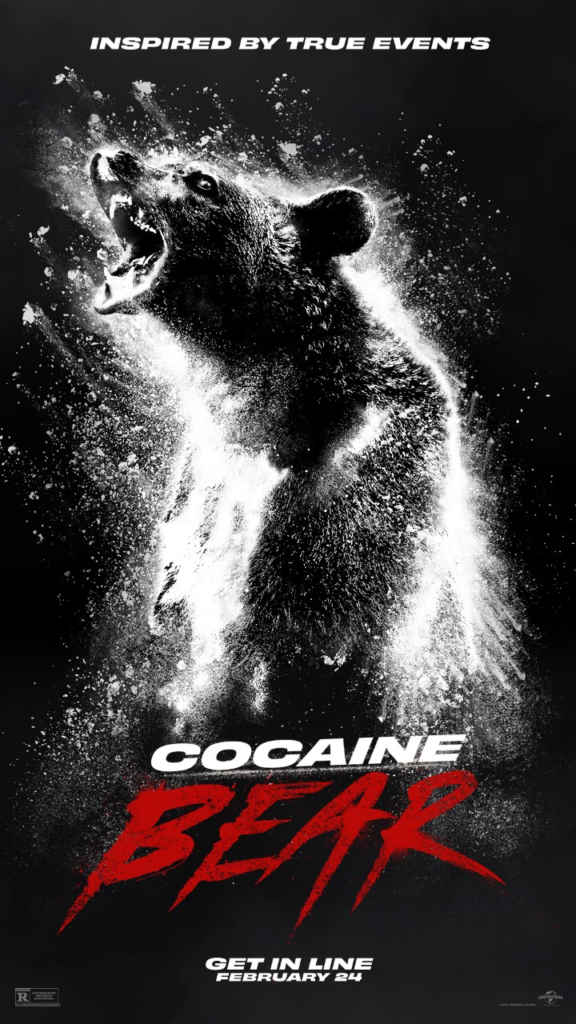 WHO IS BEHIND COCAINE BEAR?
The movie is directed by Elizabeth Banks, an actress-turned-director that previously helmed Pitch Perfect 2 and 2019's Charlie's Angels. She is also a producer on the movie via her banner Brownstone Pictures with Max Handelman. Phil Lord and Chris Miller (Spider-Man: Into The Spider-Verse, The Mitchells vs. The Machines) and Aditya Sood (The Martian) are also producing for Lord and Miller, as well as Brian Duffield. Jimmy Warden (The Babysitter: Killer Queen) wrote the script. Robin Fisichella is an executive producer.
RELATED: EVERYTHING EVERYWHERE ALL AT ONCE CONTINUES TO BREAK BARRIERS AFTER GROSSING $35 MILLION IN NORTH AMERICA
The cast includes Keri Russell (The Americans), Emmy winner Margo Martindale (The Americans), Emmy winner Ray Liotta (The Many Saints of Newark), Alden Ehrenreich (Solo: A Star Wars Story), O'Shea Jackson Jr. (Straight Outta Compton), Jesse Tyler Ferguson (Modern Family), Kristofer Hivju (Game of Thrones), Kahyun Kim (American Gods), Christian Convery (Sweet Tooth), Brooklynn Prince (The Florida Project) and newcomer Scott Seiss.
IS A TRAILER COMING SOON?
Most definitely. This is part of a movement across all studios in Hollywood to promote their latest projects in front of audiences going to the movies this upcoming holiday season. The last week of November and the first two weeks of December are typically packed with exciting trailers and new looks at highly-anticipated releases, as Christmas is the highest-grossing season for movie theaters. It also typically coincides with the release of a new, high-profile movie — in this case, it's Avatar: The Way of Water. The trailer will surely come out within the next 48 hours.
WHAT SHOULD WE EXPECT FROM THE MOVIE?
A lot of craziness. With the title Cocaine Bear and this poster, Universal is telling us that they are going all out, targeting a specific demographic and hoping to rely on word-of-mouth. This is clearly not a four-quadrant film. Universal is trying to let the world know that they are as crazy as a bear high on cocaine, and they are not apologizing for it.
The trailer will certainly tell us as much. A late February release date is also very appropriate, considering it's around the same time as the first Deadpool's release date, another adult-oriented, balls-to-the-wall that got a huge response from audiences. It might act as counter-programming to Marvel Studios' Ant-Man and the Wasp: Quantumania, which comes out the week before, though it will definitely face some competition with Creed III, which comes out the week after.
RELATED: BABYLON TRAILER: DAMIEN CHAZELLE'S HOLLYWOOD EPIC GRACIOUSLY DELIVERS ELECTRIFYING TRAILER
For now, Universal seems to know what they're doing by not adding any names to the poster. The star of the movie is not Keri Russell, the late Ray Liotta, or even Alden Ehrenreich (who is reuniting with his original directors on Solo). It's the Cocaine Bear.
What do you think about the poster so far? Had you heard about the movie? Tell us in the comments and on our social media!
KEEP READING: EVERYTHING EVERYWHERE ALL AT ONCE – THE ILLUMINERDI'S WE'RE ALWAYS WATCHING PODCAST EP 7
SOURCE: Universal Pictures