Fans of the classic sitcom, That 70s Show, are in for a treat. The show is set to continue later next year with a direct sequel and continuation, That 90s Show. The show finally hits Netflix in January, and the streamer has just dropped the official teaser trailer for the upcoming series.
You can check out the official teaser of the return of Red and Kitty Forman below:
RED AND KITTY ARE BACK IN THE TEASER TRAILER FOR THAT 90S SHOW
The show picks the story back up in 1995, introducing Leia Forman, the daughter of the now-married Eric and Donna. Leia is visiting her grandparents for the summer, and she bonds with the new generation of Point Place, Wisconsin kids under the eye of Kitty and the stern glare of Red. However, the allure of sex, drugs, and rock 'n roll never dies, it just changes clothes. The decade of the 70s has passed, and now it's time for the '90s.
RELATED: THAT 90'S SHOW FINDS ITS NEXT GENERATION POINT PLACE CAST
Based on the trailer for the new series, it appears Leia is playing a similar role to Eric during his teen years in the original series. Leia Forman is looking for some adventure in life or a best friend who is not her dad. After arriving in Point Place, she finds that next door with the rebellious Gwen.
With the help of Gwen's friends, and her lovable brother Nate, his intelligent and focused girlfriend Nikki, the sarcastic and insightful Ozzie, the charming Jay, Leia realizes that the adventure she wants could happen just like it did for her parents years ago in the '70s. Now that she is excited to reinvent herself, Leia convinces her parents to let her stay in Point Place for the summer. Kitty is happy to have a basement full of teens again, and Red is still Red, of course.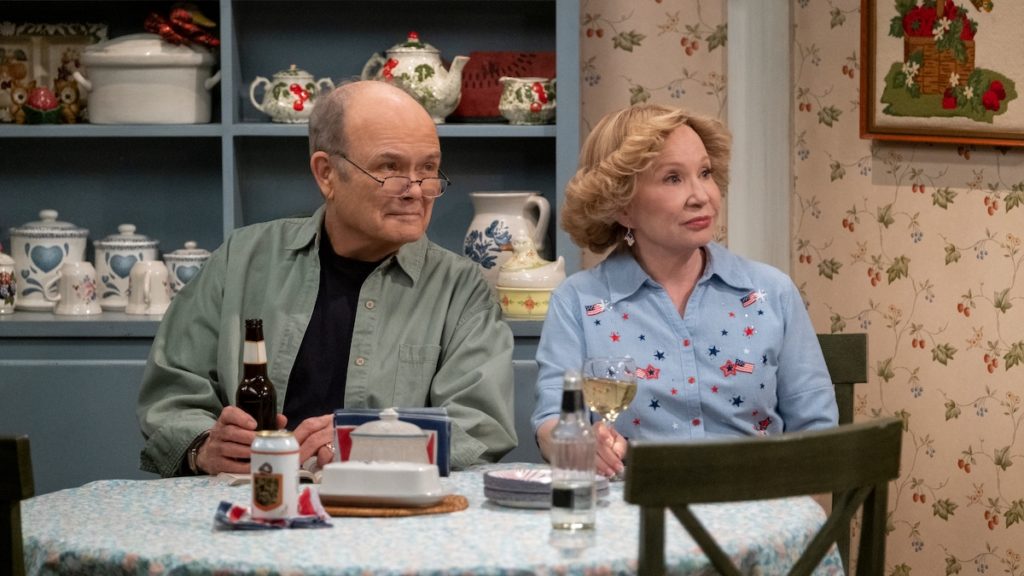 That 90s Show features the returning Kurtwood Smith as Red Forman and Debra Jo Rupp as Kitty, who are back from the original series. Joining the cast of the new series are Callie Haverda, Ashley Aufderheide, Mace Coronel, Maxwell Donovan, Reyn Doi, and Sam Morelos.
Creators of the original series, Bonnie and Terry Turner are also back for the series, this time working with their daughter Lindsey Turner, along with showrunner/executive producer Gregg Mettler, along with executive producers Marcy Carsey and Tom Werner. Jessica Goldstein and Chrissy Pietrosh are also attached as executive producers.
RELATED: MARRIED… WITH CHILDREN REBOOT: ORIGINAL CAST TO RETURN FOR UNEXPECTED ANIMATED SERIES
So, it appears That 90s Show will continue with the wacky antics of Red and Kitty, but there will be a new group of teens to get into misadventures and antics in the Forman household. It will also be interesting to see if Topher Grace and Laura Prepon reprise their roles as Eric and Donna later this season.
That 90s Show debuts on Netflix on Jan. 19, 2023. The first season will consist of 10 episodes. All 10 episodes will be available on the streaming service at launch.
What do you think of That 90s Show so far? Does this look like a worthy successor to That's 70s Show? Do you plan on adding it to your Netflix queue? Do you think the sitcom was worth revisiting? Will this be more successful than That 80s Show?
SOURCE: Netflix
KEEP READING: X-MEN '97: EPISODE COUNT & TENTATIVE RELEASE DATE REVEALED