The character played by Chris Hemsworth in the film Thor has evolved through the years. The God of Thunder played by Hemsworth begins as the unworthy son who was later found worthy by his hammer Mjolnir. From 2011 to 2022, Thor's character in the four films evolved over time.
In Thor (2011) and Thor: The Dark World (2013), Hemsworth played the God of Thunder role in a Shakespearian way. The third and fourth sequels, Thor: Ragnarok (2017) and Thor: Love and Thunder (2022), depicted a more comedic side to the character. As reported by The Direct, Hemsworth recently spoke to Josh Horowitz on the Happy Sad Confused podcast, and he discussed wanting the Thor character to reinvent himself again and move on from the version depicted in Taika Waititi's recent installments of the franchise:
CHRIS HEMSWORTH IS OPEN TO A DIFFERENT CHARACTER
After the release of Thor: Love and Thunder, the movie received a great deal of criticism for its more comedic depictions of Marvel characters. The comedy-heavy version of Thor was first featured in Thor: Ragnarok. This was after Taika Waititi took over as director of the franchise.
RELATED: THOR LOVE AND THUNDER'S TAIKA WAITITI TALKS ABOUT BALANCING COMEDY AND DRAMA IN THE NEW MARVEL MOVIE
Hemsworth is currently on an acting hiatus, but he was asked by Josh Horowitz about his potential future with MCU. Chris shared that if his character will be called back by the MCU, he would like to see the Asgardian hero be reinvented again.
Hemsworth used the word 'if' in his comments because the MCU future of the character appears up in the air at the moment. Chris explained that while his first two solo outings were similar, he wants to the character become reinvented again to be different from Taika Waititi's vision. He stated:
"You look at Thor 1 and 2, they were quite similar. Ragnarok and Love and Thunder are similar. I think it's about reinventing it. I've had such a unique opportunity with Infinity War and Endgame to do very drastic things with the character. I enjoy that, I like keeping people on their toes. It keeps me on my toes. It keeps me invested. I've said this before but when it becomes too familiar, I think there's a risk in getting lazy then because I know what I'm doing. So I don't know."
Hemsworth also hinted at the possibility of not being invited back to the MCU. The uncertainty of a return for another film is not lost on Hemsworth. However, he emphasized the need for a "different version" of Thor should he be called back.
CHRIS HEMSWORTH'S TAKE ON GAINING WEIGHT FOR THE ROLE
Additionally, The Direct reports that Chris Hemsworth revealed his take on gaining weight for the role in a previous documentary made for Thor: Love and Thunder on Disney+. In the documentary, Hemsworth explained the struggle with putting on the muscle mass for the role.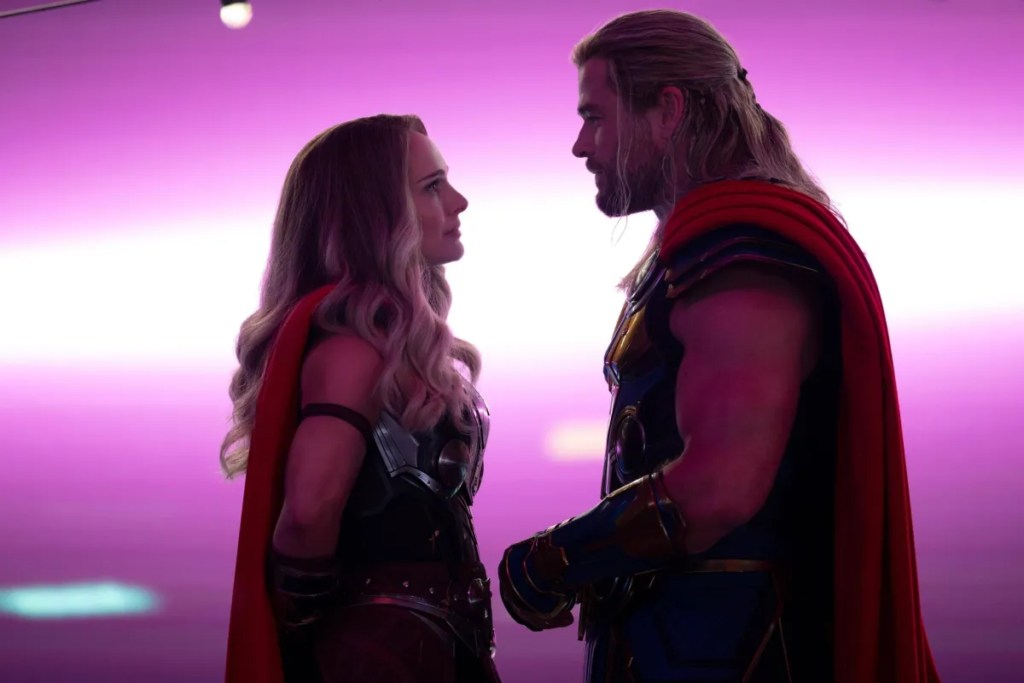 The actor explained that whenever he gains weight for a character only to lose it later on for a different role, there's always "muscle memory" for him. He stated the following:
"Each time I've played the character and put the muscle on and put the size on, and then lost it for something else and played another character, there's muscle memory, and I used to say it sort of got easier each time. This was particularly hard. I think because the target weight we aimed for was quite a ways above where I'd been before."

"We had 12 months when I was at home, just training and sort of, you know, puppeteering the body and manipulating and trying to like, 'Okay, we could try more swimming now or try more martial arts. It was a really fun exploration, but I don't know that I wanna get that big again. But I was sort of… It was… Yeah, it was just exhausting. I don't know, maybe I'm getting old, but things just started to hurt more."
DOES THOR: LOVE AND THUNDER MARK THE END OF TAIKA WAITITI'S RUN IN THE MCU?
With the uncertainty of Hemsworth's future as Thor in the MCU and a potential fifth film, it is also uncertain if Taika Waititi will also be back to direct another MCU franchise installment for the God of Thunder, especially since fans and critics were more lukewarm to his latest take on the character.
RELATED: THOR: LOVE & THUNDER'S TAIKA WAITITI EXPLAINS HOW STORMBREAKER'S JEALOUSY OF MJOLNIR CONNECTS TO GUARDIANS OF THE GALAXY
If Thor were to return in another MCU film, it seems more likely that there would be a new director without Waititi. However, it's still possible Waititi could revisit the MCU somewhere else down the line. At the moment, the director appears to be busy working on the story for a new live-action Star Wars feature, so he has a fairly full and busy schedule.
It really wouldn't hurt to see a different personality or a reinvented version of Thor on our screens. Do you also want the character to become reinvented again as Chris Hemsworth suggests, or do you prefer the current, more comedic iteration of Thor? Feel free to share your thoughts in the comment section or on Twitter. Also, check back with The Illuminerdi for more Marvel content.
KEEP READING: THOR: LOVE AND THUNDER REVIEW – THE WORLD WILL WANT MORE EVEN AFTER 4
SOURCE: Happy Sad Confused, The Direct