Thor's weapon is just as iconic as the hero himself. First it was the hammer Mjolnir which can only be lifted by those deemed worthy, but after Hela destroyed Mjolnir he needed a new weapon. In Avengers: Infinity War he was able to create a new iconic weapon to wield, an axe dubbed Stormbreaker. He was able to wield both weapons in Avengers: Endgame, although Captain America also proved himself worthy of Mjolnir. Now, Thor will once again come face to face with his first weapon. However this time it will be held by his ex-girlfriend Jane Foster, aka Mighty Thor, which will cause some tension, but not the kind fans may be expecting.
The Illuminerdi had the opportunity to attend the Thor: Love And Thunder virtual press conference which included director Taika Waititi, Marvel producer Kevin Feige, and the main cast of the movie. During the press conference Chris Hemsworth was asked about what will happen when Thor comes face to face with his former weapon, the hammer Mjolnir, while wielding his new weapon, the axe Stormbreaker. Chris, with Kevin Feige's permission, gave a bit of insight into what audiences can expect from Thor's relationship with Stormbreaker and Mjolnir.
CHRIS HEMSWORTH TEASES WHAT FANS WILL SEE FROM THOR, MJOLNIR, AND STORMBREAKER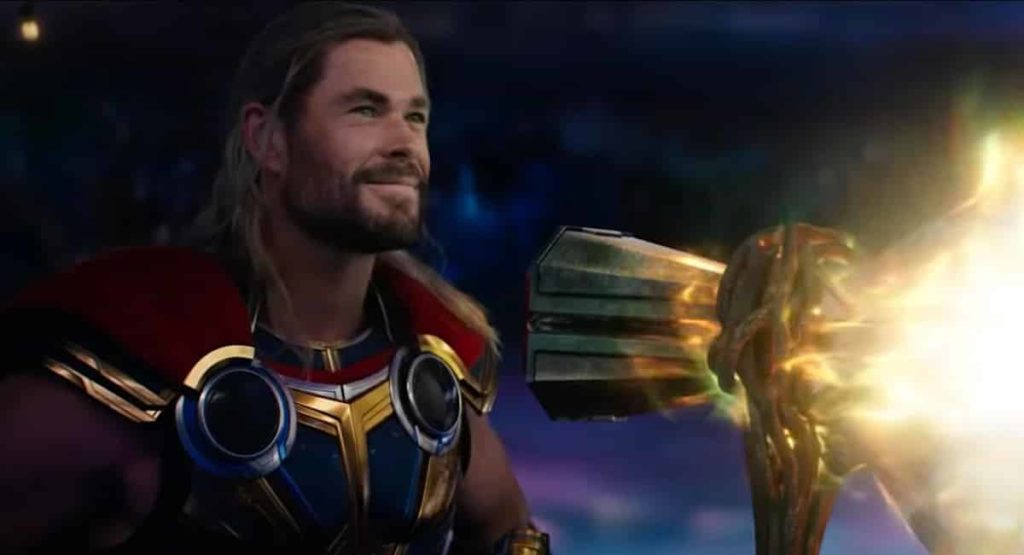 That was kinda one of the funnest things [LAUGH] we got to do in the film. Yeah, I kinda can't sort of talk about it too much. Yeah, look it's hard to see the ex-girlfriend turns up dressed as him, that's a shock. And all the sudden the weapon that he held so dear, and so on, for so many years now belongs to someone else. And then he has Stormbreaker who starts to sense a little jealously there. You know? So that kind of evolved through the film didn't it. I don't think it was in the original script, but it was fun.
RELATED: CHRIS HEMSWORTH TALKS ABOUT HOW HE RELATES TO THE LEGENDARY THOR AFTER 11+ YEARS
A clip from Thor: Love And Thunder was recently released that teased this hilarious drama with Thor attempting to call Mjolnir from Jane's hand to his own only for Stormbreaker to come to him instead with clear jealousy and suspicion. It seems this will be a running gag throughout the film while he grapples with seeing someone wielding Mjolnir and simultaneously attempting to placate Stormbreaker. While this is ripe for comedy it also opens the door to potentially explore what it means for Thor to see his former girlfriend and hammer back and seemingly moving on without him. Taika Waititi shed new light on Stormbreaker's jealousy with the reminder that the axe's handle is made from teenage Groot's arm.
And Stormbreaker, I don't know if this is the way anyone else thought about it, but you gotta remember Stormbreaker's made of Groot's arm. Well, the handle is. And so, Groot was like a teenager when he did that. So, we felt like Stormbreaker was a young waif and had only just been born about five or six years ago. So, it had to feel a little bit like an adolescent and it was like it was going through changes. And yeah, it was having mood swings.
RELATED: THOR: LOVE AND THUNDER'S CHRISTIAN BALE EXPLAINS HOW HE INFUSED GORR THE GOD BUTCHER WITH SURPRISING SYMPATHY
This new side of Stormbreaker is absolutely hilarious, but it is also an intriguing choice to lean into the fact that Groot's arm may still have sentience. Stormbreaker's ability to sense Thor's desire to reconnect with Mjolnir and jealousy about it while entertaining also adds a new depth to the relationship between hero and weapon. Taika Waititi shows off his impressive abilities as a director adding layers not just to the characters, but making Stormbreaker a character within itself. It is also interesting that this was not a part of the original script instead evolving as the movie was being filmed.
Thor: Love And Thunder is set to hit theaters July 8, 2022. Are you excited to see Thor: Love And Thunder? Are you looking forward to some hilarious drama with Mjolnir and Stormbreaker? Did you realize Groot's arm would have a long term on Stormbreaker? Leave your thoughts in the comments below or on our social media and check back with The Illuminerdi for more MCU and Thor: Love And Thunder.
KEEP READING: THOR: LOVE AND THUNDER'S TESSA THOMPSON LOOKS BACK ON VALKYRIE'S ARC FROM INFAMOUS RAGNAROK ENTRANCE TO THOR 4