Thor: Love and Thunder goes where no other Marvel movie has ever gone before, the romantic-comedy genre.
Marvel Studios delivers their first fourth solo film of any of their heroes on July 8, 2022, with Thor: Love and Thunder. Taika Waititi returns to direct after the monstrously acclaimed Thor: Ragnarok and is joined by the return of Chris Hemsworth, Tessa Thompson, and Natalie Portman. They are joined by Russel Crowe, who plays the god of lightning Zeus, and Christian Bale as the god butcher, Gorr. Together, this collection of talent takes audiences on an out-of-this-world romantic-comedy that proves lightning can strike twice.
Thor: Love and Thunder is a Lot of Marvel Firsts
Thor is the first of any Marvel hero to receive a fourth solo film. No small feat by any means, but not only is he in his fourth solo film, and one of the few original Avengers, Thor still feels new. The film begins with a wonderfully narrated recap of his journey thus far by his good friend, Korg, portrayed by Taika Waititi. The audience is also treated with an accompanying montage highlighting the God of Thunder's transformation from dad-bod to god-bod. It is a hilarious and deeply profound look at Thor's incredible character journey.
RELATED: Chris Hemsworth Talks About How He Relates to the Legendary Thor After 11+ Years
This setup perfectly prepares the audience for the godly adventure and thunderous love story of Love and Thunder.
Taika Waititi Makes Lightning Strike Twice
Taika Waititi's second time at the helm of the Thor franchise is a righteous success. Waititi tells a beautiful love story that fully incorporates all of Thor's history in the MCU and masterfully fills in the gaps between all of his film appearances. It also retroactively makes Thor the Dark World better. Waititi not only masterfully tells Thors story's, but also adds true depth and meaning to Jane Foster's story. He justifies her absence and also elevates her return, which makes the audience realize they missed her and want more.
RELATED: Thor Love And Thunder's Taika Waititi Talks About Balancing Comedy And Drama In The New Marvel Movie
In addition to the Thors, he also brilliantly progresses Valkyrie's story, provides an earnest understanding of Gorr's perspective, and even teaches the audience about Kronan reproduction. On a macro scale, he also greatly expands the universe and introduces cosmic aspects of the MCU that feel organic and always established. All of these aspects are geniusly intertwined in a truly beautiful love story that transcends mortal understanding. All the while being godly hilarious and entertaining in what is easily the most unique entry into the rom-com genre.
A Cast of Gods Deliver Godly Performances
(L-R): Tessa Thompson as Valkyrie and Natalie Portman as Mighty Thor. Photo by Jasin Boland. ©Marvel Studios 2022. All Rights Reserved.

Chris Hemsworth as Thor. Photo by Jasin Boland. ©Marvel Studios 2022. All Rights Reserved.

Tessa Thompson as King Valkyrie. Photo by Jasin Boland. ©Marvel Studios 2022. All Rights Reserved.
Chris Hemsworth and Tessa Thompson continue to embody their characters and entertain the masses. There isn't much that can be said that hasn't already as both have been impeccable since Ragnarok. This is Thompson's fourth film as Valkyrie and is given a full opportunity to showcase Valkyrie's numerous faces; as a leader, a friend, and a complete badass. Thompson does it all so well and makes it look easy.
Chris Hemsworth continues his run as Thor and despite his 11+ year tenure, still keeps old Sparkles exciting to watch. The physical contrast to his last appearance in Avengers Endgame is inspirational and comedic. His performance is hilarious, profound, and emotional. The combination of Hemsworth's godly performance and Waititi's beautiful progression will have audiences wanting even more Thor and demanding five after four.
RELATED: Natalie Portman Reveals Mighty Thor's Unique Flaw Compared To Chris Hemsworth's
Natalie Portman's return is yet another highlight of the film. Portman returns with thunderous fanfare as The Mighty Thor. Portman is an absolute joy to watch as it is palpable how much fun she is having getting to fully develop the character of Jane Foster. Jane was set up well in Thor but was woefully underutilized in Thor the Dark World. However, her potential is realized and her future looks bright after Love and Thunder, as the character and Portman's truly mighty performance, are sure to create a grand demand for more.
The Bad is Really Good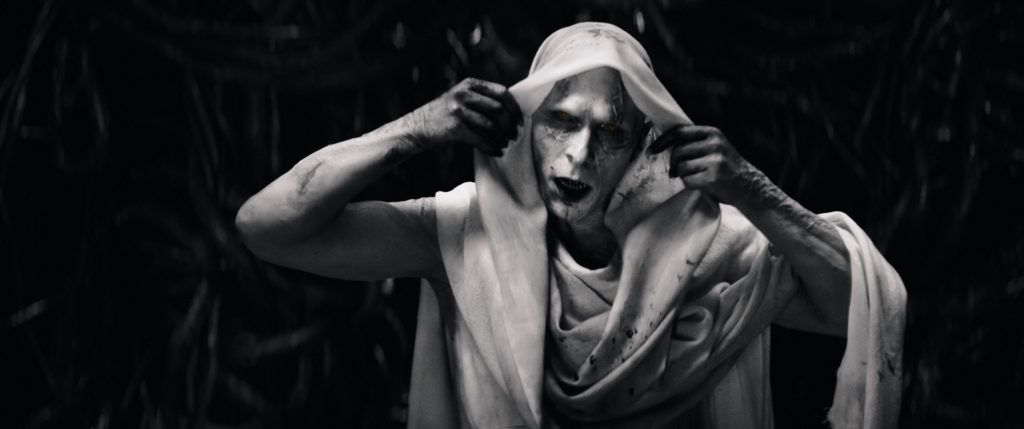 What makes the brilliant story and godly performances shine is the drastically dark contrast of Gorr. Christian Bale might be having too much fun as the God Butcher. Bale embodies a complex villain that is vulnerable, dedicated, and terrifying. Bale and Gorr take over every scene they are in, both in performance and visuals. Bale's presence instantly is felt then elevated by the special effects of his powers. It is a beautiful fusion of performance and visual effects that create a truly good bad guy that is unquestionably one of Marvel's best villains.
RELATED: Chris Hemsworth Reveals His Favorite MCU Villain
On the opposite side of the spectrum, there is Russel Crowe's Zeus. Zeus, while not the movie's villain, is certainly not an ally in Love and Thunder. Where Gorr is visually a dark presence, Zeus is a prominently bright one. Zeus literally shines on screen visually and Crowe shines metaphorically. Crowe chews the scenes he is in like gum and pops like bubbles. Crowe's performance is one of the major tear-jerkers in the movie, but purely from comedy.
Love
Love and Thunder aptly encompass what the movie is. A truly beautiful love story that is enhanced by thunderous laughter. For a story based on comic books based on a loose interpretation of Norse mythology, the love feels incredibly real. Thor and Jane's relationship is surprisingly basic, which makes it uncannily epic. Waititi literally showcases their love with a beautiful montage and retelling by Korg. In those few minutes, he tells the full story of their past love and prefaces the rest of that story to unfold.
RELATED: Thor's Future After Love and Thunder
In a movie with screaming space-traveling goats, gods of all cultures meeting up in space, and a jealous ax hammer, the love between two beings is what takes center stage… after Chris Hemsworth's bare ass. The love in Love and Thunder is more than just romantic love, it is self-love, love for friends, love for others, and the pain of love. As cheesy as it sounds, the love will resonate with audiences and make them love this movie.
Love and Thunder is a beautiful and hilarious action-packed romantic comedy. Taika Waititi masterfully takes the audience on a journey through the galaxy that explores the depths of love and enhances the experience with thunderous hilarity. Every aspect of the film is brought to life and made real by godly performances across the board that entwine the out-of-this-world journey and next-level special effects into a truly great movie experience. This may be Thor 4 but fans will definitely want more.
I give Thor: Love and Thunder a 4.5/5
Thor: Love and Thunder release on July 8, 2022. Tickets are available now. There are 2 end-credit scenes.
ABOUT THOR: LOVE AND THUNDER
Release date: July 8, 2022 (USA)
Director: Taika Waititi
Produced by: Kevin Feige; Brad Winderbaum
Production company: Marvel Studios
Music by: Michael Giacchino
Distributed by: Walt Disney Studios Motion Pictures
Cast: Chris Hemsworth, Natalie Portman, Christian Bale, Taika Waititi, Tessa Thompson, Matt Damon, Luke Hemsworth, Russel Crow

Description: The film finds Thor (Chris Hemsworth) on a journey unlike anything he's ever faced – a quest for inner peace. But his retirement is interrupted by a galactic killer known as Gorr the God Butcher (Christian Bale), who seeks the extinction of the gods. To combat the threat, Thor enlists the help of King Valkyrie (Tessa Thompson), Korg (Taika Waititi) and ex-girlfriend Jane Foster (Natalie Portman), who – to Thor's surprise – inexplicably wields his magical hammer, Mjolnir, as the Mighty Thor. Together, they embark upon a harrowing cosmic adventure to uncover the mystery of the God Butcher's vengeance and stop him before it's too late.
Do you have your tickets for Thor: Love and Thunder? Are you excited to see all the other gods? Do you already want a fifth film? Let us know in the comments below and share your reaction to the film with us on Twitter!
KEEP READING: Marvel Studios Will Reveal Future Plans at SDCC 2022