Film editor Michael P. Shawver shared a deleted scene from Marvel's latest feature, Black Panther: Wakanda Forever, which contained what could have been a romance between Namor and Shuri.
Coinciding with Boseman's death, Black Panther: Wakanda Forever takes place after the death of King T'Challa, with the entire nation in grief. T'Challa's sister Shuri and their mother Queen Ramonda lead Wakanda to defend their supply of Vibranium. The US and the CIA have stolen Riri William's Vibranium-detecting invention, leading them to the underwater Talokan nation. The leader, Namor, offers Wakanda the choice between military alliance to protect his people, or face annihilation.
Wakanda Forever: What Could Have Been
Production for Black Panther: Wakanda Forever had a lot of material to work with for accomplishing numerous goals with the film's release and beyond. Besides honoring the late Chadwick Boseman, the story also needed a new villain, a successor for T'Challa, and a starting point for Disney+ projects such as Ironheart. Numerous plot elements had to be retooled or cut, with the initial 4.5 hour runtime trimmed down to 2 hours and 40 minutes.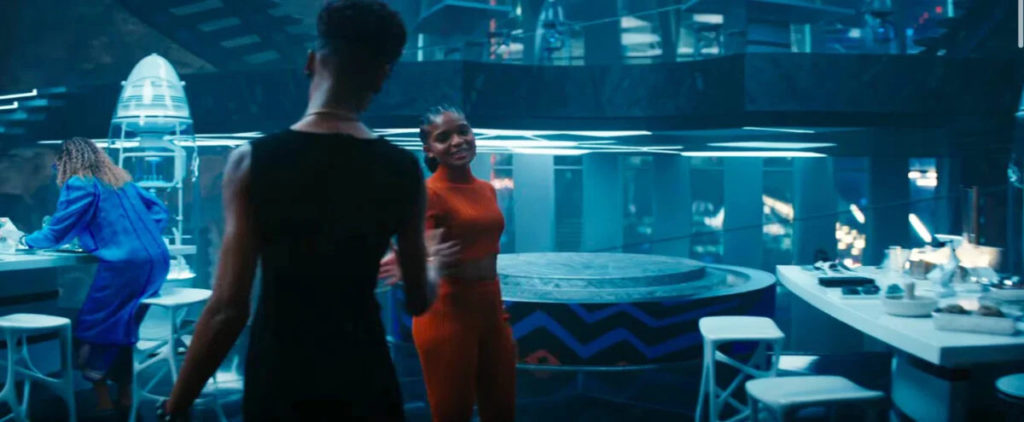 An entire storyline focusing on Shuri, Riri, and Namor had to be removed because of time constraints, along with an extended scene of Namor introducing Shuri to his homeland. Shawver explained that Shuri and Riri would have collaborated in helping Namor and his nation, strengthening both women's scientist connection. Reshooting later scenes of Shuri and Riri's bond helped solve the above plot thread, yet it also brought another set of story problems.
RELATED: NAMOR IS AS STRONG AS THE HULK UNDER THIS 1 CONDITION ACCORDING TO WAKANDA FOREVER DIRECTOR
The filmmakers wanted Riri to be a complex, developed character, not simply a living MacGuffin (a character with no purpose other than to move the plot). The reshoots also required the entirety of the film's middle portion to be reworked; with Shuri at Talokan, other characters such as Ramonda and Nakia needed to be more active and involved in the story.
In the deleted scene, Namor would have provided exposition about the history of Talokan. It would then dawn on Shuri that both Talokan and Wakanda share common characteristics, leading to the idea of romance between her and Namor. Although the idea was on the table and tested for the film, their relationship turned out differently. However, the editors are still interested in the idea of Shuri and Namor's romance.
RELATED: NAMOR THE SUB-MARINER: VILLAIN, HERO, OR ANTI-HERO?
For filmmakers, it is difficult to decide which scenes will make it into the final product. This is especially true for everyone working on Wakanda Forever; along with the usual hurdles of making a movie, the crew deeply mourned the death of Boseman. Not only was the film a tribute to the late actor, but it also needed to be a self-contained story for future audiences that were not around to know the full context behind its production. Black Panther: Wakanda Forever is a story of grief, for both the characters and the audience, over the death of a noble, esteemed figure in history.
Black Panther: Wakanda Forever released on November 11, 2022, and is now playing in theaters. What are your thoughts on the deleted scene? Did it deserve to get cut from the film? Do you think a romance between Namor and Shuri would have increased tensions or would it have been a needless distraction? What are you hoping to see next from Namor and Shuri in the MCU? Let us know over on social media!
KEEP READING: CHADWICK BOSEMAN TURNED DOWN THE OPPORTUNITY TO READ BLACK PANTHER 2 SCRIPT FOR THIS REASON
Source: Newsweek