Asuka has been teasing a much darker turn for her in-ring gimmick.
Asuka's WWE career has been full of highs and lows as to how she is booked. After winning the Women's Tag Team Championships with Alexa Bliss, the third time she held the championships, they lost them shortly after. It doesn't seem like WWE has a good plan for her, but wants to keep her on TV.
Recently Asuka has tweeted some very interesting and dark posts on her Twitter.  In a tweet from WWE asking who fans think will win a Triple Threat match between Rhea Ripley, Bayley, and Asuka, she replied "I think everyone should choose someone other than me."  Later she again replied to the tweet saying "two of them, except me! You don't need me for this choice. I'm going to listen to MEGADETH and go to bed." The tweets went on and showed her applying makeup and getting darker in tone.
RELATED: PEACOCK ANNOUNCES DEFINITIVE RIC FLAIR BIOGRAPHICAL DOCUMENTARY WOOOOOO! BECOMING RIC FLAIR
A Tease For A New And Different Asuka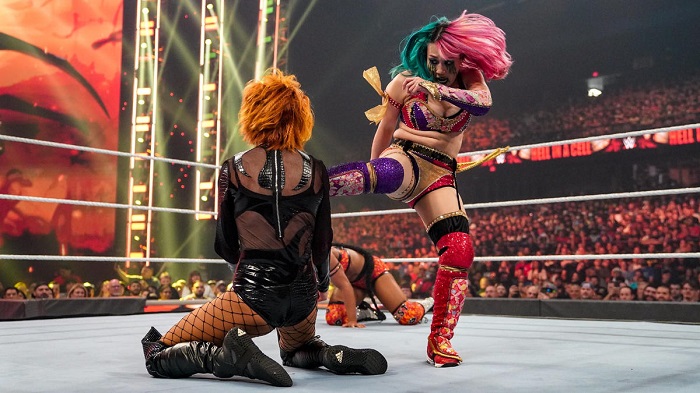 This depressing shift in Asuka's personality has been followed by some interesting pictures and videos of her. The photos and videos show her show her with clown makeup which is similar to DC's Joker character. This is an obvious reference to her Kana gimmick from her time coming up in Japan. Her character was known as "Murder Clown" and had a more heel and brutal style.
Asuka going back to a more heelish or full on heel gimmick will be a huge change from the one fans have seen in the last few years. The last time she has been a heel is when she teamed with Kairi Sane as part of The Kabuki Warriors.
RELATED: TRIPLE H REVEALS PLANS FOR FUTURE WARGAMES MATCHES
Goofy On The Mic And Brutal In The Ring
A darker, more serious turn for Asuka's character is exactly what she needs. When she is wrestling she is serious and takes care of business, but her non-in-ring TV time and promos are goofy. They don't mesh together very well and it can be jarring when she goes from being goofy to ripping her opponent limb from limb.
The more lighthearted gimmick Asuka has had for much of her main roster time isn't helped by her exclusion from the main event and singles championship scene. This is a big departure from how she was portrayed on NXT.
A Shift Back To Her NXT Or Kana Days Is Exactly What She Needs
In NXT she was lighthearted and silly, but it was a different tone.  To keep it in the clown realm in NXT she was more of a jester who was trying to keep it together, but darkness could be seen through the cracks.  On the main roster, she is just a goofy kid's show host on the mic.  In both cases, her in-ring work remains largely the same.
However, one big change from NXT Asuka to the main roster Asuka is her win-loss record.  In NXT she didn't lose.  I don't mean hardly ever lost, I mean never.  She had an undefeated streak of 914 days or roughly two and a half years.  A mere six months after joining the main roster she lost to Charlotte Flair via submission and again to Carmella via pinfall.  I like Carmella, but NXT Asuka would have never lost to Carmella.
This hinting at a darker turn to her character will hopefully mean we will see a dominance closer to that of her time in NXT.  It would also hint at a possible new look with face paint.
What do you think of a tone shift for Asuka's character?  Would you rather her remain the same but win more matches?  Is the "Murder Clown" character right for WWE?  Do you like her heel or babyface character more?  Leave a comment below and let us know who should be her first opponent following her character change.
KEEP READING: ALUNDRA BLAYZE CALLS OUT NIKKI CROSS AND HINTS AT NEW DIRECTION FOR 24/7 CHAMPIONSHIP
Sources: Wrestling Inc., Asuka's Twitter