Christmas Bloody Christmas is a horrifying, ultra-violent seasonal film that hits hard. Joe Begos worked tirelessly as writer, producer, and director on Christmas Bloody Christmas, even getting behind the camera himself. His dedication to the art of the slasher film resulted in a relentless, unforgettable bloodbath. 
The new movie is available on the horror streaming service Shudder and in theaters on Dec. 9th, 2022. Riley Dandy stars alongside Sam Delich as Tori Tooms and Robbie Reynolds, two misfit punks who have the worst luck on Christmas Eve. The macabre torment which that pair suffers through is not for the faint of heart.
CHRISTMAS BLOODY CHRISTMAS: THE EVE OF CARNAGE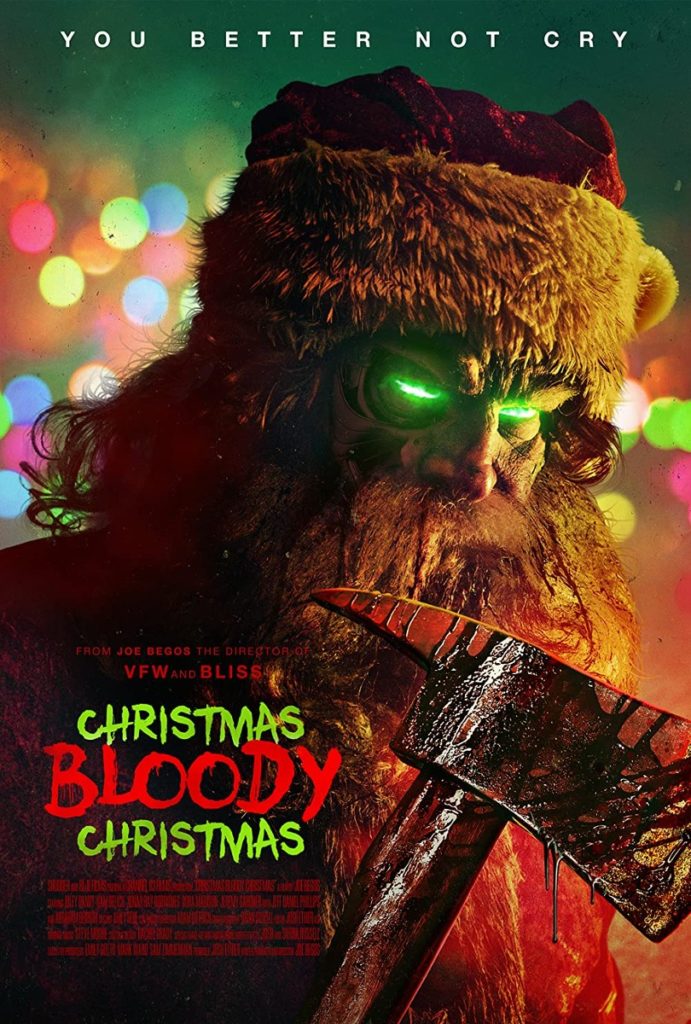 To that same degree, the film's ability to craft stomach-turning gore without the resources of higher-budget slashers like Halloween Ends is remarkable. Christmas Bloody Christmas is a festival of blood and guts, grotesque and impactful with its violence.
It's the sort of brutality that might make one question why, as slasher fans, we enjoy indulgent Christmas carnage so much. And believe me, if you love slashers, you're going to be thrilled with Christmas Bloody Christmas. If you're already into the genre, and you're cynical of the season, it might just become one of your favorite films. 
RELATED: CHRISTMAS BLOODY CHRISTMAS: DIRECTOR JOE BEGOS IS PASSIONATE ABOUT THE SLASHER GENRE
It's always nice when you can tell that a horror movie is made by a passionate horror fan. There's a palpable, self-aware energy that permeates Christmas Bloody Christmas. In Hollywood, it's extremely important to know your audience. This movie knows who's watching it, and it knows them well, perhaps too well, if that could be even possible.
The film is drenched in bright, neon colors that play with the yuletide imagery while adding a pleasant touch of visual surrealism. From a musical standpoint, composer Steve Moore brings a sweeping, synthetic sound that marries metal with murder like never before. 
CHRISTMAS BLOODY CHRISTMAS: A LOVE-LETTER TO SLASHERS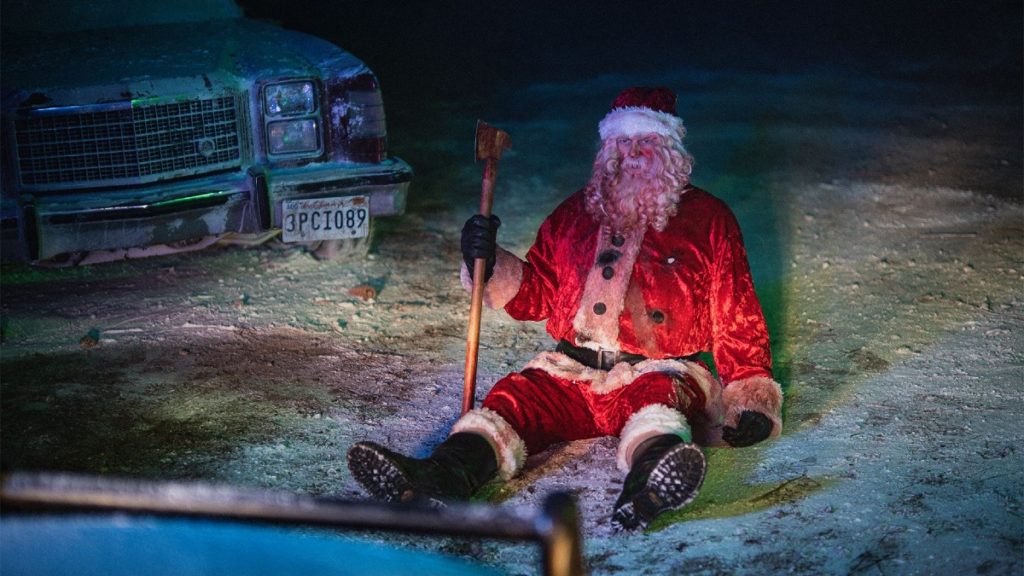 Everything in this movie feels targeted towards a very specific group, to the point of potential inaccessibility. The main characters are constantly (and I do mean, constantly) spouting references to horror movies and metal music. We're talking Deadpool levels of pop-culture allusions.
For fans of the genre, this is going to improve the experience. But for those trying to get into horror and slashers, however, that could hinder their enjoyment. That said, one thing that's universal is the pleasure of watching a great actor work. 
The shining star of Christmas Bloody Christmas has to be Riley Dandy's performance as Tori Tooms. She can be a bit much, but she's lovable and energetic all the same. Dandy gives the role everything she's got, taking us on an unforgettable holiday journey through hell with her character. Tori Tooms is sassy, surprising, and incredibly resilient. 
CHRISTMAS BLOODY CHRISTMAS: THE UNFORGETTABLE TORI TOOMS
Tori's relationship with Robbie Reynolds is peculiar, and a bit hard to engage with at first. But as the two spend time together, and eventually discover the murderous Santa terminator coming after them, their dynamic turns into something gripping. Sam Delich has wonderful chemistry with Riley Dandy, and his charm helps to smooth out Robbie's rougher edges. Watching them fight to survive is truly edge-of-your-seat cinema. 
Abe Benrubi plays the killer robotic Santa in some scenes, while a monstrous animatronic creation is featured in others. Benrubi's performance was subtle and restrained, wonderfully homaging classic killers like Jason Voorhees and Michael Myers. The trail of bodies that Santa leaves in Christmas Bloody Christmas is grisly and grim, and very little is left to the imagination. 
RELATED: THE GUARDIANS OF THE GALAXY HOLIDAY SPECIAL PUTS DRAX AND MANTIS' UGLY X-MAS SWEATERS IN THE SPOTLIGHT
Joe Begos has turned the holiday season on its head with this insane new x-mas horror movie. Gory, fast-paced, with a dark sense of humor, Christmas Bloody Christmas is a treat for slasher fans.
What did you think of Christmas Bloody Christmas? Let us know your thoughts in the comments below or on our social media! 
KEEP READING: REVIEW: NETFLIX'S WEDNESDAY IS TO DIE FOR.