Kevin Nash talks about what his biggest challenges were while booking WCW and what he did about it.
It didn't take Kevin Nash long to help take the wrestling world by storm in 1996 when he and Scott Hall returned to WCW.  Shortly after their return, they recruited Hulk Hogan who began going by Hollywood Hulk Hogan and formed the nWo.
In Feb. 1999, Kevin Nash was appointed the head booker of WCW.  Having an active wrestler in their prime booking the promotion can cause issues.  
RELATED: PEACOCK ANNOUNCES DEFINITIVE RIC FLAIR BIOGRAPHICAL DOCUMENTARY WOOOOOO! BECOMING RIC FLAIR
While doing a watch along for his Starrcade 1998 match against Goldberg on Kliq This on AdFreeShows, he was asked by a subscriber what the hardest part was while he was booking WCW.  He didn't hold back in saying it was dealing with his fellow wrestlers.
"That was the biggest problem we had because everybody wanted to book their own s**t," Kevin Nash said. H/T To Wrestling Inc. For Transcription
Yet Another WCW and AEW Comparison
WCW was a lot like how AEW is today.  WCW was a refuge for ex-WWF guys and guys from the territories who didn't want to try their hand at WWF.  Those names were far from small-time wrestlers and included some of the biggest names of the "80s and early '90s.  Some of those names included mega stars like Hogan, Randy Savage, Ric Flair, and for a little while Ultimate Warrior just to name a few.
Also, I'm sure some people had some really dumb ideas. That is why there is a writing team and a team of people booking. I doubt it was just Nash booking, probably Dusty Rhodes too.
Kevin Nash Trying To Check Some Egos
With all of these extremely popular and successful wrestlers, comes ego.  They believed they should get the win over fellow wrestlers who would one day become big names, but were not there yet.  Plus just the general never wanting to lose or want to lose in a very specific way.
Dealing with the egos of guys who Kevin Nash probably grew up idolizing was challenging, but he had a unique way of dealing with it.  He decided he, a well-established 6-foot-10-inch man, would lose to a young up-and-coming Lucha Libre wrestler standing at 5 feet, 6 inches.
"I went out and put Rey Mysterio over, like when I first started booking," Kevin Nash said. "I booked myself to put over Rey and I put him over clean. The reason I did that was like, if the second-biggest guy in the territory could put over the smallest guy in the territory, I don't wanna hear anything about clean finishes." 
Kevin Nash Only Lost To Arguably The Best Lucha Libre Wrestler Of All Time NBD
With that, no one can say Nash was never willing to take a loss or booked himself too strong.  However, those allegations have still gone around.  He did become the WCW World Heavyweight champion twice while he was booking WCW.
RELATED: MATT RIDDLE SUDDENLY WRITTEN OFF TV AS HE ENTERS REHAB
However, the biggest complaint about Nash booking WCW was that he was responsible for killing WCW with the bad booking as the promotion was bought by WWF in 2001.  He has never taken these claims seriously and thinks it is funny that fans think he had that kind of power in the promotion.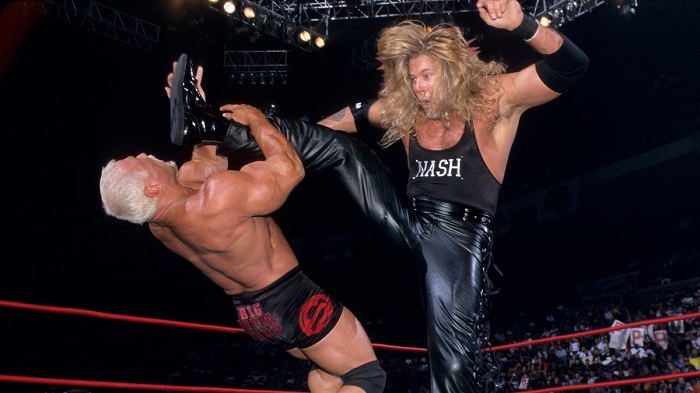 After WCW died he went back to WWE and had a lackluster run there and following that he went on to TNA where he did much better. He was not the booker in either promotion and was only a wrestler.
Did you know Kevin Nash was the head booker for WCW?  Did you notice any changes when he took over?  Do you think it is a conflict of interest to have an active wrestler book their promotion?  Do you think Nash losing to Mysterio was a good way of handling all the WCW egos?  Leave a comment below and let us know if you think Nash could have a good run if he debuted in WWE now and why on social media.
Sources: Kliq This on AdFreeShows, Wrestling Inc.
KEEP READING: SCARLETT BORDEAUX WAS INCREDIBLY UPSET WITH LACK OF 2021 CALL-UP