Scarlett Bordeaux was very mad when she was not called-up to the main roster in 2021.
Scarlett Bordeaux and her husband, Karrion Kross, were two of the hottest wrestlers in NXT in 2020 and 2021. They were on an absolute tear in NXT. Kross came in and defeated big names and former NXT champions like Tommaso Ciampa, Keith Lee and Finn Balor. Before getting called up to RAW he won the NXT Championship twice.
Behind Every Great Man Is A Woman Making Sure He Wins
Scarlett Bordeaux was at Karrion Kross' side at every step of the way. She served as his manager and based on how dominating he is, maybe his handler as well. Even though she is a trained wrestler she never wrestled in NXT. However, she still made a big impact in NXT because of her involvement in Kross' matches.
The fateful day in July 2021 when Kross was told he was getting called up wasn't as happy of a day as it should have been. Kross was called up without Bordeaux and she was not happy about that.
RELATED: ASUKA TEASES BIG AND DARK TURN TO HER GIMMICK
In a recent episode of Cheap Heat with Peter Rosenberg, Kross talked about Scarlett Bordeaux's feelings about WWE splitting up their team when they thought they were a package deal.
"She was incredibly upset because it was expressed to her that they had absolute, total interest in bringing her up and it was expressed to her that we were gonna be going up together from multiple branches of management," Kross said.

H/T To Wrestling Inc. For Transcription
AH Why Would WWE Think Splitting Them Up Was A Good Idea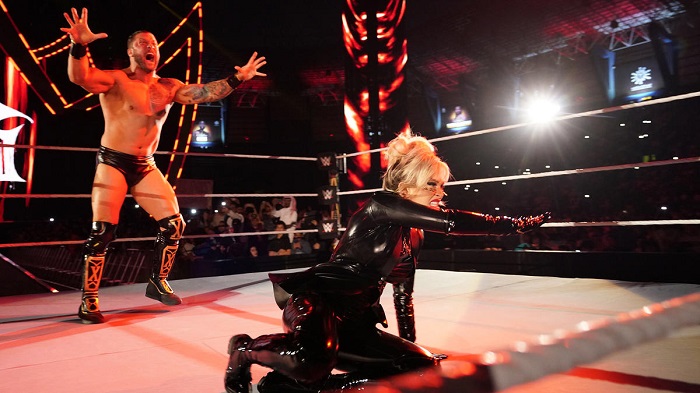 The popular NXT team was split up which confused fans just as much as it did Scarlett Bordeaux and Karrion Kross. It wouldn't have been so bad if they kept Kross' push and momentum going, but they did not.
RELATED: MIZ HAD WILDLY DIFFERENT PLANS WHEN HE FIRST STARTED IN THE WWE
Kross debuted on Raw and faced Jeff Hardy in a loss which took under two minutes. Him getting buried in his first match wasn't even the worst thing to happen upon arriving on the main roster. He lost his really cool entrance and was replaced by a gladiator inspired outfit and helmet. His unique and cool look and gimmick became watered down and bland.
Many wrestlers would look at the situation and give up all hope, but Kross explained how he and Scarlett Bordeaux viewed it.
"But her and I are very solution-based people and we try not to like avoid the realities of situations, but we acknowledge them and we try to do the best we can with what we have and so we're just kind of gritting our teeth like 'hey this is just for now, not forever. Let's bring our best foot forward, bring our best energy into this, and let's try to kill this and do this better than anyone else can,'" Kross said.
Gone But Back Better Than Ever
They were right in knowing that it wouldn't last forever because just a few months later they were released from their WWE contracts. They floated around on the indies for a little while until August of this year.
On August 5, Kross along with Scarlett Bordeaux at his side returned to WWE. This was shortly after Triple H took over WWE creative and they were the third and fourth people to be brought back after Dakota Kai and IYO SKY.
After returning to WWE Kross had a long and heated feud with Drew McIntyre and picked up a win over McIntyre in a Strap Match. He has even hinted at taking on Roman Reigns. Maybe we will see if Reigns can handle Kross and Bordeaux's tactics.
What have you thought of Kross' return run in WWE? Are you happy that Kross and Scarlett Bordeaux are on the main roster together or should they be separated? What did you think of his feud with McIntyre? Was his call-up the worst of the last few years? Leave a comment and let us know who you want to see them feud with next.
KEEP READING: JOHN CENA SET FOR WWE APPEARANCE ON FINAL SMACKDOWN OF THE YEAR