After a long wait, Warner Bros. has finally revealed the first official look at the upcoming live-action Barbie movie, which will be playing in theaters this weekend in front of Avatar: The Way of Water showings.
The footage starts with a voice-over from Helen Mirren that plays during an homage to the opening act of 2001: A Space Odyssey. Stanley Kubrick's highly influential film from 1968 explored the history of humanity and our relationship with tools and machines (among many, many other themes, including theology and metaphysics), starting from where we were, where we are now, and where we are going.
The first act takes place during a pre-homo sapiens era on Earth and depicts the moment when the apes from the evolution stage previous to ours first learned to use weapons and fight wars. This happened after an alien monolith unexpectedly appeared in the desert, and apes started to fight over it. In arguably the most famous cut in movie history, Kubrick moved on from a shot of a bone thrown in the air to a spaceship flying in outer space, symbolizing the evolution of the tool.
In the new trailer, Greta Gerwig tried to use the inherited symbolism from Kubrick's masterclass in filmmaking to tell us one thing. This movie is not what you are expecting. Using the same cinematographic language as Kubrick, Gerwig told the history of how the dolls evolved into Barbies, the next step in their evolution.
The music heard during this first part of the trailer is also the same one that Kubrick used in key moments from 2001, Richard Strauss' Also sprach Zarathustra. After popping up a shiny logo, we get a quick look at some actual footage from the movie, which includes our first looks at Ryan Gosling, Ncuti Gatwa, Simu Liu, Issa Rae, and Barbieland. It also teased that the film will include quite a few musical numbers.
A history lesson on the making of Barbie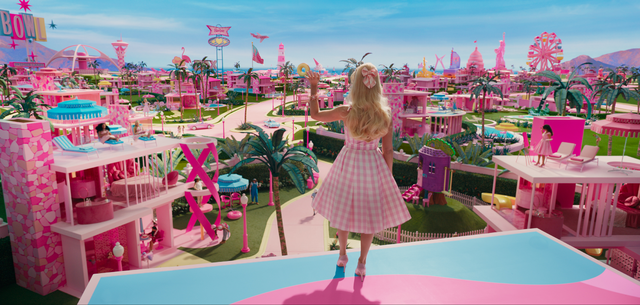 Hollywood has been trying to make a live-action Barbie movie for many years now. Mattel had partnered with Sony Pictures for a while to make a film starring Amy Schumer, though the comic dropped out of the project in early 2017. Rumors from Anne Hathaway starring to Patty Jenkins directing swirled for years. In late 2018, Warner Bros. boarded the project, with Margot Robbie's LuckyChap Productions attached to develop and the actress in talks to star.
Lady Bird and Little Women director Greta Gerwig was then approached to direct and was also given the keys to the script, which she would write with her husband, reputable screenwriter Noah Baumbach (Marriage Story). The project remained in the scripting phase for a couple of years, until it was moved into pre-production in the second half of 2021. Ryan Gosling was the first choice to play the lead Ken, and though he initially passed on it due to a scheduling conflict, he finally boarded the project after that was solved.
After that, the project started gaining some momentum, and in the following months, half of Hollywood was being approached to star in the film. The long list of actors includes Will Ferrell, Simu Liu, America Ferrara, Kate McKinnon, Ariana Greenblatt, Emma Mackey, Alexandra Shipp, Issa Rae, Michael Cera, Kingsley Ben-Adir, Rhea Perlman, Emerald Fennell, Ncuti Gatwa, Sharon Rooney, Scott Evans, Ana Cruz Kayne, Connor Swindells, Ritu Arya, and Jamie Demetriou. Alexandre Desplat will be composing the score.
RELATED: DREAMY BARBIE 1ST LOOK SHARED BY SIMU LIU ON TWITTER
The project will apparently introduce multiple Kens, played by at least Ryan Gosling, Simu Liu, and Ncuti Gatwa. Multiple Barbies are also expected to appear. We already got a quick look at them in the few shots that appear right after the Barbie logo. Set leaks from early in the year also indicate that the film will follow Margot Robbie's Barbie and Ryan Gosling's Ken as they leave Barbieland and enter the real world, with Mattel CEO, played by Will Ferrell, chasing them down to get them back to Barbieland.
The Barbie vs. Oppenheimer duel
For reasons nobody ever asked for, Hollywood has painted a narrative where Greta Gerwig's Barbie and Christopher Nolan's next epic, Oppenheimer, are going hand in hand. Both projects began pre-production around the same time and split acting agencies in half, with reps for every hot, up-and-coming actor trying to get them in either one, resulting in two of the most talent-populated casts in recent memory. If that wasn't enough, both movies are scheduled to hit theaters on the same day, July 21, 2023.
It's also an interesting duel from Christopher Nolan's and WB's perspectives, as studio and filmmaker was the happiest marriage in town for the longest time until the former decided to abruptly end business relations and move over to Universal Pictures after the latter backstabbed their creative partners in late 2020 when they announced all 2021 theatrical movies would hit HBO Max day-and-date.
Footage for both Barbie and Oppenheimer will be playing in front of screenings of Avatar: The Way of Water this weekend, which makes the rivalry all the more real — Universal also started the marketing campaign for Oppenheimer this week, when Total Film Magazine released the first handful of images and an interview with Christopher Nolan.
What did you think of the trailer? Are you looking forward to the Barbie movie? Let us know in the comments below. Also, be sure to follow The Illuminerdi on our social media to be notified of more movie news and updates like this in the future.
KEEP READING: GRETA GERWIG TO DIRECT BARBIE MOVIE STARRING MARGOT ROBBIE
Source: Warner Bros. Discovery