The first official trailer for Evil Dead Rise has been released. 
Evil Dead Rise is written and directed by Lee Cronin. It is the fifth film in the Evil Dead franchise. The franchise was created by Sam Raimi in the 1970s. In addition to the films, Evil Dead also includes a TV series and comic books.
The new trailer for Evil Dead Rise is a terrifying, morbid return to the horrifying franchise. Evil spirits known as "deadites" plague the poor souls who live in the Evil Dead universe, and they are back with a vengeance. An evil mystical book known as the "Necronomicon" is traditionally connected to the Deadite plague. 
EVIL DEAD RISE OFFICIAL TRAILER
The green band trailer featured above is intended to be more suitable for all audiences, but it is still extremely graphic and haunting. In the red band trailer for Evil Dead Rise, Ellie, her children, and her sister Beth are first united. Ellie is possessed by a demon, and talks about a gruesome dream she had. There is a scalping before the Warner Bros. Discovery logo even appears, giving viewers a taste of just how violent this movie will be. 
RELATED: EVIL DEAD RISE: FIRST LOOK AT THE 5TH EVIL DEAD FILM REVEALED ON HALLOWEEN
The mature trailer is blood-soaked and teases fans with chainsaw attacks, cheese-grater mutilations, and more brutality than any horror fan could ask for. This could be the most intense, visceral, and frightening mainstream horror movie of 2023. The two different trailers feature some of the same footage, but there is a lot of material that is unique, so we recommend fans watch both for a fuller picture of Evil Dead Rise.
Evil Dead Rise takes this timeless horror story to a new locale, setting the evil loose in the city. Three of the Evil Dead films so far have been set at cabins in the woods, a hallmark of the horror genre. Army Of Darkness, the third installment, took Ash Williams to the medieval ages. 
Bruce Campbell leads the franchise as Ash Williams for most of Evil Dead's lifetime. However, Campbell has stopped playing the role. Bruce Campbell is attached to the new project as an executive producer. Subsequently, Ash Williams is not expected to appear in Lee Cronin's Evil Dead Rise. Instead, the new horror movie will follow Allyson Sutherland and Lily Sullivan as Beth and Ellie. 
Beth finally pays a visit to her older sister Ellie, who is a mother of 3 living in the city. When the Necronomicon is found deep inside their apartment building, the sisterly reunion is interrupted by carnage and chaos.
EVIL DEAD RISE TAKES DEADITES INTO THE CITY
The official premise for Evil Dead Rise states that "Beth [is thrust] into a primal battle for survival as she is faced with the most nightmarish version of motherhood imaginable". This suggests that Beth will be the protagonist and possibly the "Final Girl". In the trailer, Ellie's young child looks through the hole in the door, sees her possessed mother, and remarks "You don't look so good Mom".
Watching this demon terrorize Ellie's children while possessing their mother is sure to be a disturbing, terrifying experience. Evil Dead is notorious for shocking, over-the-top brutality and gore, and Rise will continue that tradition. Expect kills and frights that are disturbing, and for mature audiences only. 
EVIL DEAD RISE TURNS MOTHERHOOD INSIDE OUT 
Gabrielle Echols, Morgan Davies, Nell Fisher, Mia Challis, Tai Wano, Jayden Daniels, and Billy Reynolds-McCarthu are joining Allyson Sutherland and Lily Sullivan in the cast of Evil Dead Rise. 
RELATED: EVIL DEAD RISE: NEW CONCEPT POSTERS REVEAL A CITY OF EVIL DEAD
The poster for Evil Dead Rise presents the ominous tagline, "Mommy Loves You To Death". The image appears to be a Deadite-possessed Ellie holding her three children. Perhaps Evil Dead Rise will explore the dark side of motherhood thematically. 
Bruce Campbell explained the approach to Evil Dead Rise in a 2020 interview with Empire. 
"You could have different heroes, different heroines in this case. This one's gonna be a little more dynamic. We just want to keep the series current. And the mantra, really, is that our heroes and heroines are just regular people. That's what we're going to continue".
How will Beth and Ellie stand apart from Ash Williams and the old era of the Evil Dead Universe? How do "regular people" handle a demonic invasion? Find out when the movie hits theaters on April 21, 2023!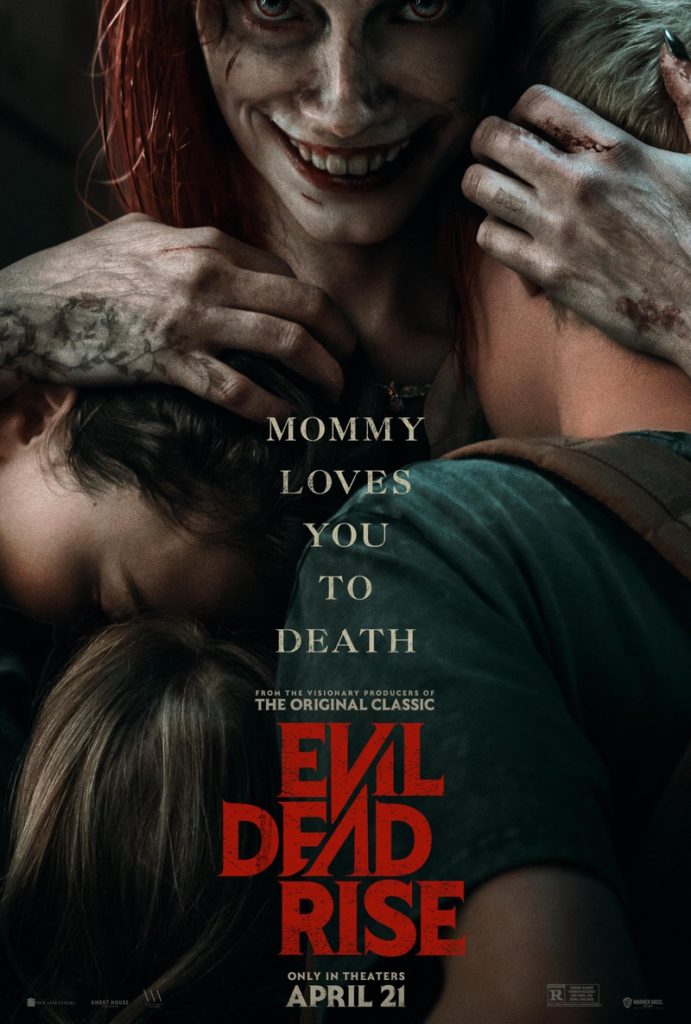 What did you think of the trailer for Evil Dead Rise? Will you be watching? Let us know your thoughts in the comments below or on our social media!
KEEP READING: WOLVERINE AND DEADPOOL: HUGH JACKMAN MIGHT HAVE ACCIDENTALLY REVEALED DEADPOOL 3'S TITLE!
Source: Warner Bros. Discovery