Will Ospreay gives his opinion on Triple H and what he thinks about WWE letting Superstars work outside the company.
The "forbidden door" has been a buzz word in the world of wrestling for the last few years. The "forbidden door" concept is one wrestling promotion working with another. This has become such a popular topic of discussion that AEW took the opportunity to have an event called AEW x NJPW: Forbidden Door. The event saw AEW wrestlers facing NJPW as the name suggests.
The first night of Wrestle Kingdom just occurred and it saw a current WWE Superstar, Karl Anderson, defend his NEVER Openweight Championship, which is a NJPW championship.
RELATED: KENNY OMEGA REVEALS HOW WORKING IN WWE DEVELOPMENTAL ALMOST MADE HIM QUIT WRESTLING
A few days ago Ospreay did an interview on Fightful Wrestling With Sean Ross Sapp leading up to the event and his match against Kenny Omega. The topic of WWE and more specifically Triple H allowing Anderson to wrestle on a NJPW show came up.
"I'm shocked at it as well, but in the same sense now that Triple H is running the ship, like it's gotta be said, I think Triple H is a G," Ospreay said. "Like I honestly think he's such a gangster. I've always liked him. He's such a cool dude. So he clearly watches what goes on outside of his bubble, which is amazing."

H/T To Wrestling Inc. For Transcription
Triple H Is Opening That Door Wide
One of the big knocks on WWE and the praises of AEW is how open the "forbidden door" is. WWE has not been as open to working with other large promotions, but AEW has been very open to the idea. Since AEW inception they have worked with NJPW, IMPACT, AAA and ROH which Tony Khan now owns.
However, WWE is opening up to the concept as they allowed Mickie James who was a NWA wrestler at the time to enter last year's Women's Royal Rumble. If WWE cracked open the door last year with James, Triple H has shoved the door open. WWE hasn't just allowed Anderson to appear on a NJPW show but also allowed Shinsuke Nakamura to wrestle for Pro Wrestling NOAH to face Great Muta.
RELATED: CJ PERRY ALLUDES TO BIG REASON SHE HASN'T APPEARED IN AEW
This new openness to allowing WWE Superstars elsewhere has led Ospreay to get some ideas for future matches.
"It does make me wonder what doors could actually be open," Ospreay said. "I always want to know like who's the best out of their crop. I always like testing myself and I think it would be very, very interesting if there like was a way of making that door open, but you never know. You never know."
Ospreay Excited By Possible Matches
Ospreay is certainly excited about the idea of facing some of WWE's top talent. As to what names he has in mind it isn't known, but it could lead to interesting matchups. Ospreay and Ricochet have a similar style and it would be a very exciting match. However, the more exciting idea is one based on real beef. A few years ago Ospreay and Seth Rollins had a Twitter beef and this could lead to a really heated match between the pair.
Does WWE's Door Open Both Ways?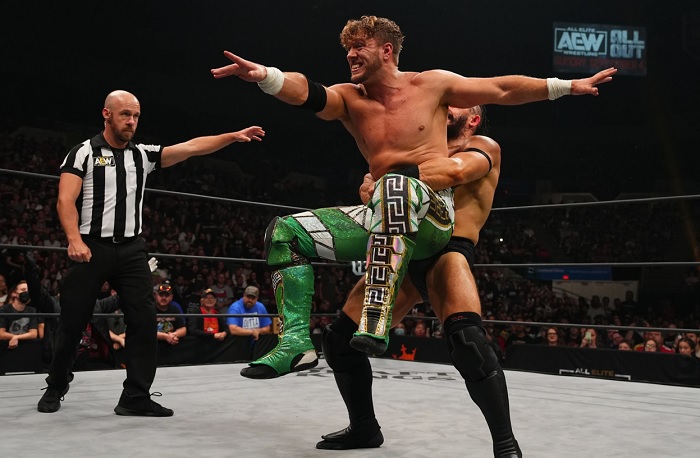 Even though the door is open it looks to open one way at the moment. WWE is allowing some of their Superstars to appear in other promotions, but other promotions wrestlers have not appeared on WWE TV besides James. Also it has only been in Japanese promotions and I wouldn't be surprised if it meant an openness to work with non-North American promotions. However, working with Mexican promotions like CMLL and AAA might be open.
The real test would be to see if WWE is willing to work with other American promotions. I don't think we will see any collaboration with IMPACT and definitely not AEW. However, other big promotions like Game Changers Wrestling and NWA are certainly on the table.
What do you think of WWE allowing their Superstars to appear in other promotions? Is it a good or bad choice?  Do you think they will allow more Superstars to appear outside of WWE? Is a NJPW or other rival promotion's wrestler appearing on WWE a possibility? Which American promotion do you think WWE would be most willing to work with? Which Superstar would you like to see Ospreay wrestle?  Leave a comment below and let us know which male and female wrestler you would like to see wrestle outside of WWE for a special match.
KEEP READING: SASHA BANKS MAKES HUGE NJPW DEBUT AND RETURN TO WRESTLING
Sources: Fightful Wrestling With Sean Ross Sapp, Wrestling Inc.