In one of the most shocking stories since he stepped down from his post as CEO and Chairman last year, WWE has announced that the former head of the company, Vince McMahon, is back on the WWE Board of Directors.
WWE made the news official on Friday, Jan. 6 on the company's corporate website, noting that Vince McMahon is officially back and returning to the company's board.
VINCE MCMAHON REJOINS WWE ON THE COMPANY'S BOARD OF DIRECTORS
Sometimes dreams die and good things come to an end way too soon. This is exactly what has happened today. The rumor mill has been churning for the last few weeks saying McMahon wants to come out of retirement and retake control of WWE. Wrestling fans had hoped these were just rumors and wouldn't come true, but unfortunately, they have.
RELATED: VINCE MCMAHON HAS SHOCKINGLY OFFICIALLY RETIRED FROM WWE AT AGE 77
Earlier today, WWE released a press statement revealing McMahon will return to the board of directors and come out of retirement. It read as follows:
"Today, we announce that the founder of WWE, Vince McMahon, will be returning to the Board," said Chairwoman & Co-CEO Stephanie McMahon, Co-CEO Nick Khan and Chief Content Officer Paul Levesque. "We also welcome back Michelle Wilson and George Barrios to our Board of Directors. Together, we look forward to exploring all strategic alternatives to maximize shareholder value."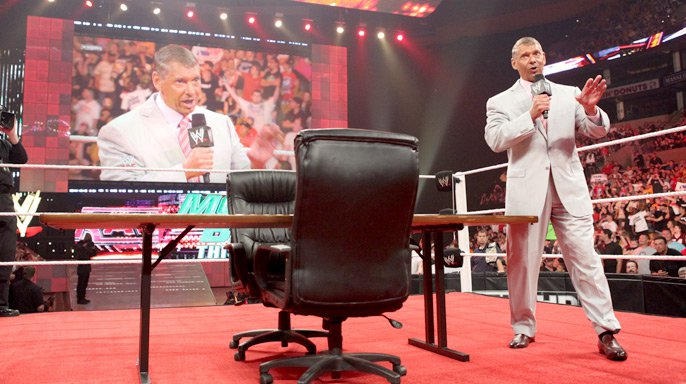 MCMAHON WANTS BACK IN AND WANTS TO SELL WWE
It was reported earlier that McMahon had regretted his decision to retire, chalking up his decision from earlier in July to receiving "bad advice." As a result, McMahon has decided to return in the form of rejoining the WWE Board of Directors. According to Wall Street Journal via Wrestling Inc., McMahon wants to pursue selling the company as part of his current comeback.  
The potential sale of WWE is nothing new as it was reported WWE was exploring that option last Spring. However, when McMahon retired in July, WWE stock prices skyrocketed. For a while, it looked like maybe WWE would hold off on a sale of the business. Maybe the rise in stock is why McMahon decided to return and wants to get as much for WWE as possible.
VINCE STAGES MASSIVE TAKEOVER OF THE WWWE BOARD OF DIRECTORS
When the rumors of McMahon returning first occurred, it was said to do it he would have to remove board members and put his people in place to gain the support he needs.  Well, JoEllen Lyons Dillon, Jeffrey R. Speed, and Alan M. Wexler were all removed by McMahon because he is the majority shareholder and held control over the board. He unfortunately has that kind of power.  He replaced them with himself, George Barrios, and Michelle Wilson.
Barrios and Wilson were co-presidents of WWE from 2018 to 2020. They were previously let go by Vince McMahon in early 2020 and later replaced by Nick Khan. In a little bit of corporate shadiness, Ignace Lahoud and Man Jit Singh resigned from their positions. Singh just happened to be the person who led the investigation into McMahon's sexual misconduct and hush money payout allegations that surfaced last year. So that isn't suspicious at all (Note: That's sarcasm.)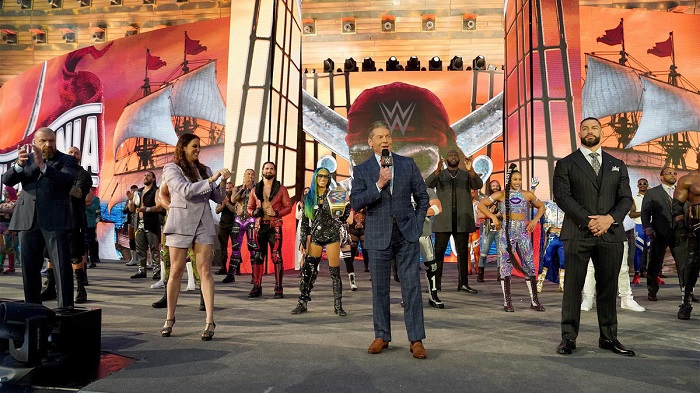 In the press release from WWE, it was also stated that the company wants to change some things to maximize value for its shareholders, stating the following:
"In connection with the change in the composition of the Board of Directors and in cooperation with Vince McMahon as majority shareholder, the Company intends to undertake a review of its strategic alternatives with the goal being to maximize value for all WWE shareholders. There is no assurance that this process will result in a transaction."
'STRATEGIC ALTERNATIVES' MEAN WHAT EXACTLY?
Wrestling Inc. took the statement as a confirmation that WWE or McMahon is looking to sell the company, but a sale is not 100% going to happen.  I didn't read it like it had anything to do with a sale of WWE, but there were a lot of words in there, and I didn't understand all of them when put next to each other.
So what does this mean for WWE?  When McMahon retired his duties were split between his daughter, Stephanie, Nick Khan, and Triple H (aka Paul Michael Levesque). Triple H took over WWE's onscreen television product as the new Chief Creative Officer.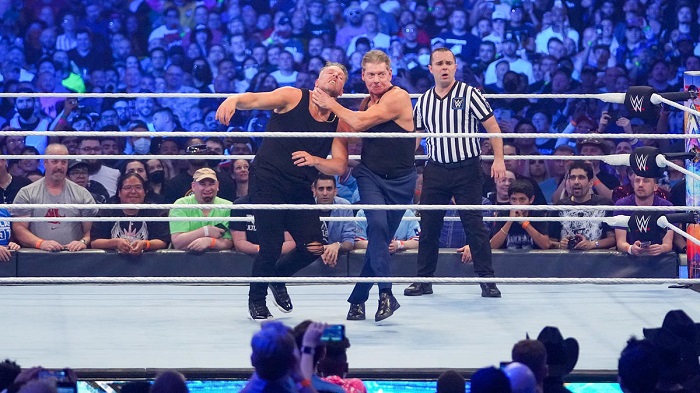 With Vince returning to the board, it appears he can do whatever he wants. Hopefully, he will only deal with behind-the-scenes dealings, TV media rights, and things along those lines. Triple H has been doing a very good job and literally, no one wants Vince back to mess things up again with WWE's on-air TV product.
Vince did address what kind of impact he wants his return to have in his own press release he shared on Thursday, January 5. He stated as follows:
"WWE has an exceptional management team in place, and I do not intend for my return to have any impact on their roles, duties, or responsibilities."
RELATED: CJ PERRY ALLUDES TO BIG REASON SHE HASN'T APPEARED IN AEW
Only time will tell what the next few months will look like for WWE. I will have my fingers crossed that Vince McMahon stays away from WWE TV and the creative side as much as possible because we had kind of a good thing going.
What do you think of Vince McMahon coming back to the WWE Board of Directors?  Will he have an impact on WWE TV going forward?  Do you think Vince will finally sell WWE?  Do you think Vince will take over for Triple H?  Leave a comment below so we can worry together in this time of uncertainty.
KEEP READING: WILL OSPREAY GIVES THOUGHTS ON WWE ALLOWING TALENT TO WORK OUTSIDE WWE
SOURCE: WWE