Former WWE and NXT Superstar Mandy Rose made a statement about her release this week during a television appearance on The Tamron Hall Show. Rose was undoubtedly the top Superstar on the NXT women's roster before she was unceremoniously let go last December. 
Rose's television appearance was a chance for the former champion to share her side of the story of why she thinks she was released from the company, and if she believes she was treated unfairly or not. You can view the video segment of Rose's appearance on the show below:
WHAT LED TO MANDY ROSE GETTING RELEASED BY WWE?
Rose went from being part of a high-profile faction in Toxic Attraction and being the third-longest-reigning NXT Women's Champion to losing it all. In mid-December of last year, Rose lost her championship to Roxanne Perez.  Many thought the title change was abrupt and came out of nowhere.  Shortly after her title loss, Rose was released from WWE, a move that shocked the wrestling world as to why one of WWE's most popular female Superstars was suddenly released.  We found out not too long after the real reason behind her sudden release.
RELATED: MANDY ROSE RELEASED FROM WWE AFTER POSTING MATURE CONTENT ON SUBSCRIPTION WEBSITE
Mandy Rose hasn't really spoken on her release other than thanking fans for their support.  However, during her guest appearance on The Tamron Hall Show, the former champion was able to give the world her thoughts and feelings on the release. She stated the following:
"Because of everything that's happened since then, honestly, everything happens for a reason, and I can't even say I was wronged, because I am so forever grateful for everything WWE has presented me with. I can't sit here and say that I was wronged or not — I'm hurt, 100 percent. I'm very hurt."

H/T To Wrestling Inc. For Transcription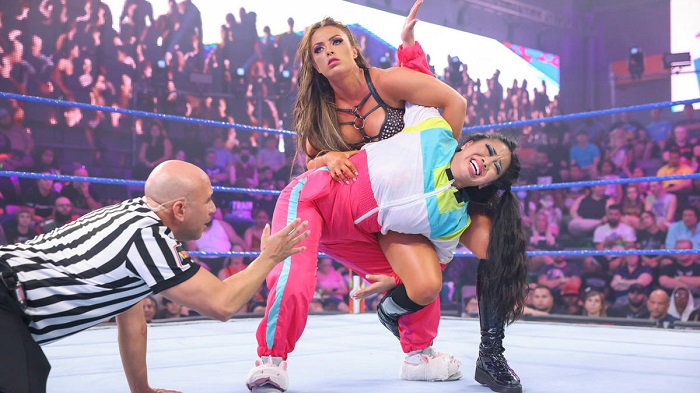 The belief is that Rose's adult content subscription page using the FanTime website is what got her fired. She was posting videos and pictures which WWE thought crossed a line and they were forced to act on it. She has earned over $1 million on FanTime, which is believed to be much more money than what she was earning through wrestling.
Even though Mandy Rose was heartbroken about losing her job, she stated how the worst part about being released was that she would no longer be able to work with her female peers.  She took a lot of pride in her NXT accomplishments and being able to elevate the women around her and help them start their wrestling careers. She added:
"To me, that was so important because it was so rewarding for me. So losing the title was obviously a gut-punch. I was so disappointed. But at the end of the day, my purpose was gone, and that's where I felt lost and confused because of all the hard work I put in too."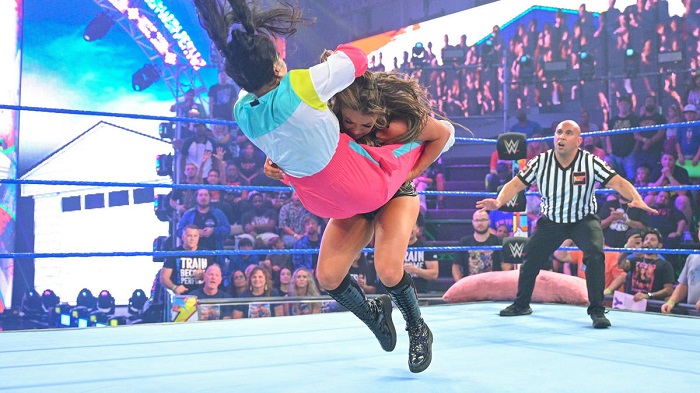 Despite how her abrupt release from WWE left her very hurt, Mandy Rose reiterated that she is grateful to the WWE for the opportunities they gave her. She is also proud of what she was able to accomplish while in the WWE.  
According to a tweet by Female Locker Room, which also provided the clip from Tuesday's episode of The Tamron Hall Show, Mandy Rose was not told her losing the championship was related to her FanTime content.  She would also consider taking her content down if it allowed her to return to the WWE.  
RELATED: NEW DETAILS ON WHAT WWE TALENT ARE ALLOWED TO POST ON MATURE SUBSCRIPTION SITES UNCOVERED
Rose's comments appear to suggest she was not given a choice to take down her content or leave it up and be fired by the company. There were differing reports as to whether or not she was given a choice before being released.
The former WWE Superstar did add during her appearance on her release (via Fightful), "Unfortunately, there is a confidentiality, and I can't really discuss that. There was the one warning to take it down, and I complied." Rose's comments would appear to suggest she was told to take down content and complied. However, evidence suggests that her FanTime account was still up and active when she was released in December. So, the timeline of events presented here is still a bit confusing.
Additionally, the former NXT Women's Champion did tell Tamron Hall that she would be open to a conversation with WWE about taking the content down from her FanTime subscription site to return to the company. Whether that happens or not at some point remains to be seen.
What do you think Mandy Rose will be most remembered for?  Will it be for her legacy of elevating the NXT women's division or releasing adult content while being employed by WWE?  Do you think WWE would allow her to return if she took down her page?  Would Rose take down her page especially after making a million dollars?  Leave a comment as to whether you think she was the only one who was releasing adult content or the only one the general public knew about.
KEEP READING: DEONNA PURRAZZO INVITES BIG EX-WWE STAR TO JOIN IMPACT WRESTLING
Sources: Female Locker Room, Wrestling Inc., The Tamron Hall Show