80 For Brady is a hilarious and a pure delight that will win over even the most adamant anti-Brady fans.
What do you get when you have four diehard Tom Brady fans determined to make it to the Super Bowl? One incredible story and an incredibly fun time at the movies. Paramount Picutres' 80 For Brady is inspired by the real-life story of four best friends who bucked away the stereotypes of their age and gender and went all in for a once-in-a-lifetime Super Bowl experience. On top of the incredible tale, the film features an all-star cast compromised of Lily Tomlin, Jane Fonda, Rita Moreno, and Sally Field. These legendary ladies are accompanied by ridiculously star-studded support roles and cameos that include Tom Brady, Rob Gronkowski, Patton Oswalt, Guy Fiere, and Sarah Gilbert, among others.
80 For Brady is simply, a great time at the movies.
I am Not a Tom Brady Fan, But I Still Love The Movie
I hate Tom Brady, as a Rams fan, and someone just genuinely tired of seeing him at the Super Bowl. He's the GOAT. I get it. Nothing but respect for his game and career. However, Brady produced a hell of a movie. While a lot of the story was undoubtedly exaggerated for the film, the core themes of friendship and fandom are relatable even through the huge grudge any may have against the Patriots or Brady. While there are sure to be some who will refuse to watch a movie that praises ol' TB12, they are only denying themselves the opportunity to see pure fandom celebrated.
RELATED: Sweet and Sugary Legend of Vox Machina Cereal is the Next Goal for Critical Role
Being a fan is an important part of the lives of many and seeing it genuinely captured from multiple perspectives is a heartwarming experience. While many may not like what the film is a fan of, it is such a pure capture of fandom that it is impossible not to relate and understand its importance to the lives of the characters in the movie. For any movie about Brady to win over an entire theater of predominantly non-Brady fans is a testament to how great the film is.
The Starting Line Up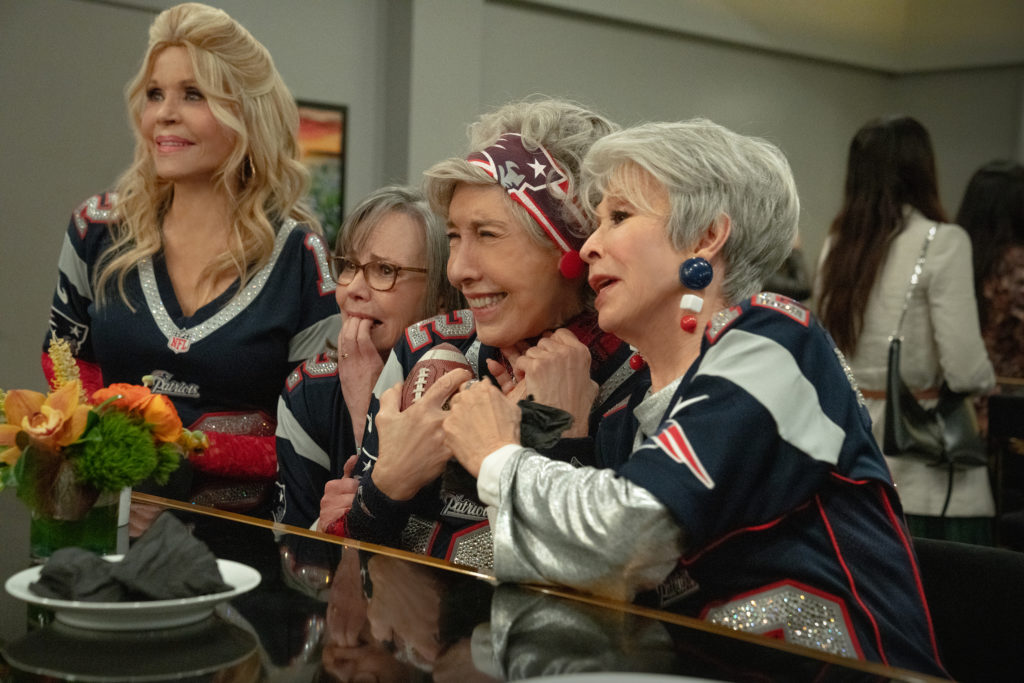 What undoubtedly helped a lot in winning the audience is the legendary stars of the film. Lily Tomlin and Jane Fonda already have an established and powerful chemistry that audiences love. But the addition of Rita Moreno and Sally Field just took things to a whole new level. Tomlin is the leader of the group and comes up with the idea of getting the ladies to the Super Bowl. It's her one goal and reacts emotionally when she feels her friends aren't as committed to it. Jane Fonda is the confident, capable, and a bit man weary, but is unable to escape her love of love and attracting a handsome courter.
RELATED: Koala Man Star Wants to Fight Hugh Jackman
Tomlin and Fonda provide the somewhat grounding elements of the story, whereas Moreno and Fields provide the more outrageous aspects. Field is a straight laced retired math professor. Her innocence and stereotypical "by-the-book" nautre contrast the outrageous situations she gets into. Moreno is somewhat mischeivious and instantly leans into the role of a booky, card shark, hustler, and more. She is a chameleon that adapts to the situation and takes charge immediately. Each lady goes on their own little adventures throughout the film that all come back and connect to the large story. Giving everyone a chance to shine individually and together.
For the Fans
In addition to the fantastic performances by the all-star leads, the perfectly cast cameos and support, and the complimenting of Brady's hydration, the story just works. It is a pure celebration of fandom that captures the joy and power of being a devoted fan. From the weird superstitions to the deep personal meanings, 80 for Brady highlights the best parts of fandom that any fan of anything can relate to and understand.
RELATED: Dungeons & Dragons: Honor Among Thieves Debuts Impressive Action-Packed New Trailer
Begrudgingly, This is a Another Win for Tom Brady
As much as it pains me to say it, 80 for Brady is another win for TB12. The film is an absolutely delightful time at the movies. While it may not be a dramatic powerhouse that garners award attention, it is still a thoroughly well crafted masterpiece that will elate any audience. 80 for Brady is the ultimate bro movie, sports movie, family movie, friends movie, fan movie, etc. It is a tremendously fun movie that will brighten the day of all who see it.
For being a genuinely delightful movie experience in every way, but for getting me to root for Brady, I give 80 for Brady a 9/10.
80 for Brady releases in theaters on February 3, 2023, tickets are available now with early screenings availble as early as 1/31.
About 80 for Brady
Release Date: February 3, 2023 (USA)
Director: Kyle Marvin
Editor: Colin Patton
Cinematography: John Toll
Executive producers: Kyle Marvin, Michael Angelo Covino, Jeffrey Stott
Distributed by: Paramount Pictures
Cast: Lily Tomlin, Jane Fonda, Rita Moreno, Sally Field, Tom Brady, Billy Porter, Rob Corddry, Alex Moffat, Guy Fieri, Harry Hamlin, Bob Balaban, Glynn Turman, Sara Gilbert, Jimmy O. Yang, Ron Funches, Matt Lauria

Synopsis:
80 FOR BRADY is inspired by the true story of four best friends living life to the fullest when they take a wild trip to the 2017 Super Bowl LI to see their hero Tom Brady play. Starring Academy Award® nominee Lily Tomlin, Academy Award® winner Jane Fonda, Academy Award® winner Rita Moreno and Academy Award® winner Sally Field, with 7-time Super Bowl Champion and producer Tom Brady, 80 FOR BRADY is in-theatres February 3, 2023.
Do you already have your tickets to 80 for Brady? Will your fandom allow you to support a film about ol' TB12? How cool would it be to hang out with this cast? Let us know your thoughts on social media!
KEEP READING: Missing Review – Deviously Delightful Digital Mystery