Koala Man has finally arrived, and it's here to make fun of all of your favorite tropes in the superhero movie industry. The adult animated series comes from the mind of Michael Cusack, bringing audiences to an alternate Earth the Titanic's successful voyage resulted in the destruction of America – except Hollywood – and Australia became the world's strongest superpower. The Illuminerdi got the opportunity to sit down with a few of Koala Man's cast, including comedian Demi Lardner, who surprisingly has some serious beef with fellow Aussie and cast member Hugh Jackman.
The new animated series follows Kevin, a regular guy with a family, who decides to become Koala Man, an equally average superhero, to bring justice to the town of Dapto. The show puts Australian culture in the spotlight, using its weird but funny quirks to showcase everything the land Down Under has to offer.
RELATED: DAREDEVIL: BORN AGAIN: YOU WILL NEVER GUESS THE MARVEL VILLAIN CHARLIE COX WANTS FOR THE MCU REBOOT
KOALA MAN'S DEMI LARDNER UNDERSTANDS SHE HAS TO TAKE ON HUGH JACKMAN
The Illuminerdi sat down with Demi Lardner before Koala Man's debut on Hulu to discuss all things about the comedy series and Australian culture. She plays Alison, Kevin Williams/Koala Man's teenage daughter who, in typical fashion, is obsessed with popularity.
When asked what she would do with her Red Hot Minute, the Australian comedian revealed she's gunning for her fellow Koala Man actor Hugh Jackman.
What I've been saying, I need to fight Hugh Jackman, and I've been saying this to a lot of people. My manager is really made at me about it, but I need to fight Hugh Jackman. It's on my bucket list now. That's what I'm going to do. He'll kill be, but I'll get a few licks in. Look, I don't want to fight him, but I have to.
Check out our full interview with Demi Lardner below!
In Koala Man, Jackman plays Big Greg, a famous extreme fisherman who's head of the town council and the titular hero's boss. He only features in a few episodes, but Big Greg definitely leaves his mark and even has his own theme song.
RELATED: VELMA: WATCH THE NEW MATURE TRAILER FOR MINDY KALING'S WILD SCOOBY-DOO SPIN-OFF
Unfortunately, Big Greg and Alison have few opportunities to cross paths. During the Annual Handball Tournament episode, he gives her a strange concoction that turns her into a dingo, letting her carry the town's team to numerous wins before revealing that all of the games are rigged.
WHAT MAKES KOALA MAN SO CHARMING?
While Koala Man seems to be flying under the radar, the comedy series deserves praise equal to that of its fellow adult-oriented animated shows. Upon first glance, it's clear that series creator Michael Cusack took some inspiration from Justin Roiland's uber-successful Rick and Morty, which makes sense as the two recently collaborated on High on Life. But Koala Man's charm comes from its ability to deliver a perfect combination of grounded realism and absolutely ridiculous stories.
In a separate interview with The Illuminerdi, Cusack revealed that he initially planned the show to continue the grounded nature of his animated shorts but slowly realized there was more he could do.
[Koala Man] should be able to go anywhere because that's what kind of subverts the expectation. It makes it more fun to write for because you can do the satire of every day life and grounded humor, but also you can go to surreal fantastical places too. If it makes sense for the show. That's always kind of the thing that anchors the show. It's always going to make sense for the characters, plot, story, and everything like that. It's a really fun sandbox to work in.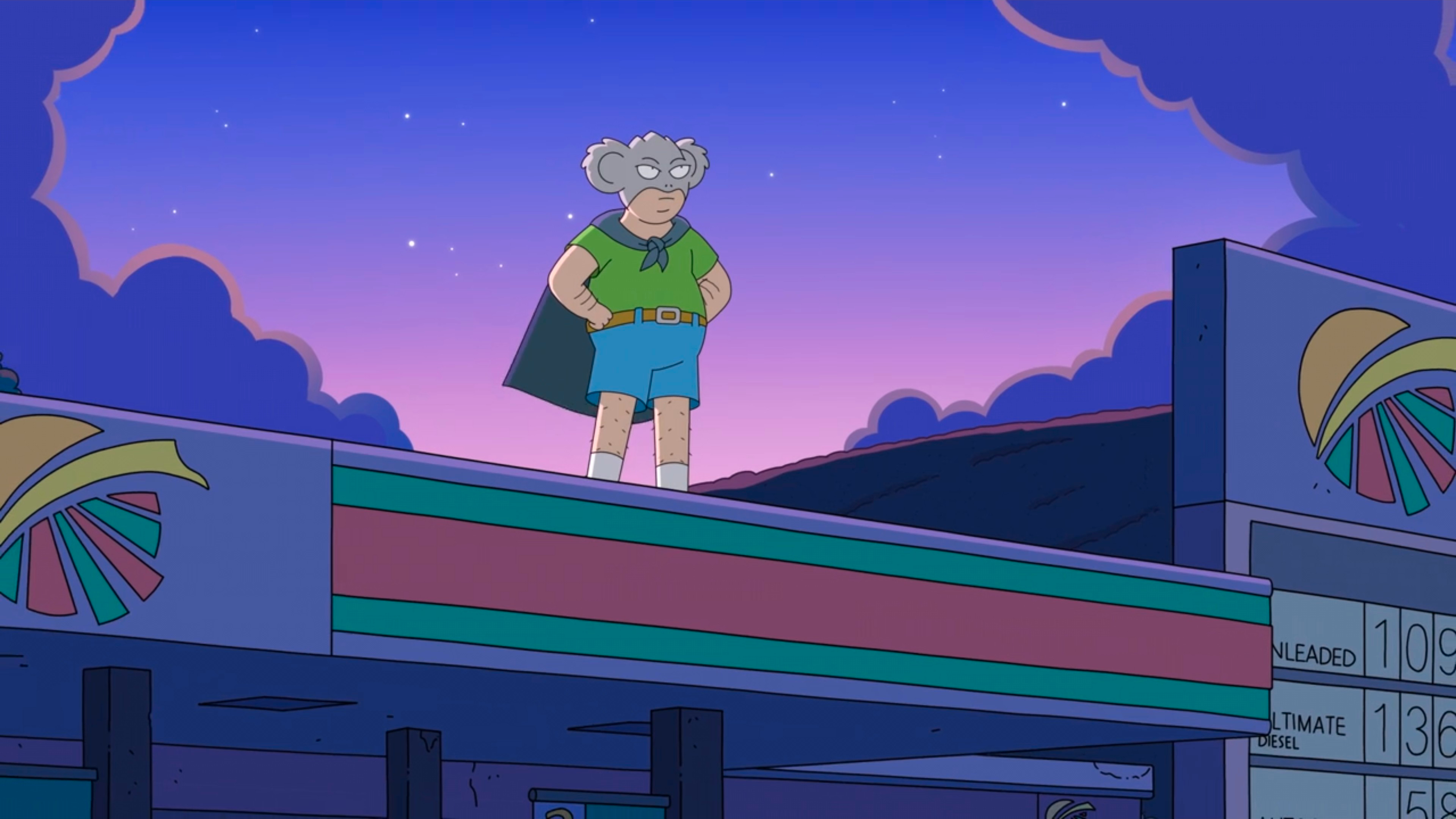 Koala Man is streaming now on Hulu. The first eight episodes of the first season of the new adult animated comedy series are available to binge right now on the streaming service.
What do you think about Demi Lardner's goal to fight Hugh Jackman? What would you do with a Red Hot Minute? Will you be checking out Koala Man? Let us know in the comments or on Twitter, and check back with The Illuminerdi for more news!
KEEP READING: MOON GIRL AND DEVIL DINOSAUR DROPS INCREDIBLY VIBRANT TRAILER FOR FEBRUARY 10 SERIES PREMIERE