WWE Superstar and reigning Intercontinental Champion Gunther is excited at the idea of wrestling this wrestler and considers him his "end boss." The wrestling champion spoke on the subject during a recent interview with The Rob Brown Show.
Gunther has held the WWE Intercontinental Championship since June 2022.  In that time, has defeated each and every challenge put in front of him.  Backing him are the extremely dangerous  Ludwig Kaiser and Giovanni Vinci.  Together the three form Imperium, and they rule over the ring with not just an iron fist but an iron big boot as well.
RELATED: ROMAN REIGNS WILL HAVE HIS REVENGE AGAINST SAMI ZAYN AT ELIMINATION CHAMBER
GUNTHER REIGNS SUPREME ON THE SMACKDOWN ROSTER
Gunther has always been a tremendous force to be reckoned with and a very imposing individual.  He considers himself the "end boss" for many of his fellow Superstars, but there is one who he considers his personal "end boss."  That man is none other than the Beast Incarnate Brock Lesnar.
On a recent episode of The Rob Brown Show podcast Gunther was a guest.  He talked about having Lesnar on his list of dream matchups. He stated the following:
"Brock is a one-in-a-million guy, or one-in-10-million or something like that, always like those guys who stood out from the pack. Istopped watching wrestling for a while when I was a teenager and then I got back into it again when I started training. There was a time when Brock was young and he was wrestling Eddie [Guerrero], The Big Show, and Kurt Angle and stuff, and the guy was a beast. He was fantastic, a beast. I always loved his matches and was always very impressed with that."

H/T To Wrestling Inc. For Transcription
Gunther obviously has a lot of respect for Lesnar, but that doesn't mean he won't go toe-to-toe with him and exchange big strikes. Lesnar entered this year's Royal Rumble and eliminated a whole bunch of competitors in typical Lesnar fashion. 
However, after the carnage died down, Lesnar and Gunther went nose-to-nose.  It looked like we would get to see what happens when The Ring General takes on the Beast Incarnate, but then Bobby Lashley spoiled the moment. He attacked Lesnar and clotheslined him over the top rope and eliminated him. Thu, a dream matchup was ruined. Granted, Lesnar did recently cost Lashley a chance to regain the United States Championship, so it's understandable from his perspective.
GUNTHER'S RECORD-BREAKING RUN IN THE ROYAL RUMBLE
Lesnar wasn't the only one to look extremely impressive in this year's Royal Rumble match. Gunther entered the match at number one. He made it all the way to the end of the match when the final two came down to Gunther and the No. 30 entrant, Cody Rhodes. 
It was a hard-fought finale, but Cody Rhodes was able to eliminate Gunther to win the whole thing. While fighting through the match Gunther was able to set the new record for the most time spent in a single 30-man Royal Rumble match with 71 minutes and 25 seconds.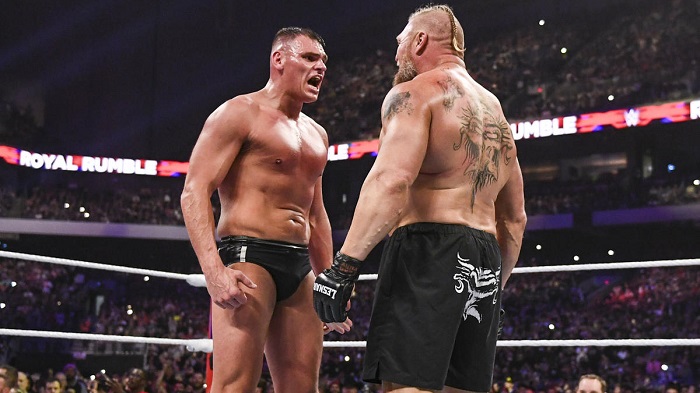 RELATED: WWE 2K23 JOHN CENA COVERS REVEALED AND OFFICIAL TRAILER RELEASED
Even though the two were not able to lay hands on each other, Gunther is still eyeing the opportunity to face off with Lesnar. He thinks it would be a perfect match for his style of wrestling.
"I always thought that [facing Lesnar] would be a thing for a wrestler of my style and stuff. That's my end boss, if that makes sense. I get portrayed as the end boss in wrestling for a lot of guys, but I think Brock could be my end boss and yeah, I really hope a match goes down at some point."

H/T To Wrestling Inc. For Transcription
A POSSIBLE MATCHUP WITH BROCK LESNAR IN THE NEAR FUTURE
As exciting as the prospect of seeing Gunther facing Lesnar is, it doesn't look like we will see that match anytime soon.  Lesnar was furious at Lashley for eliminating him in the Royal Rumble. Also, Lashley has stated that he wants another shot at Lesnar and wants to finish their feud once and for all. So maybe at WrestleMania or later at SummerSlam we can see Lesnar and Gunther finally go at it.
Would you like to see Gunther vs. Lesnar? Do you think Lesnar is the end boss of WWE  or is that someone else? Who do you want to see Gunther face first, Lesnar or Roman Reigns?  Do you think Gunther has what it takes to dethrone Reigns?  Is Gunther ready to be Universal or WWE champion?  Let us know if you want to see Imperium dethrone Reigns or The Usos first. Also feel free to chime in on the topic on The Illuminerdi Twitter account.
KEEP READING: JON MOXLEY TALKS ABOUT HUGE RISK OF LEAVING WWE FOR AEW
SOURCE: Wrestling Inc., The Rob Brown Show