George Clooney was among the many things that had fans shaking with anxiety the past few days. The loud voices on Twitter claimed that George Clooney would re-don the cape and cowl after a 26-year absence from the role of the World's Greatest Detective.  However, when asked directly by a fan online as to the truth of this rumor, DCU head James Gunn responded bluntly,
RELATED: NEW BUCK ROGERS SERIES TO BE PRODUCED BY GEORGE CLOONEY
So right from the horse's mouth, we know that George Clooney won't be the Batman of the DCU. Further down in the thread, Gunn did confirm that we would see a new actor take on the iconic role, but offered no hints as to who that could be. 
Why Would George Clooney's Batman Be In The Flash Movie?
Getting back to Clooney, him being the 3rd Batman in The Flash let alone the official one in the DCU would go against previous information we've been privy to so far.  For a recap of that, we know that Michael Keaton's Batman films (1989's Batman and 1992's Batman Returns) are cannon to this film's story, though the Val Kilmer-starring Batman Forever and Clooney's Batman & Robin are not.  Given that Forever and Robin are so tonally different from the previous 2 films in the franchise and had 2 different actors play the Caped Crusader, ignoring them for The Flash makes that film's continuity much easier for audiences to follow. 
It also allows Keaton's Batman to get what will likely be his proper goodbye (unless WB has kept Keaton's cameo in Aquaman and the Lost Kingdom, which we won't know until the film releases in December of this year).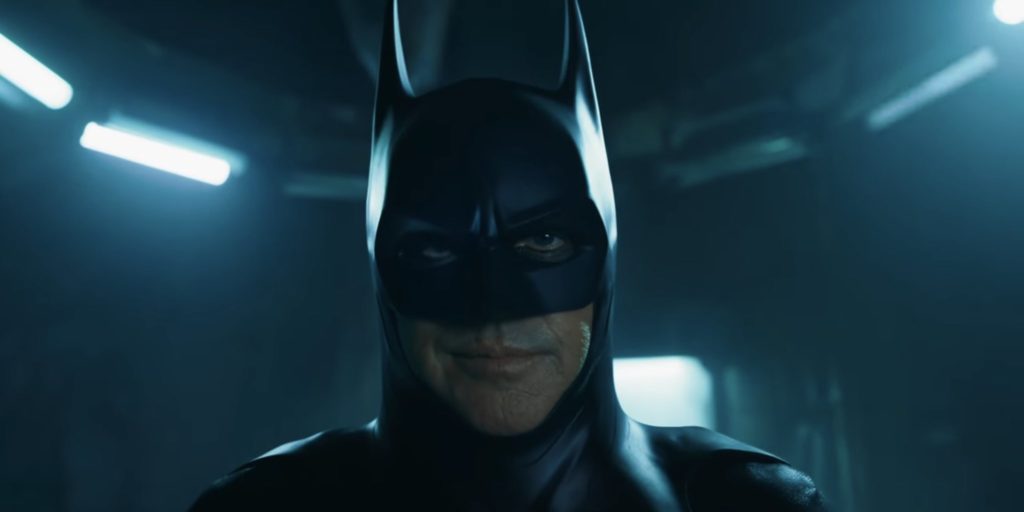 Keaton famously left Batman Forever following the departure of previous director Tim Burton and a mandate from Warner Bros that the film go in a more "family-friendly" direction after Batman Returns received buckets of backlash from angry parents and McDonald's being displeased with the macabre final product they were marketing toys for.  As such, Joel Schumacher was hired to replace Burton in the director's chair and Val Kilmer replaced Keaton (they also nonsensically dropped Billy Dee Williams for Tommy Lee Jones as Harvey Dent/Two-Face). 
RELATED: THE MIDNIGHT SKY REVIEW: GEORGE CLOONEY'S SPACE DRAMA ISN'T THE BRIGHTEST STAR
Batman Forever was a huge success at the box office, making a cool $336.5 million on a $100 million budget (making it the 6th highest-grossing film of 1995), but on-set tensions between Schumacher and Kilmer lead to the actor being replaced by then up-and-comer George Clooney.  The resulting film was 1997's Batman & Robin, which bombed hard with fans and critics alike as well as sending the Bat franchise into hiatus until Christopher Nolan rebooted it with 2005's Batman Begins. 
Ever since Batman & Robin, George Clooney has enjoyed taking every possible opportunity to apologize for, mock, and otherwise belittle the film, but it has gained a cult following for its campier approach harkening back to the 1960s tv show that starred Adam West.  As of this writing, we have no clue who the new DCU Batman will be, but based on the word of James Gunn, it absolutely won't be George Clooney.  We'll find out who Is the new Batman when The Flash speeds into theaters on June 16, 2023.
What do you think of James Gunn decrying rumors of George Clooney's return?  Do you enjoy Batman & Robin's campy approach?  Who would you want to be the DCU Batman?  Are you looking forward to The Flash?  Let us know in the comments below and on our social media.
KEEP READING: ANT-MAN AND THE WASP QUANTUMANIA: MICHELLE PFEIFFER UNVEILS EXPLOSIVE SECRETS FROM JANET'S 30 YEARS IN THE QUANTUM REALM