Ant-Man and The Wasp: Quantumania owes Randall Park thanks for his influence on Jonathan Majors' outstanding performance as Kang the Conqueror.
During the Ant-Man and The Wasp: Quantumania, Randall Park delightfully moderated the event. His effervescent charm radiated as he asked questions and humbly accepted his flowers for his immense contributions to the film. As soon as the conference began, Randall Park begrudgingly acknowledged he is the star of the film and that he was fantastic. And after learning about the Shakespearian-like process Jonathan Majors employed for his approach to Kang the Conqueror, we learn that Majors essentially stole Park's approach for Agent Jimmy Woo.
Jonathan Majors Confesses He Stole Randall Park's Approach, After Some Light Fishing
RELATED: Quantumania: Stephen Boussard Unveils Juicy Details about the Quantum Realm Freedom Fighters in Ant-Man 3
RANDALL PARK: Yeah. Now I gotta say I use the same approach for Jimmy Woo.

JONATHAN MAJORS: I saw that.

RANDALL PARK: Yeah.

EVANGELINE LILY: That makes sense.

JONATHAN MAJORS: I'm sorry. That approach was essentially stolen from you.

RANDALL PARK: Oh, oh really?

JONATHAN MAJORS: Yeah, I'm sorry about that.

RANDALL PARK: Oh, no.

JONATHAN MAJORS: Yeah, yeah.

RANDALL PARK: I could tell. I could tell… I was kind of fishing for that.

PAUL BOUSSARD: It's a very King Lear, talking about Shakespeare, a very King Lear quality, I feel, with Jimmy Woo.

JONATHAN MAJORS: Yeah, big time.

PAUL BOUSSARD: And don't think that we don't pick up on it.

RANDALL PARK: Thank you.

JONATHAN MAJORS: Yeah, we see it.

Randall Park, Jonathan Majors, Evangeline Lily, and Paul Boussard during the Ant-Man and the Wasp: Quantumania Press Conference
Though it may not be talked about much from the social reactions, Randall Park's performance as Jimmy Woo did not go unnoticed by anyone involved in the movie. The world all owes a bit of gratitude to Randall Park, not only for his performance but his influence on the film and those in it. Audiences will get a chance to experience the royal Lear-like performances when the film premieres in theaters.
***Please note this is not hard news. It was just a fun and light-hearted moment during the press conference. The heir of the playfulness of the interaction, and coverage, may not come across in text.
Ant-Man and The Wasp: Quantumania releases exclusively in theaters on February 17. Tickets are now available.
ABOUT ANT-MAN AND THE WASP: QUANTUMANIA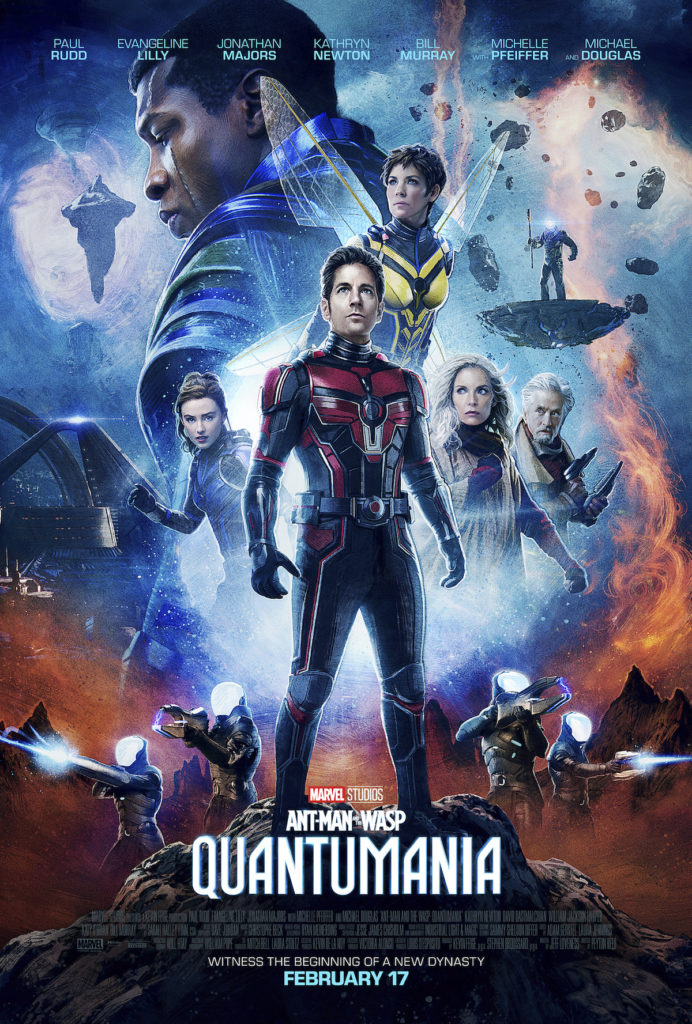 Release Date: February 17, 2023 (USA)
Director: Peyton Reed
Cinematography: Bill Pope
Screenplay: Jeff Loveness
Composer: Christophe Beck
Producers: Kevin Feige, Stephen Broussard
Cast: Jonathan Majors, Paul Rudd, Evangeline Lilly, Kathryn Newton, Michelle Pfeiffer, Micahel Douglas, Bill Murray, William Jackson Harper, Katy M. O'Brian, Randall Park
Post-Credit Scenes: 2
Synopsis:
Super-Hero partners Scott Lang (Paul Rudd) and Hope van Dyne (Evangeline Lilly) return to continue their adventures as Ant-Man and the Wasp. Together, with Hope's parents Janet van Dyne (Michelle Pfeiffer) and Hank Pym (Michael Douglas), and Scott's daughter Cassie Lang (Kathryn Newton), the family finds themselves exploring the Quantum Realm, interacting with strange new creatures and embarking on an adventure that will push them beyond the limits of what they thought possible.
Directed by Peyton Reed and produced by Kevin Feige, p.g.a. and Stephen Broussard, p.g.a., "Ant-Man and The Wasp: Quantumania" also stars Jonathan Majors as Kang, David Dastmalchian as Veb, Katy O'Brian as Jentorra, William Jackson Harper as Quaz and Bill Murray as Lord Krylar. The sci-fi adventure opens in theaters on Feb. 17, 2023.
At this point, what is your excitement level for it? Are you encouraged to see that it's getting overall positive buzz? What do you think its opening weekend will be? Do you have any final predictions going into the film? Let us know by dropping us a tweet on our social media!
Do you already have your tickets to Ant-Man and the Wasp: Quantumania? How often are you impressed by Randall Park's portrayal of Jimmy Woo? Do you want to see Randall Park and Jonathan Majors team up in a film? Let us know what you think and share your reactions with us on social media!
KEEP READING: Quantumania: Stephen Boussard Unveils Juicy Details about the Quantum Realm Freedom Fighters in Ant-Man 3