Although Violent Night 2 is not officially green-lit by Universal Studios, the writers of the film are optimistic and have a lot of ideas for what they want to do in the sequel.
Violent Night is the greatest Christmas movie of all time! The sentiment is near unanimous for those who saw the film, which is currently available on Blu-Ray, DVD, and digital on demand. Fans are eagerly awaiting a sequel. Unfortunately, reports of a sequel to Violent Night are a bit premature, as it is still currently in discussions with the powers that be and has not been officially announced by Universal Pictures yet. The brilliant writers of the film, Josh Miller and Partick Casey, clarified the news for me during our interview.
Violent Night 2 Is in Disccussions
I was fortunate enough to get to geek out with Miller and Casey, who also wrote Sonic the Hedgehog and Sonic the Hedgehog 2, about Violent Night. I asked about the sequel, but unfortunately, they had to clarify there isn't officially a sequel in the works.
Well, we should clarify, we're not already working on it. discussions are underway. We're all optimistic about it. But it has not been officially announced by Universal or anything. But I mean, just digging in deeper, you know, there's, I think some of it is maybe a little obvious, just like a little bit more of Santa's backstory. Obviously, we never get to see anything with the North Pole.

Josh Miller, Co-Writer of Violent Night
RELATED: The Super Mario Bros Movie's Adorable New Toys Have Arrived!
Despite no official go-ahead, everyone involved seems very optimistic about the sequel. Miller shares some avenues for the sequel to explore, like Santa Clause's backstory and the North Pole itself. Santa's backstory was briefly glimpsed in Violent Night and provided a brief, but compelling, explanation of his brutal badassness. However, it does not explain his magic or origins. We also never get to see his base of operations, the North Pole, but it is mentioned and included as the reindeer returned there to pick up Santa's extra coat. Casey gave even more insight into ideas they have for the sequel.
Incredible Things to Explore For a Sequel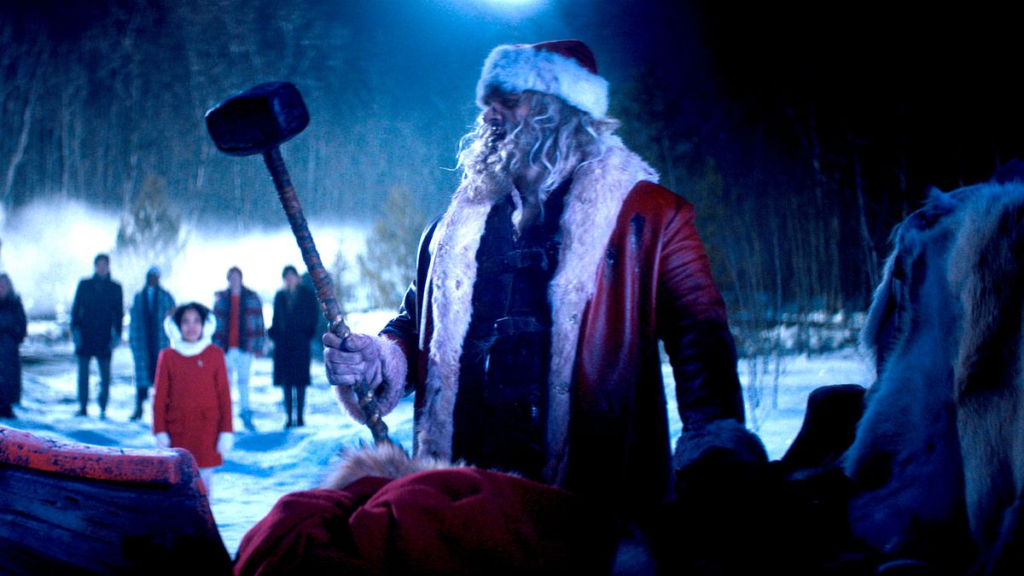 Yeah, we have the elves, we have Mrs. Clause. All sorts of stuff we have yet to explore. And I think we've got a lot of great ideas. The question is really, how much we're gonna be able to cram even into a second movie? Perhaps even needing even more than that to really tell the entire saga.


Patrick Casey, Co-Writer of Violent Night
Santa Clause lore is vast and provides a lot of options. But in the Violent Night world, there is a very unique take that is obviously inspired by the available lore but offers such rich and boundless potential to explore this version of Old Saint Nick. So much that a single sequel may not be enough. Luckily, Josh Miller has the perfect solution on how to incorporate all of the story they can and want to tell with their version of Santa.
RELATED: Cocaine Bear Red Band Trailer Reveals a New Comedy Thriller High on Drugs
[Laughing] Franchise!

Josh Miller, Co-Writer of Violent Night
Personally, given the incredible quality of the film and the near-unanimous fan reaction to the film, it is surprising that Violent Night 2 is not yet official. However, it also makes me hopeful that the official news will not just be for a second film, but a franchise. Imagine, a Violent Night Universal Studios Hollywood Horror Night section that seamlessly gets rolled into the holiday celebration. This is all personal hopes and speculation, but it seems like such a positive
Violent Night is available now on Blu-Ray, DVD, and digital on demand.
ABOUT VIOLENT NIGHT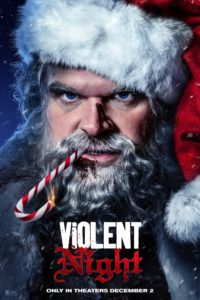 Availability: Currently available on Blu-Ray, DVD, and digital on demand
Director: Tommy Wirkola
Screenplay: Josh Miller, Patrick Casey
Producers: David Leitch, Kelly McCormick, Guy Danella, Annie Marter
Production Companies: 87North Productions, Perfect World Pictures, 87North
Cinematography: Matthew Weston
Cast: David Harbour, John Leguizamo, Cam Gigandet, Alex Hassell, Alexis Louder, Edi Patterson, and Beverly D'Angelo
Synopsis:
When a team of mercenaries breaks into a wealthy family compound on Christmas Eve, taking everyone inside hostage, the team isn't prepared for a surprise combatant: Santa Claus (David Harbour, Black Widow, Stranger Things series) is on the grounds, and he's about to show why this Nick is no saint.
Are you ready for Violent Night to become your new favorite Christmas movie? What is your current favorite Christmas movie? Do you believe Die Hard is a Christmas movie? Share your reactions to the film and your thoughts on Christmas movies with us on social media.
KEEP READING: Super Nintendo World Toadstool Cafe and 1-UP Factory Add Awesome Experiences or Universal Studios Hollywood