AEW World Champion Maxwell Jacob Friedman (MJF) named who he wants to defend his title against next following his successful title defense at AEW Revolution 2023. He was also the subject of controversy in the aftermath of the liquid-throwing incident during the show.
MJF continues to show why he is one of the hottest young talents in wrestling. He went one-on-one with Bryan Danielson in a 60-minute Iron Man match to defend his AEW World Championship. After a long and bloody battle, "The Salt of the Earth" came out as the victor and retained his title.
MJF BECOMES SUBJECT OF CONTROVERSY AFTER THROWING LIQUID AT CHILD DURING AEW REVOLUTION
Even though the match was well received, the thing everyone is talking about is an interaction between MJF and a young fan. The defending champion was in the crowd and decided to take a cup from a woman and throw the clear liquid contents on a young fan we now know is named Titus, who was sitting in the front row. You can see a video clip of the incident that was posted on Twitter below:
It was later reported by Fightful's Sean Ross Sapp that Titus was not a plant and the interaction was not planned. The assumption when first seeing the contents and perhaps by MJF is that it was water or a clear soda. However, it later came out that the contents are thought to have been a clear liquor, reported to be tequila.
Understandably after getting a drink thrown at him, Titus was upset. AEW officials quickly swooped in and smoothed things over. The AEW community outreach liaison Amanda Huber, wife of the late Brodie Lee, gave Titus tickets to an upcoming Dynamite show to try to settle things down.
RELATED: SAMI ZAYN TALKS ABOUT HIS FEELINGS SURROUNDING ELIMINATION CHAMBER MAIN EVENT
During the post-Revolution media scrum, MJF and AEW CEO & President Tony Khan provided their perspective on the situation. Maintaining his heel character, MJF replied by saying the "kid looked thirsty."  However, Khan took it a lot more seriously. He stated the following:
"We had a conversation before [MJF and I] came up here, we had a serious conversation and it's not to be taken lightly. The young man, Titus, was a real pro about it, and we'll see Titus here again in AEW. I was just with him, and he was a real champ about it, and the champion didn't act like a champion there. I think Titus was great."

H/T To Wrestling Inc. For Transcription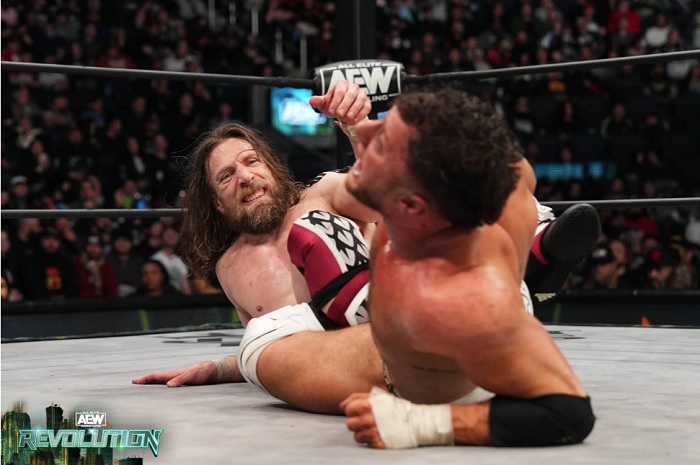 The world is a little torn as to how they feel about the interaction. Many feel MJF crossed a line, but others think he is just being a good heel. As to any repercussions to the reigning champion, none have come to light and they will probably only happen backstage. I do think Khan was telling the truth when he said he and MJF had a serious talk about the incident.
WHO'S NEXT FOR MJF?
Now that MJF has conquered Danielson, other top contenders are eyeing his championship.  MJF named some of the wrestlers on his radar during the media scrum and what he thinks of them. He stated:
"To be brutally honest, like I said, there's a lot of people on my radar. I am fully aware that Hangman Adam Page is a good competitor. I think Hangman is scared of MJF, and I think Hangman knows better than to come anywhere near MJF for the time being."

H/T To Wrestling Inc. For Transcription
Page wasn't the only name on MJF's list. He went on to throw out some other names he believes are the three pillars of AEW with himself being the fourth. According to him, these pillars are Jungle Boy, Darby Allin, and Sammy Guevara.  Even though he thinks they are the pillars of AEW, MJF still doesn't believe they are on his level. He continued during the scrum:
 "They're very solid, but at this point, I think it is very obvious that there is only one pillar that actually holds this place up. So, kinda would like to prove a point there."
What would you like to see next from MJF?  Would you like to see him face one of these men or someone else? What did you think of his Ironman match?  Do you think he was out of line with the drink-throwing?  Let us know if you think more crowd interaction like this would be good or bad on The Illuminerdi Twitter account.
KEEP READING: BRYAN DANIELSON MAKES BOLD PREDICTIONS PRIOR TO MJF MATCH
SOURCE: Wrestling Inc., AEW Media Scrum, Wrestling Inc.